Bird Identification, Free Homeschool Planner, Homeschool Schedules, Online Chemistry, and More
From the Editor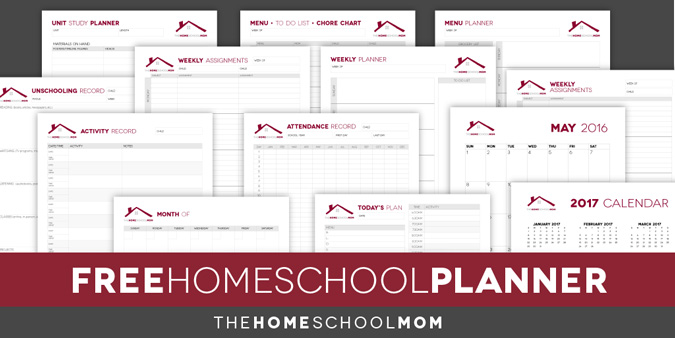 WOW. Bear with me with this long intro – I have lots to tell you!
As I wrap up this issue, I can't get over how many wonderful free resources are packed into this newsletter! I'm a little late getting the issue out, but I couldn't stop adding links to more free stuff – I think this is the longest newsletter I've ever published! This issue is all about saving money while homeschooling, and I'll start with our free homeschool planner. It's been updated and redesigned for 2016-2017 and I think you'll love the clean new look and additional pages. You can download it here.
In the Educational Resources section below, I have highlighted several free online curricula, and of course our latest blog posts are highlighted as always. Last month I featured the AudioFile Sync summer program, and I wanted to mention it again in case you missed it. 2 free books are featured for download each week (the download link is only good for the week it is featured, but there is no expiration once you download it). This is week 3 out of 15, so there are still 24 free audiobooks to go – you can see all the titles here.
I spent yesterday writing a detailed explanation of how the Build Your Bundle sale works for those who are like me and didn't understand how it works (I just couldn't grasp all the various parts to the sale the first time I saw it). I also have a helpful planning spreadsheet that will allow you to see how each of the items in the bundles fit with various topics (thanks to Kristi of This Side of Heaven for the original version of the spreadsheet). I'm giving away a $25 gift certificate to Build Your Bundle – the drawing is at 2pm today
so hurry!
BYB just announced (literally the moment I was putting this in the mailer) that they will send a $10 coupon good for any Build Your OWN Bundle to anyone who purchases a premium product (this would be for a separate transaction, so don't include the build your own bundles in your premium product purchase). As an affiliate of this and many other programs I see a lot of promotions, but I have to say that I am absolutely blown away by the fantastic values of these bundles. For a fraction of the price, you can get products like The Mystery of History, Writeshop Junior, Mapping the World With Art, Sir Cumference Living Math, and dozens more (see them all)! When you combine the Buy 2 Get 1 Free with the $250 Bundle of Bonuses free with any bundle purchase, you can get $1,000 worth of homeschool products for about $50!
Example: Charlotte Mason (value $294) $30 + Unit Studies #1 (value. $228) $20+ Unit Studies #2 (value $229) FREE w/B2G1 + Bundle of Bonuses (value $250) FREE w/ bundle purchase= $1,001 of product for $50
For $240, you could get ALL 15 bundles with $3,500 worth of product – see how here! This one week event happens only once per year, and ends at 11:59pm ET on Monday, May 23.
Finally, I'd like to welcome our newest sponsor, OSU Chemistry Online. As as non-science person (how I have a child majoring in engineering is beyond me – I couldn't even breed fruit flies in high school biology!), I outsourced all of our upper level science courses. OSU is an excellent option for an online chemistry course from a reputable university, so check out their program. Enjoy the newsletter!
Warm regards,
Mary Ann Kelley
Editor
Our Sponsor: OSU Chemistry Online
Is your high schooler interested in science and already prepared for an introductory course at the college level?

Oregon State University's online chemistry program offers college-level credits in general chemistry to homeschoolers from a distance. Our 100-level courses are delivered 100% online and students learn in a variety of ways, including the use of: interactive homework, video and self-paced modules, discussion boards, pencasts, live tutoring, and virtual labs.

For more information, please visit OSU Ecampus Chemistry or call Greta Kvinnesland at (541) 737-6707.
Teaching Calendar
May 30, 2016 — Memorial Day (Observed)
June 2, 2016 — Native Americans granted US citizenship – 1924
June 11, 2016 — Great Barrier Reef Discovered – 1770
June 12, 2016 — Anne Frank born this day in 1929
June 14, 2016 — Flag Day
Educational Resources
Easy Peasy All in One Homeschool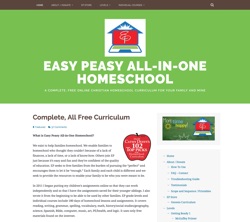 Easy Peasy is a complete, free online Christian homeschool program for Preschool – 8th grade that was designed by a mom for her own kids; there is a separate site for Easy Peasy High School (similar to the lower school, but there are no levels). "This curriculum is great for anyone who needs/wants to save money or time. As for money, the curriculum is free. The materials are online and free. You will need to have basic school supplies such as paper and pencils, but it requires no books or major supplies. In this way it is
also good for those living overseas who have limited means of access to English books. As for time, this is a way for your children to work independently and to free you from planning. There are EP families who are successfully using the curriculum while the homeschool parent is working, having health issues, or even in school themselves."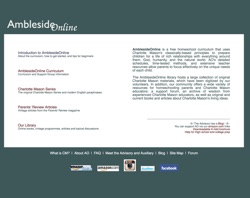 "AmblesideOnline is a free homeschool curriculum that uses Charlotte Mason's classically-based principles to prepare children for a life of rich relationships with everything around them: God, humanity, and the natural world. AO's detailed schedules, time-tested methods, and extensive teacher resources allow parents to focus effectively on the unique needs of each child …Each year/grade has a list of books to lay out what resources will need to be collected or purchased, and an optional weekly schedule based on a 36-week school year to break the resources into smaller increments to help with pacing the books throughout the year. There is no fee to use the curriculum or website."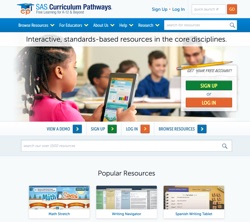 SAS Curriculum Pathways, a project of the NC-based software developer SAS, offers online modules for Language Arts, Mathematics, Social Studies, Science, and Spanish for grades K-12. All SAS resources are completely free (with free registration), and if you have trouble registering there are instructions for homeschoolers here. "Each SAS Curriculum Pathways resource has an accompanying lesson guide. Lesson guides provide a set of learning objectives, necessary materials, estimated time for completion, ideas for assessment, answer ke
ys/scoring rubrics (if applicable), and alignment to state and Common Core State Standards." To see all of their resources (including titles, categories, resource type, and Quick Launch numbers) in one place, visit this page.
BirdSleuth Explorer's Guidebook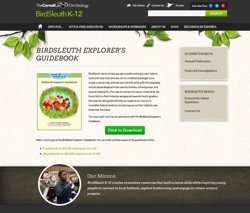 If you are like I was, you love it when your kids spend quality time outdoors. The BirdSleuth Explorer's Guidebook is a great way to encourage that, teaching kids to become expert observant of the natural world around them. The 12 page free download has instructional pages to help identify birds by habitat, behavior, and appearance, and pages 8 & 9 are designed to have multiple copies included, creating a complete bird-watching journal with as many pages as you wish for identifying and illustrating different birds. You can purchase a hard copy for $10, or download a free digital copy (name, email address, state, and type of school required).
Our Sponsor: Build Your Bundle (Sale ends May 23)
Recent Blog Posts
Arranging a Strong Week: Your Homeschool Schedule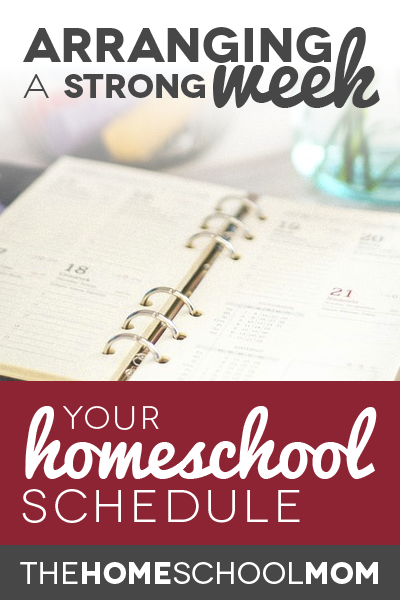 As a homeschool evaluator in Virginia, I've worked with hundreds of kids in families who have used all kinds of weekly homeschool schedules. I'm also in my 19th year of homeschooling, and since we've moved around a lot, I've been in a ton of different homeschooling communities and groups with so many good homeschooling families. I've seen all kinds of weekly schedules work well for people, and creating a strong week of homeschooling can look different for each homeschooling family. Some families have weekly schedules that look like school schedules, but most homeschooling families use the flexibility of homeschooling to create a weekly schedule that is customized for them. Here are some of the homeschool schedules that I have seen work to create a strong homeschooling week. Read More…
Build Your Bundle Explained (and a $25 Gift Certificate Giveaway)
This sale can be overwhelming, so I want to do two things in this post – explain a little more about the sale and the great deals, and give away a $25 gift certificate to one lucky winner. When I first heard of the Build Your Bundle sale, I was confused. Really confused. It took awhile to wrap my head around how it worked, so I thought I'd explain it for any of you who are in the same boat I was. Read More…
Finding Community as a Homeschooler
At first, particularly if you are new to homeschooling, it may seem like there are no homeschoolers around at all. But chances are very good that they are just hidden in plain sight! Families in many areas have established homeschool groups that meet for field trips, projects, playtime, and even parent-run classes. Finding them can be the hardest part. Some homeschool groups maintain a low profile to respect or protect the privacy of their member families. So it can be challenging to make that first connection. But homeschoolers, in general, are very resourceful and well-connected, and once you've found one local homeschooling family, you may soon hear about others. Read More…
What Curriculum Should I Use for My 4 (or 5 or 6) Year Old?
Recently on TheHomeSchoolMom's Facebook page someone asked for recommendations for her soon to be 4 year old. It took me back to when I had a 4 year old and a 1 year old and had recently decided to homeschool.
I. Was. So. Excited.
What curriculum should I use? (I bought KONOS and timeline figures and a gazillion Usborne books.) How should we schedule our days? (I bought Managers of Their Homes and carefully scheduled every moment of our days and then proceeded to never once use the schedule.) I made lesson plans and felt organized and believed that my kids were going to get the best education ever. And honestly, we had great fun with some of the activities – but none of it was better than what we could have done by just living and playing.
So after all these years (my kids are now 19 and 16), what curriculum would I suggest for a 4 year old …
Read the rest on TheHomeSchoolMom »
Save