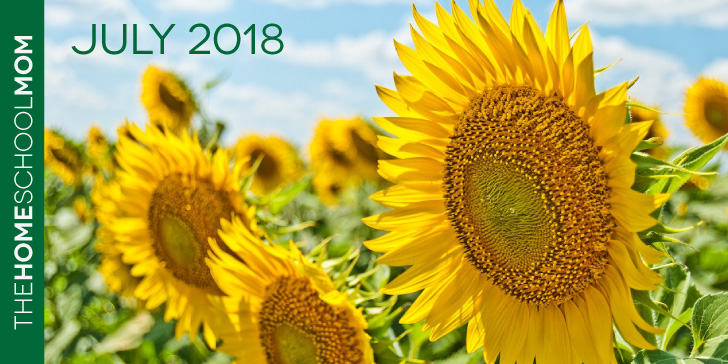 The yellow legal pad had a line down the middle: the pros and cons of homeschooling were written on opposite sides of the blue-inked vertical line. Not content with that, I flipped to the next page and drew another line down the middle: pros of public school to the left and cons of school to the right.
July is the decision point.
Are you really going to start homeschooling?
Are you really going to continue homeschooling? Even though it's time for middle school? Or high school?
Are you going to change your homeschooling? Try something more relaxed? More structured?
Are you going to stop homeschooling and send your child to school?
This is the month of hard choices for many parents who are considering the best way to educate their children. Everyone is looking for evidence of the effectiveness of various education strategies, writing out lists of pros and cons—of homeschooling, of specific curriculum, of going to public school, of unschooling.
(Continued below sponsor banner)

In fact, included in this issue of the newsletter is an article called "When Your Child Goes from Homeschooling to Public School" to help with the transition if that is the decision you will be getting behind. Of course, TheHomeSchoolMom website is full of resources and information that you will find helpful if your decision is to homeschool.
I got so interested in the decision-making around homeschooling, that I expanded this, my message to you, into a full-fledged essay at TheHomeSchoolMom blog, which further explores making hard choices.
All those years ago, my yellow pad's pros and cons showed that it was a ridiculous time for me to start homeschooling—but the pros and cons could not calculate my heart. For the next twenty years, we learned together at home. A hard choice at the time I made it, but the choice I could get behind.
Looking forward,
Jeanne Faulconer
Teaching Calendar
July 19, 2018 — First women's rights convention – 1848
July 21, 2018 — Scopes found guilty – 1925
July 28, 2018 — Beatrix Potter born this day in 1866
July 29, 2018 — NASA established – 1958
August 2, 2018 — Declaration of Independence signed – 1776
August 2, 2018 — Lincoln Penny issued – 1909
August 3, 2018 — Christopher Columbus set sail – 1492
August 5, 2018 — Neil Armstrong born this day in 1930
August 6, 2018 — Atomic Bomb dropped on Hiroshima – 1945
August 14, 2018 — Japan agrees to surrender to the Allies – 1945
August 18, 2018 — Virginia Dare born this day in 1587
View the full teaching calendar »
Recent & Relevant Blog Posts
When Your Child Goes from Homeschooling to Public School (Featured Article)
Sometimes things change, and your child will go from homeschooling to public school. What should you expect when you start the process? Here are a few first thoughts:
The school is in charge of the school.
This is going to be different. While you were homeschooling independently, you made all decisions regarding your child's education. The first thing to realize is that your child's school has policies and procedures that you may not be able to affect. Meeting with administrators may result in some flexibility, and you should advocate for your child, but you are navigating a system that is balancing the needs of many children.
The school may ask for grades and records from homeschooling.
Regardless of the approach you took to homeschooling, the school may ask for your child's grades and documentation of studies or learning. If you have homeschooled using traditional curriculum, tests, and grades, this may not be hard to provide.
However, some homeschoolers are flummoxed by this since homeschool laws in their state may not have required such records, and their homeschooling philosophy may have been to use a different approach, which was nonetheless effective. School officials are frequently unfamiliar with homeschool laws and may be more accustomed to dealing with students transferring from other schools.
Some options:
Explain that you don't have these kinds of records and weren't required to keep them.
Create a document to reflect what your child learned during the homeschool years.
Show scores from any standardized tests your child may have taken.
It helps to remember that the school generally wants this information in order to determine grade placement. Again, this may not always be in agreement with where you think your child should be placed, but it is often at least a good faith effort at getting your child in the right grade in school.
The school is in charge of grade placement and may use their own assessments.
Sometimes parents are able to easily enroll a child in the grade they request, especially if it is the grade that is typical for the child's age, and especially during the elementary years.
Homeschool Links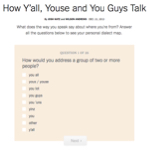 Dialect Map
If you're traveling in the U.S. this summer, your kids might ask you about local accents, more formally known as dialects. Tweens and teens will enjoy taking this dialect quiz from the New York Times to see if it can accurately peg where they have been growing up. My results on the Dialect Quiz reflected the state where I grew up and the two states where I've lived the longest as an adult. This is a great opportunity to talk about regional cultures with your children—and mix in a little linguistics, too!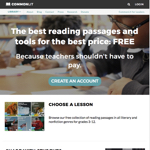 CommonLit
Have you heard about the free literacy resource for grades 3-12 called CommonLit? It's a collection of poetry, short stories, nonfiction, news articles, historical documents and other texts, offered free to teachers, including homeschool parents. (Registration required). The downloadable materials are arranged in common "literature and life" themes, and they're accompanied by discussion questions and writing prompts. To learn more, watch this CommonLit video. Might be handy for the upcoming year!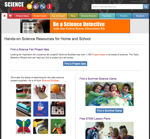 Science Buddies
The Science Buddies website has ideas for science fair projects, searchable by grade (K-12) and subject area, from Aerodynamics to Zoology. The nonprofit organization that runs Science Buddies does offer science kits you can buy, but at the website's heart is a ton of free information, including guides to help kids prepare for science fairs and adults to plan science fair events. The up-to-date blog includes stories about real student science fair projects and pictures of kids doing their presentations, as well as science news. Science Buddies offers science lesson plans, science career information, and even a guide to help parents find science summer camps near you.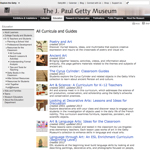 J. Paul Getty Museum Art Curricula and Guides
How about some free guides to help kids learn about Art and Poetry, Ancient Art, Art and Science, Art and Language Arts, Stories in Art, Performing Arts in Art, and many more topics on art history and appreciation? They're online at the J. Paul Getty Museum website. There are also resources for learning more about art techniques, materials, and concepts and tips and tools for teaching fine art, from building a camera obscura to drawing insects and making paint.