History, Virtual World Tour, STEM, Spanish, and More…
From the Editor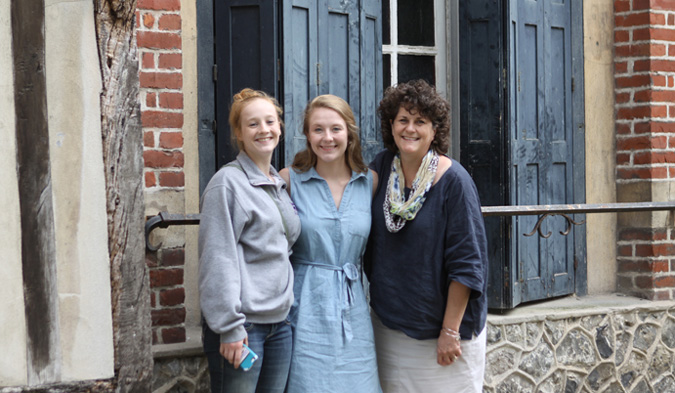 2016 is a year with lots of reasons to celebrate in our house! Two graduations (one high school and one college), a 50th birthday, and a 25th wedding anniversary all coincided, so we decided to celebrate them with a once in a lifetime family trip to Europe. The photo above was taken a couple of weeks ago in Honfleur, France, a beautiful port city full of narrow streets, colorful houses, and lots of history. I am thankful we were able to take this trip before our kids' work schedules and responsibitilities prevent traveling together.
Even if you can't physically travel this summer, you can take a virtual world tour with the link below under Educational Resources; Jamie Martin of Simple Homeschool has put together a fun Read the World virtual tour book club for the summer.
For those of you whose traveling won't be virtual, you will appreciate Jeanne's "roadschooling" packing list in our featured article. Whether you are taking a day trip or a long distance journey, packing appropriately can help ease the stress of traveling with kids. If you are looking for a fun place to spend some time immersing in history, check out our sponsor Colonial Williamsburg. Their Homeschool Days in September are a bargain and are a great way to get kids interested in America's colonial history.
Enjoy the newsletter!
Warm regards,
Mary Ann Kelley
Editor
Teaching Calendar
July 19, 2016 — First women's rights convention – 1848
July 21, 2016 — Scopes found guilty – 1925
July 28, 2016 — Beatrix Potter born this day in 1866
July 29, 2016 — NASA established – 1958
August 2, 2016 — Declaration of Independence signed – 1776
August 2, 2016 — Lincoln Penny issued – 1909
August 3, 2016 — Christopher Columbus set sail – 1492
August 5, 2016 — Neil Armstrong born this day in 1930
August 6, 2016 — Atomic Bomb dropped on Hiroshima – 1945
Educational Resources
Read the World Summer Book Club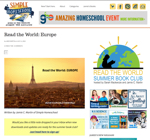 Based on Jamie Martin's new book Give Your Child the World: Raising Globally Minded Kids One Book at a Time ($9.99 at Amazon; digital version $8.99) containing lists of over 600 recommended books set around the world, this summer book club has a goal of reading one book each week of the summer from a different part of the world. Literature is a great way to teach geography, and Jamie is working with Sarah Whitlock to provide printables for each week including maps to highlight each area "visited". Even without Jamie's book on hand, you could come up with your own way to follow along with the blog resources using your own choice of books from various countries.
19 STEM Activities for Middle Schoolers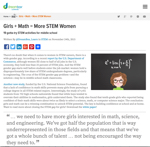 Although created to stimulate girl's interest in STEM subjects, this list would be fun for all middle school age students. Featuring activites from MIT, Annenberg Learner, Shoder Interactive, and more, the activities include using a scene from Alice in Wonderland to introduce negative exponents and the rules for dividing powers, building a tower of LEGO® Duplos® on slopes of varying angles and determine how deep the foundations need to be to keep the tower standing upright, and more.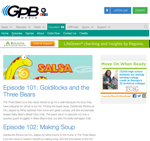 Children's television is a great way to get started with a foreign language. "Salsa is Georgia Public Broadcasting's award-winning Spanish language series for young learners in kindergarten through the third grade. Puppets in familiar stories, digital graphics and animation teach the language. Instructors do not need to be certified to teach a foreign language or be familiar with Spanish in order to use Salsa. It can be used in the classroom and homeschools and by anyone interested in teaching young kids to speak Spanish. Each video lesson is preceded by a staff development component that acquaints the instructor with the content and the objectives of the lesson, reviews all vocabulary words and demonstrates the correct pronunciation of all Spanish words included in the lesson." There are 42 lessons in the series and they are all online along with interactive games. (HT to VaHomeschoolers' In the Loop newsletter)
Recent Blog Posts
10 Ideas for Making the End of the Year Special
Arranging a Strong Week: Your Homeschool Schedule
Finding Community as a Homeschooler
Roadschooling: What To Keep In the Car
by Jeanne Faulconer

Many of us homeschoolers are automobile-dependent. Living in rural or suburban areas and in some small and medium size towns and cities, we find that our communities aren't "walkable," and there is no public transportation to speak of. There is certainly no school bus serving our family. Since our kids aren't in the "big box of school" we have to drive to many of the activities and classes our kids participate in.
With three kids in a wide age range and with a diversity of interests, over the years I have found myself constantly traveling from one "homeschool thing" to another, also mixing in our regular errands.
I found that keeping "extras" in the car is a big help, so we didn't have to turn around for forgotten items, and we were a little more ready for the minor crises of life.
My list of "extras" a roadschooling mom might keep in the car… [Continue reading]
Save