Family History, Homeschool Diplomas, EarthCaching, Free 200+ Page Homeschool Planner, and More
From the Editor
Welcome to the midsummer issue of TheHomeSchoolMom newsletter! June has become the month that I follow my passion for family history and hit the road for a research roadtrip. This year, I traveled 2500 miles round trip to New Orleans and back with 5 genealogy stops, a family wedding, a tour of Senoia (of TWD fame), and several family visits along the way. I had fabulous success and unearthed resources from 165 years ago that not only furthered my research but gave me a personal connection to my French immigrant ancestor. If you are interested in genealogy, check out my genealogy website for resources and tips. If you are interested in passing a love of family history on to your kids, check out the Family History for Kids link in the Educational Resources below.
Have a wonderful summer, and enjoy the newsletter.
Warm regards,
Mary Ann Kelley
Editor
Teaching Calendar
July 19, 2015 — First women's rights convention – 1848
July 21, 2015 — Scopes found guilty – 1925
July 26, 2015 — New York Admission Day – 1788
July 28, 2015 — Beatrix Potter's birthday – 1866
July 29, 2015 — NASA established – 1958
August 1, 2015 — Colorado Admission Day – 1876
August 2, 2015 — Declaration of Independence signed – 1776
August 2, 2015 — Lincoln Penny issued – 1909
August 3, 2015 — Christopher Columbus set sail – 1492
August 5, 2015 — Neil Armstrong's birthday – 1930
August 6, 2015 — Atomic Bomb dropped on Hiroshima – 1945
August 10, 2015 — Missouri Admission Day – 1821
August 14, 2015 — Japan agrees to surrender to the Allies – 1945
Educational Resources
One of the biggest regrets most of us express as we get older is that we didn't listen to the stories that our parents, grandparents, or even great-grandparents told when we had the chance. You can get your kids started on a different path by following the advice in this post from Lisa Louise Cooke about using your kids' interests in their own stories to stimulate their interest in their family stories.
"An EarthCache site is a special place that people can visit to learn about a unique geoscience feature or aspect of our Earth. Visitors to EarthCache sites can see how our planet has been shaped by geological processes, how we manage the resources and how scientists gather evidence to learn about the Earth. As a part of geocaching – an adventure game for Global Positioning System (GPS) users to cache and find locations with actual hidden items – an EarthCache adventure is treasure hunting for the caches that the Earth has stored. EarthCache sites do not use stored containers; their treasure is the lessons people learn about our planet when they visit the site. "
The Shafer family has a podcast called Shafer… Power! with a feature called Someday, where they interview interesting people from around the world to learn about how they make a living. Videos include a paleontologist, a LEGO designer, an artist, a fireman, a chef, a children's author, a veterinarian, and many more. It is called Someday because someday our curious kids may elect to pursue one of these careers.
Free 200+ Page Homeschool Planner
Joy at Five J's offers some great printables and she has recently put together a new downloadable homeschool planner with over 200 pages.
The free homeschool planner includes over 200 pages and is divided into 13 separate PDFs (to make it easier to find things). Each PDF also includes bookmarks so you can click directly to the printable you're looking for. The sections are as follows: Our Homeschool, Curriculum Planning, Preschool Planning, Book Reading Planners, General Scheduling Planners, Calendars, Daily & Weekly Planners, Record Keeping Forms, Grading Forms, Unit Study Planner, Unschooling Records, Chore Charts, 2015-2016 Calendars.
Recent Blog Posts
8 Questions to Ask When Starting a Homeschool Co-op
Homeschool co-ops work well as part of the educational landscape of some families. However, you may not be able to find an existing co-op that is near enough your home to be practical, or it may not meet the academic, creative, or social goals you have for a co-op. The other problem may be that there is a flourishing co-op nearby, but the co-op is full and has a waiting list. You can organize a new homeschool co-op yourself, and these 8 questions will help you decide the best way to do so. Read More…
Is Your Glass Half Empty or Half Full?
Take a moment to describe three people you know. Perhaps your kid's coach, your neighbor, and a close friend. Tally up the negatives and positives. What do they indicate? Actually, they say a lot more about you than the people you're describing. Research indicates what we perceive in others has a lot to do with Read More…
5 Myths About Homeschool Superiority
Despite being an ardent supporter of home education, I find myself consistently feeling obligated to set the record straight when it comes to claims of the vast superiority of homeschoolers. I've noticed a tendency of homeschool advocates commenting online to be elitist. I'm not sure many of the commenters are even homeschoolers themselves – I get the sense that they are just politically opposed to public schools – but regardless, it's not helpful or accurate. Read More…
Teen Tech Project: Building a Computer
This week I visited with a homeschooling family whose son was anxiously awaiting his shipments from New Egg and Tiger Direct — full of the components he would assemble into his own PC. This brought back fond memories, since two of my three sons undertook this same project during their teen years, and my oldest actually did the same after he graduated. Read More…
Ask Jeanne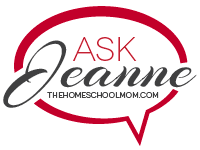 Do homeschoolers get a diploma?
Half of my family is pro-homeschooling and half is anti homeschooling. How do I convince my family that homeschooling would be a better and more positive solution than public school?
S.H. in Colorado
You have a couple of overt questions and a couple of implied ones. Let's see what we can tease apart here, because these are common concerns for prospective homeschoolers.
Homeschool Diplomas
What you are talking about when you mention the diploma, I think, is whether homeschooling will open or close doors for your children. It sounds like your family – and maybe you – have concerns about whether having a homeschool diploma and not having a diploma from an accredited school could close doors. No one wants to make a decision that will reduce kids' opportunities.
The short answer to your first direct question is: Yes, homeschoolers get a diploma – one issued by their parents.
The short answer to your implied question is: No, in most cases, homeschoolers do not get a diploma from an accredited institution.
The short answer to another implied question is: No, it mostly doesn't affect homeschoolers negatively not to get a diploma from an accredited institution. In most cases, they go right on with their educational plans with no disadvantage from this.
But let's take a look at the more involved answer.
Homeschool Laws
First, you need to understand that homeschooling is administered state-by-state, and each state has its own laws governing homeschooling. One of the initial steps you should take is to find a state-wide homeschooling group that is located in your state and consult their website for information about the state laws where you live. My experience is that national groups and local or state school authorities themselves do not have the best information about homeschooling, unless they are providing links directly to those state-wide homeschooling groups. National groups are unable to keep up with changes in fifty states' laws and often don't understand the nuances as practiced in each state. School authorities are the experts on school, not homeschooling, and they may unintentionally mix up expectations for school children with those of homeschooling. Therefore, your best authority on homeschool law is your statewide homeschool organization, with a strong local homeschool organization or longtime local homeschooling parent being excellent alternatives. Ask the right people to get the applicable answers.
That said, in general, homeschoolers get a diploma when their parents give them one. They do not typically receive a diploma from their school divisions or the state where they live. While school authorities often make a big deal out of whether teens will have or won't have a diploma from their school, most of the time, this is not an issue for homeschoolers.
Job & College Applications
When young adult homeschooled graduates are asked on a job application, "Are you a high school graduate?" they mark Yes. They graduated from homeschooling when they completed their work and their parents (often with their child's input) decided they were graduated. This often means having completed work similar to that of their peers who attended school, but not always.
When they are asked, "Do you have a diploma?" they mark Yes. Their parents gave them a diploma.
When they are asked, "Name of high school," they either write "homeschooled" or the name of their homeschool, since it is a legal requirement in some states to name your homeschool, and since other families have a tradition of naming their homeschool.
Now, the trick is, if a prospective employer or institution of higher education wants to see evidence that a graduate was really homeschooled and well-educated rather than a "dropout," then the graduate needs to be able to do two things – (1) provide written evidence, typically through a transcript and other evidence, and (2) talk the talk of authentic homeschooling.
High school graduates who intend to pursue higher education need more than a diploma, and that's the case whether they are homeschool graduates or…
Read the rest on TheHomeSchoolMom.com »
Submit a question to Ask Jeanne
A popular speaker at homeschooling conferences, business groups, and parents' groups, Jeanne Potts Faulconer has homeschooled her three sons in North Carolina, Mississippi, and Virginia. She is a former college faculty member, editor and book reviewer for Home Education Magazine, long-time editor for VaHomeschoolers Voice, and recent news correspondent for WCVE, an NPR-member station. Jeanne teaches writing and literature for her youngest son's homeschool co-op, and she is a student of how learning works – at home, in the music room, in small groups, in the college classroom, on the soccer field, and in the car to and from practice. Holding her Master of Arts degree in Communication, Jeanne conducts portfolio evaluations for Virginia homeschoolers for evidence of progress. To read more of Jeanne's writing, inquire about a homeschool evaluation, or ask her to speak to your group, see her blog, At Each Turn.