News Literacy, Bees, Letter From Birmingham Jail, and More
From the Editor
Photo credit: Ray Hennessy at Unsplash
On January 20 a new president will be inaugurated after a bitter and divisive election year. If there is one resource in this newsletter that you investigate, I hope it will be the news literacy toolkit from the School Library Journal. Each of us and each of our children need to learn to discern what is reliable information and what is not. There is much more to news literacy than simply classifying a site as "fake news" or biased. Biased sites can have factual stories and unbiased sites can have unreliable stories. Prominent sites can publish headlines that are not supported by the story itself, and when we don't look further than the headline we are left with an inaccurate impression of the events. We owe it to our children to teach them this necessary skill, and the news literacy toolkit is an excellent resource to use.
If you or someone you know is just starting to homeschooling this month, be sure to check out and share our featured article, "Mid-Year Homeschooling: Connection, Not Curriculum." I would also like to invite you to take this mid-year opportunity to tell us what you like or don't like about your curriculum. We want to hear from you!
Enjoy the newsletter!
Warm regards,
Mary Ann Kelley
Editor
Teaching Calendar
January 16, 2017 — Martin Luther King, Jr. Day
January 20, 2017 — Inauguration Day
January 23, 2017 — National Handwriting Day
January 27, 2017 — Russians liberate Auschwitz – 1945
January 28, 2017 — Space Shuttle Challenger Disaster
January 28, 2017 — Chinese New Year – Year of the Rooster
February 1, 2017 — Space Shuttle Columbia Disaster – 2003
February 2, 2017 — Groundhog Day
February 7, 2017 — Laura Ingalls Wilder born this day in 1867
February 11, 2017 — National Inventor's Day
February 12, 2017 — Abraham Lincoln born this day in 1809
Homeschool Links
Truth, truthiness, triangulation: A news literacy toolkit for a "post-truth" world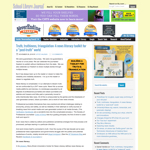 Recently Stanford University's History Education Group published the results of a study on civic online reasoning. The results were frightening — "in every case and at every level, we were taken aback by students' lack of preparation." Enter Joyce Valenza at the School Library Journal and her recent resource, "Truth, truthiness, triangulation: A news literacy toolkit for a 'post-truth' world," a wonderful resource to use as background for teaching students to evaluate news sources. Lots of tips, references, and additional links. I especia
lly like the RADAR evaluation process: relevance, authority, date, relevance, rationale.
You're a Bee. This Is What It Feels Like.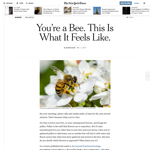 Set your meetings, phone calls and emails aside, at least for the next several minutes. That's because today you're a bee.
"It's time to leave your hive, or your underground burrow, and forage for pollen. Pollen is the stuff that flowers use to reproduce. But it's also essential grub for you, other bees in your hive and your larvae. Once you've gathered pollen to take home, you or another bee will mix it with water and flower nectar that other bees have gathered and stored in the hive. But how do you decide which flowers to approach? What draws you in?"
This interactive science article from the New York Times lets you navigate through a series of beautifully photographed scenes from a bee's life accompanied by answers to those questions and more.
Letter from Birmingham City Jail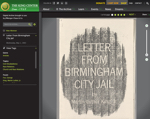 "Injustice anywhere is a threat to justice everywhere."
Martin Luther King, Jr. wrote those words from the Birmingham jail as part of his response to eight Alabama clergymen requesting, in essence, that he stand down. in 1963. The letter and the public statement from the clergymen are available on the King Center's website in their entirety; reading both is a good way to incorporate primary sources from two opposing viewpoints and to initiate a discussion on the best response to injustice. You might want to follow the above activity up with this short interview with Julian Bond, who traveled frequently with Dr. King, discusses the King and the Birmingham jail letter. For a variety of resources geared toward a range of ages, visit TheHomeSchoolMom's Martin Luther King, Jr. page.
If You Only Knew The Amazing Things Your Child Could Do Without School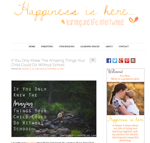 "I recently read this article titled 'If You Only Knew The Amazing Things Your Child Does In School All Day'… And I was shocked. Not in a good way…
"I can't help thinking that if people actually knew what children were like without school, then there is no way they would settle for this. So please, allow me to tell you about the amazing little people that we are lucky enough to know, and what they are truly like without institutionalised 'education'."
Recent Blog Posts
12 Ways to Help Your Child Adapt to Learning at Home
Have you recently made the switch from schooling to homeschooling–or are seriously considering it? It can take some time for your child (and you!) to adjust to this new way of learning and being in the world. Some students adapt quickly, but others need a longer transition period. If your child is struggling or needs help navigating the transition, here are some suggestions that may help… Continue reading »
Homeschool Reset with the "Let's" Effect
One way to make homeschooling more effective is to get involved on the child's level. You each carry a basket for treasures you'll find on your walk together. You sit down and paint your not-very-good-painting while your child paints at the table with you. You take your child to the library and model looking up a book in the computer catalogue; then you and your child search among the Dewey Decimal numbers on the shelf to see who can spot the book first. Let's explore the "Let's" Effect. Continue reading »
Ask Jeanne: Is My Wife Really Homeschooling?
Question: My wife has been homeschooling my 6 and 8 year old daughters for almost 2 years now. At first I was against it but after it caused friction in my home, I decided to support her. Lately, I have been in a dilemma. I've noticed that my wife hasn't done any school work with my kids for months now (about 2 months to be exact). Anytime I mention if they she have done school with the kids, she gets highly upset… Continue reading »
Mid-Year Homeschooling: Connection, Not Curriculum
Did you or someone you know just start homeschooling "after the holidays" — right in the middle of the school year? It can feel daunting, and there can be a particular pressure to "keep up" when you know that the students in your kids' former school are still there, churning through their curriculum.
Each year in January, experienced homeschoolers hear the scramble of brand new homeschooling parents as they ask their Number Two question on social media and in homeschool group meetings.
The Number One question is, "Can I do this?"
But the Number Two question is definitely, "What curriculum should I use?" Even among experienced homeschoolers, January ruminations run toward assessing the curriculum and whether it is working.
I know you don't want to hear this — but your homeschool priority should be connection, not curriculum.
It's hard to get your mind around, because homeschooling is a replacement for school, right? So curriculum obviously covers all that school part.
But emphasizing curriculum selection over helping your child make connections is missing the point. Connection is what ultimately provides the atmosphere for growth, learning, and life satisfaction. You can apply all the curriculum you want, and if your child does not have or feel connection, his or her learning will not be maximized.
What kind of connection am I talking about?