Homeschool Discounts, Pet Unit Studies, Disapproving Grandparents, Deschooling vs. Unschooling, and More
From the Editor
Did you choose a guiding/motivational word for 2015? I did not, mostly because I feel like I am in the middle of so many things that I don't want to add anything else to focus on. I did, however, make a single resolution – I am going to do everything possible to keep my kitchen sink empty of dishes. That one thing seems to make a huge difference in whether other clutter starts to accumulate, so I am encouraging everyone in the house to immediately wash any dishes or put them into the dishwasher, and I am doing the same.
One of the reasons that I feel like I am in the middle of so many things is that in addition to homeschooling, I'm a big family history buff. I've been researching since the days when viewing a census meant a trip to the National Archives instead of logging on to ancestry.com or familysearch.org. Recently, though, I've really stepped up my research, and I've created Collecting Cousins, a genealogy website/blog – check it out if you are interested in family history, and follow the Collecting Cousins pages on google+ and Facebook. I'm looking forward to interacting with other family historians online.
Enjoy the newsletter!
Warm regards,
Mary Ann Kelley
Editor
Teaching Calendar
January 19, 2015 — Martin Luther King, Jr. Day
January 23, 2015 — National Handwriting Day
January 25, 2015 — First Winter Olympics began- 1924 in France
January 26, 2015 — Michigan Admission Day – 1837
January 27, 2015 — Russians liberate Auschwitz – 1945
January 28, 2015 — Space Shuttle Challenger Disaster
January 29, 2015 — Kansas Admission Day – 1861
February 1, 2015 — Space Shuttle Columbia Disaster – 2003
February 2, 2015 — Groundhog Day
February 4, 2015 — Rosa Parks born – 1913
February 6, 2015 — Massachusetts Admission Day – 1788
February 7, 2015 — Laura Ingalls Wilder born – 1867
Educational Resources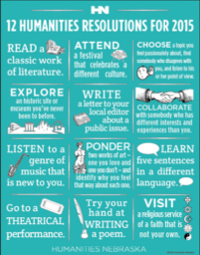 12 Humanities Resolutions for 2015
Humanities Nebraska has put together a diverse list of ways to expand your horizons in 2015 with their 12 Humanities Resolutions chart. It's an attractive printable that invites discussion about the activities and experiences that you might want to try.
Streaming Educational Content

I have been putting together the framework for 2 different high school history units, one for US History and one for the Civil War. I've been amazed by the vast selection of quality educational programs through PBS and even more so through Amazon Prime Instant Video
(for example, Ken Burns' Civil War documentary
streams free with Prime). In addition to the huge selection of instant video for entertainment and education, Prime membership includes free 2 day shipping for items marked Prime. We cut out cable almost 2 years ago and make extensive use of Prime Instant Video, Netflix, and Hulu Plus. We are currently watching the John Adams miniseries
based on the David McCullough book as part of our Prime streaming as we study the American Revolution. If you make use of documentaries and movies in your curriculum, Prime might be a good option for you to consider (there's a free 30 day trial
).
Prohibition
Part of the PBS collection of educational content that I mentioned above is this large collection of resources about prohibition, including the Ken Burns documentary online (video availability changes regularly on the PBS website, but as of this week the full episodes are online) and various background information. Of particular interest is the Unintended Consequences piece by historian Michael Lerner. It gives an interesting comparison of the expected results of prohibition compared to the actual results. Educator materials are also available.
Homeschool Discounts
In addition to being eligible for group buys at places like Homeschool Buyers Co-op, homeschoolers often find that brick and mortar stores extend educator discounts to us if they offer them to classroom teachers. TheHomeSchoolMom's Homeschool Discounts page lists stores and vendors offering education discounts, and includes some discount codes (such as the newly added code for these awesome TILCO educational shower curtains) specifically for our readers. Education discounts on software and computers can be significant, such as those offered for Apple or Adobe products.
Recent Blog Posts
Ask Jeanne: Don't Homeschool My Grandchildren
Dear Jeanne,
I know you know about this homeschooling thing. I understand it probably can help some kids, but my grandchildren are absolutely fine, and they don't need it. My daughter-in-law quit her very good job when they were born (twin girls) and now when we bring up preschool, she says she's homeschooling. I thought this would pass, but she recently mentioned not registering for kindergarten next year.
We have really good schools here, probably some of the best in the country, and I am devastated thinking about these dear little girls missing out. My son won't talk to me about it; I think he has his head in the sand and is so busy supporting the family (this is a high cost area) that he just goes along. I know homeschooling should be legal for the children who need alternatives if they can't function in school, but this is not the case. How can I get them to open their eyes? Read more »
Homeschooling Teens: Finding a Third Place
Homeschooling teens means a lot of questions about preparing for college admission or getting experience and training for a vocation or artistic endeavor. We wring our hands over curriculum and credits, and we help our teens learn to drive and manage their money.But another little piece of life experience we can help our teens with is being able to work in "a third place.
"Typically, a third place is talked about in the world of adults, as the place that is "not home" and "not work." College students and some high school students often study or socialize in a "third place" that is "not home" and "not classroom." Read more »
Your dog, cat, bird, fish, ferret, hamster, or lizard may be a unit study waiting to happen. Many children are fascinated by domestic animals, and their strong interest will motivate them to read, write, solve problems, and create projects. Here are some ideas for developing a unit study around our pets. Read more »
Featured Article
Deschooling vs. Unschooling – What's the Difference?
New homeschoolers and non-homeschoolers sometimes wonder about the word "deschooling" vs. "unschooling". The prefixes "de" and "un" often mean such similar things. We "de-humidify" and we "un-tie" our shoes — both acts of reversing the meaning of the root word.
And in that sense, the words are related. Both deschooling and unschooling require thinking about the inverse of schooling.
But within the world of homeschooling, the two words deschooling and unschooling have meanings that are, most often, distinct from one another.
Within the culture of homeschooling, deschooling refers to the transition from school. Here at TheHomeSchoolMom.com, I have written about deschooling for kids as well as a whole series about deschooling for parents.
Within the culture of homeschooling, unschooling refers to a specific approach to homeschooling — a homeschooling style that emphasizes living and learning without regard to school expectations and norms. TheHomeSchoolMom.com also has a lot of information about unschooling, and a good place to begin is, well, with this Beginner's Guide to Unschooling.
Deschooling is important for all families who are starting homeschooling, even if they will ultimately use an ongoing approach or homeschooling style that is not unschooling. After a period of initial deschooling, they may choose a unit studies approach, a curriculum approach, a Waldorf- or Montessori-inspired approach, an eclectic approach, an engaged homeschooling approach, a Charlotte Mason approach, or the Moore Formula, all homeschooling styles which are explained here at TheHomeSchoolMom.com.
What can get tricky to wrap your head around terminology-wise, is that deschooling might also lead to unschooling. Some families go through the deschooling process and become so comfortable with the ideas of learning without school, that they make a conscious decision not to turn to a different approach to homeschooling.
Some families just slip into unschooling without a decision. During the deschooling period, they see their kids are learning, and the parents continue to facilitate that learning, brushing aside the idea that they would adopt a different homeschooling style once a certain deschooling period was complete.
In that sense, deschooling trails off into unschooling. And many unschoolers will tell you that they continue to "deschool" for years and years, looking for ways that clinging to the defaults of schooling may be harming effective learning at home.
There are even parents who know they will unschool from the beginning (they come to home education planning to use unschooling as their ongoing approach to their children's learning) — who still find themselves deschooling. We live in a society where schooling is so pervasive, that getting out of the box of school norms can take a lifetime.
This can make embarking on deschooling especially scary. What if I can't get my kid back to My Plan? What about graduation requirements or college admission? (There's a wealth of information out there by people like Alison Mckee, who explains how this can work — but it's another topic for you to pursue as you are learning about home education).
And yet, even advocates of more formal and structured approaches to homeschooling (homeschooling styles other than unschooling) continue to advocate deschooling as an initial step to home education. There is, quite simply, no substitute for it, especially for families who have been in or around schools for a long time.
To complete the circle (and add to the confusion?), I know many families whose unschooled kids have chosen to attend school, particularly for high school and college. Without compulsion to be there (they know they can return to learning at home), and without burn-out from years of schooling, they often enjoy school and do well. Others decide after a semester or a year that the trade-offs are too great, and they go back to learning at home.
And, of course, we know kids who have always attended school for whom school happens to be a great fit. These kids and their parents may wonder why anyone would need to deschool, unschool, or homeschool at all!
If you were one of those successful school kids, or if you are a teacher by training, and you are now embarking on homeschooling your kids, you may resist deschooling at first and dismiss unschooling altogether. If you homeschool more than a year or two, hang on for the ride of your life.
A popular speaker at homeschooling conferences, business groups, and parents' groups, Jeanne Potts Faulconer has homeschooled her three sons in North Carolina, Mississippi, and Virginia. She is a former college faculty member, former editor and book reviewer for Home Education Magazine, a long-time editor for VaHomeschoolers Voice, and a recent news correspondent for WCVE, an NPR-member station. Jeanne teaches writing and literature for her youngest son's homeschool co-op, and she is a student of how learning works — at home, in the music room, in small groups, in the college classroom, on the soccer field, and in the car to and from practice. Holding her Master of Arts degree in Communication, Jeanne conducts portfolio evaluations for Virginia homeschooler
s for evidence of progress. To read more of Jeanne's writing, inquire about a homeschool evaluation, or ask her to speak to your group, see her blog, At Each Turn.