Current Events, Sports Books, Eyewitness Accounts, and More
From the Editor
Photo credit: Laura Ockel at Unsplash
Happy Valentine's month! This weekend is the annual Great Backyard Bird Count, which is a great way to introduce your kids to Citizen Science. This issue features many useful resources, including an in-depth article from Jeanne about using current events as an ongoing unit study by "Homeschooling the Presidency." Our sponsor Oak Meadow is having a 20% off sale this month, and be sure to check out A Playful Path, a free download highlighted in our recent blog posts.
Enjoy the newsletter!
Warm regards,
Mary Ann Kelley
Editor
Teaching Calendar
February 12, 2017 — Abraham Lincoln born this day in 1809
February 14, 2017 — Valentine's Day
February 17, 2017 — Random Acts of Kindness Day
February 20, 2017 — Presidents' Day
February 22, 2017 — George Washington born this day in 1732
March 2, 2017 — Read Across America Day
March 2, 2017 — Dr. Seuss' Birthday
March 11, 2017 — Purim begins at sundown
March 11, 2017 — Johnny Appleseed Day
March 13, 2017 — Uranus discovered – 1781
March 14, 2017 — Albert Einstein's birthday – 1879
March 14, 2017 — Pi Day
Homeschool Links
Eyewitness Accounts: The Cowen Report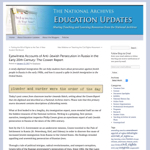 The Cowen Report is a "newly digitized immigration file can help students learn about persecution against Jewish people in Russia in the early 1900s, and how it caused a spike in Jewish immigration to the United States…"
The intern who digitized it wrote that "what at first boded to be a lengthy, dry immigration report, soon revealed itself as one of the hidden treasures of the National Archives. Writing in a gripping, first-person narrative, immigration inspector Philip Cowen gives an eyewitness report of anti-Jewish persecution in Russia at the dawn of the 20th century."
The link at the bottom of the article (and here) leads to the 193 typewritten pages of the report, and there is an interface with the database that divides the report into topics here. There is nothing like reading a firsthand account to stimulate interest in history.
The Bill of Rights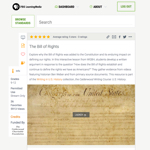 "Explore why the Bill of Rights was added to the Constitution and its enduring impact on defining our rights. Students develop a written argument in response to the question "How does the Bill of Rights establish and continue to define the rights we have as Americans?"
This PBS Learning module has a downloadable teacher guide and includes a 13 slide interactive lesson with videos from historian Ben Weber as well as primary source documents. Free registration is required to access the module.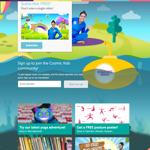 Cosmic Kids Yoga is a program teaching kids mindfulness and yoga that was started by Jaime and Martin Amor. Much of the program is available for free on their website and YouTube channel. The videos are geared toward ages 2-7 and Jaime leads the videos, which are a great way to help an energetic child focus in a calm and mindful way. I suggest watching one or two of the videos for yourself to get a feel for them. I watched the Zen Den | Taste Test video, which teaches mindfulness in eating. There were so many aspects that I loved – the calm tone Jaime uses while she is giving instructions for the exercise, the reminder to kids to wash their hands, the focus on intentionally experiencing each part of eating, and the encouragement to try new foods. In an era of poor eating habits (both what we eat and how we eat it), the Zen Den | Taste Test video has all kinds of great reminders about mindfulness in eating.
Yoga can benefit children by growing confidence, promoting a healthy body, improving concentration, manage stress, and promote inclusivity. There are other resources on the site beyond the videos — articles such as "5 Simple Ways to Teach Your Kids Gratitude" are excellent for encouraging moms and dads.
Sports Books and Activities for the Classroom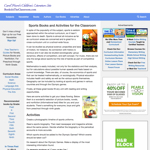 We love interest-led learning at TheHomeSchoolMom, and this post from Carol Hurst's Books in the Classroom is right up our ally. Carol introduces some great books that can be used to encourage reading among sports fans, but it's her list of activities that are the best part of this article. You will find a link to a list of all topics covered on her book site at the bottom of the page; there are lots of great resources for a variety of interests.
Recent Blog Posts
Playful Path: The Most Necessary Book You'll Ever Get For Free
Bernie DeKoven may be a guru of fun but he's got a serious message for all of us. We need more playfulness! This game designer and fun theorist was a pioneer in computer game design and instrumental in the New Games movement. His new book, A Playful Path, is jam-packed with awesomeness. It's made up of tools and ideas to inspire the possibility-building, wide-open glory of playfulness. Continue reading »
3 Tips for the Accidental Homeschooler
It may be a new year, but for those of us with school-aged children, we are actually in the middle of the school year. This is usually the time of year when many frustrated parents make the transition to homeschooling. These are the families we have affectionately called "accidental homeschoolers." Why? Because they never had any intention to homeschool. But an unforeseen circumstance happened along the way — perhaps a bullying issue, an illness, or a gifted child not being challenged enough, and the parents had to ask themselves, "What do we do now?" Continue reading »
Mid-Year Homeschooling: Connection, Not Curriculum
Did you or someone you know just start homeschooling "after the holidays" – right in the middle of the school year? "What curriculum should I use?" Even among experienced homeschoolers, January ruminations run toward assessing the curriculum and whether it is working. I know you don't want to hear this – but your homeschool priority should be connection, not curriculum. Continue reading »
12 Ways to Help Your Child Adapt to Learning at Home
Have you recently made the switch from schooling to homeschooling – or are seriously considering it? It can take some time for your child (and you!) to adjust to this new way of learning and being in the world. Some students adapt quickly, but others need a longer transition period. If your child is struggling or needs help navigating the transition, here are some suggestions that may help… Continue reading »
Homeschooling the U.S. Presidency
Using Current Events as an Ongoing Unit Study
You might have noticed that the election of Donald J. Trump as president of the United States is generating a lot of attention and controversy. But are you homeschooling the presidency?
No matter our political views, there are issues brought up by the 2016 U.S. election and current presidency that our children can learn from. I happen to be homeschooling an older teen, who, if he were in school, would be a senior enrolled in a U.S. Government class. Kids in middle school, often 8th grade, also frequently take a course called Civics, which includes study of government. As homeschoolers, we can certainly take advantage of these particular times in our kids' educational careers — 8th and 12th grades — to "cover" government.
However, we can also help them learn about government through most of their homeschooling years, even without an official course.
Model Interest in Current Events
My kids have always seen me reading, watching, and listening to the news — and sometimes writing newspaper columns, magazine articles, and internet content — as well as producing radio news from my home studio as a correspondent for a radio news station. You may not have had such direct involvement in "the news," but your kids will take notice if you are keeping up with the actions of our government officials. Kids are interested in what their parents are interested in, so if you want children who are informed about the issues, demonstrate your own interest.
Narrate the News
This is another way of saying "talk to your kids." Depending on their age and interest level, give them summary statements of the day's or week's big happenings, just working them into the conversation. You can add explanations about the vocabulary as you go. "President Trump nominated a judge to the U.S. Supreme Court today. The Supreme Court decides whether our laws are in line with our Constitution." And that, of course, gives you the opportunity to talk about the Constitution. Another day you can specifically mention the Bill of Rights, and on it goes.
Ask Questions
For older kids or those who are more interested, using an inquiry-based learning approach will be effective. Moving beyond just narrating or telling children about the events of the day, you ask questions that will help children think beyond the facts and vocabulary…