From TheHomeSchoolMom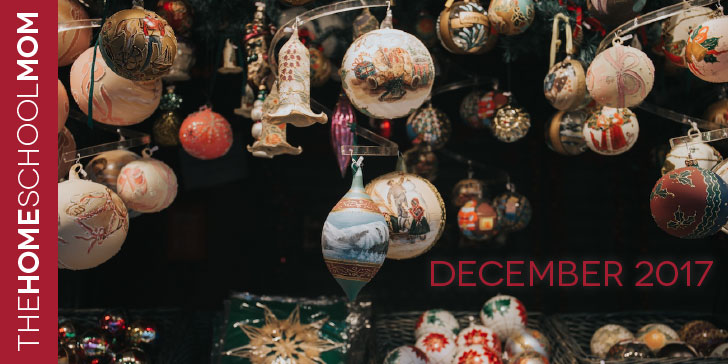 Welcome to the December issue of TheHomeSchoolMom newsletter! If you've never made a calendar with your kids before (as described in our featured article), the week between Christmas and New Year's Day is a perfect time. I hope your holidays include meaningful time with family and friends and are stress-free. We'll be back in January with more homeschool resources.
Enjoy the newsletter!
Warm regards,
Mary Ann Kelley
Editor
Teaching Calendar
December 14, 2017 — South Pole First Reached – 1911
December 15, 2017 — Bill of Rights Day
December 16, 2017 — Boston Tea Party – 1773
December 20, 2017 — South Carolina First to Secede – 1860
December 21, 2017 — Pilgrims Disembarked at Plymouth – 1620
December 22, 2017 — Beatrix Potter died this day in 1943
December 25, 2017 — Christmas
December 26, 2017 — Tsunami in Indian Ocean – 2004
December 28, 2017 — Endangered Species Act passed – 1973
December 31, 2017 — WWII End of Hostilities – 1946
January 1, 2018 — Emancipation Proclamation signed by Lincoln – 1863
January 1, 2018 — New Year's Day
January 7, 2018 — First US Presidential Election – 1789
January 15, 2018 — Martin Luther King, Jr. Day
Blog Posts
Creating a Calendar with Children
A great project for the New Year is creating a calendar with your little ones. I'm talking about making a calendar the old fashioned way, using fresh heavy art paper and your favorite combination of markers, colored pencils, oil pastels, or other media. I first got this idea from the Oak Meadow first grade curriculum, a Waldorf-inspired curriculum which I loosely followed from time to time and adapted for other ages as my family grew.
Creating a Calendar
The four-to-ten-year-old set can often readily be attracted to creating this kind of family calendar, which provides numerous opportunities for learning. Depending on the age of your kids, you can start off with paper that you have already marked off into seven columns for the days of the week, along with six rows. You'll want a separate sheet for each month of the year, but I recommend having plenty of extra template pages, so there are plenty of pages for experimentation.
You may be able to teach older children how to mark the grid lines themselves, but you don't want to frustrate the younger ones if the task is over their heads. I didn't use computer generated templates for this particular project since I wanted all the work to be done by hand for a more organic effect.
Writing the month names and days of the week on each page of the new calendar is good copy work for those who are perfecting their printing skills. This process also helps solidify the order of the months and days, a common bit of social studies knowledge for the early years.
Adding the numbers to the squares to create dates is good practice for children who are solidifying their counting skills and learning how to write the number symbols. For those who learned how to write numerals during the fall months or during a previous year, creating a calendar gives them a practical application for the skill – they can see that being able to write numerals is useful. For those who have learned how to create the numerals 0-9, copying calendar dates into the squares can be the beginning of understanding how "the tens place" works by using the same symbols to create more numbers — 10 – 31!
Decorating the Calendar
Most fun is decorating each month according to the season or the predominant holiday for that month. January gets snowflakes, February gets hearts, March gets wind or depending on the year, Easter eggs, — and of course there are April showers and May flowers. You can emphasize the holidays, traditions, or special occasions that are important to your culture and your family, and make that the theme for the month.