Study Skills, Mother's Helpers, News Literacy, Weather, and More
From the Editor
As we head into the beginning of the academic year, TheHomeSchoolMom's free planner has been downloaded more times than ever before. It has been updated for the 2017/2018 school year, so if you haven't grabbed your updated copy, be sure to do so here. Our digital planner, Homeschool Planner Plus, is also available for free and includes spreadsheets for high school transcripts that automatically calculate GPA and credits.
Did you know that TheHomeSchoolMom.com has thousands of listings for local homeschool groups, homeschool-related events, homeschool field trips locations, homeschool co-ops & classes, and arts & sports opportunities? We also have hundreds of curriculum reviews by homeschool parents giving details about what worked and what didn't work for their kids. It's a great place to get honest feedback from people who have used the curriculum. You can contribute by adding a review (or several!).
Enjoy the newsletter!
Warm regards,
Mary Ann Kelley
Editor
Teaching Calendar
August 18, 2017 — Virginia Dare born this day in 1587
August 19, 2017 — National Aviation Day
August 24, 2017 — Mt. Vesuvius eruption – 79
August 26, 2017 — Charles Lindbergh died this day in 1974
August 27, 2017 — Krakatoa eruption – 1883
August 28, 2017 — "I Have a Dream" speech given by Martin Luther King, Jr.
August 29, 2017 — Hurricane Katrina anniversary – 2005
September 2, 2017 — V-J Day (Victory over Japan, WWII) – 1945
September 3, 2017 — Treaty of Paris signed – 1783
September 6, 2017 — Pilgrims set sail from Plymouth, England – 1620
September 8, 2017 — International Literacy Day
September 11, 2017 — Patriot Day
September 14, 2017 — Frances Scott Key wrote the Star Spangled Banner – 1814
Homeschool Links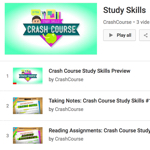 You may remember my previous posts about Crash Course. The free YouTube channel has playlists for a variety of subjects from history to science to economics to film history, but their current offering is universally helpful: study skills. Thomas Frank is the host for this series which will help students strengthen their learning skills. For 10 weeks Thomas will be adding videos, two of which are already uploaded: Taking Notes and Reading Assignments. You can view a short preview video here.
Evaluating Sources in a 'Post-Truth' World: Ideas for Teaching and Learning About Fake News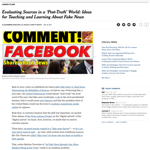 Oxford Dictionaries declared "post-truth" the 2016 word of the year. The NY Times Learning Network updates a 2015 article titled "Fake News vs. Real News: Determining the Reliability of Sources" with new resources for 2017 which explain how to tell the difference between a news piece and an opinion piece, how to recognize satire and differentiate it from "fake news", and what the difference is between news and news analysis among other topics. News literacy continues to be a crucial element of being an educated citizen and this r
esource uses real life examples to teach students how to recognize the legitimacy of a source and how to classify its information.
National Weather Service Education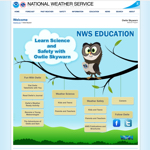 Have you met Owlie Skywarn™ yet? The mascot of the NWS has a website for kids, parents, and educators with lots of information for learning about weather. You can print a Flat Owlie to travel with, learn about weather and natural disasters, visit the NOAA website with Owlie to learn participate in the "Severe Weather Preparedness Adventure", learn what to put in an emergency supplies kit, and more.
Recent Blog Posts
Hero of Homeschooling: The Mother's Helper
Need a few quiet hours to work or write or think or walk or nap or do the dishes? Have you considered the potential miracle of a mother's helper?
That ten- or eleven-year-old homeschooled child from someone else's family might be the key to helping your family blossom.
When I had a houseful of littles, using a "tween-age" mother's helper was a lifesaver.
Deciding Responsibilities
A kid who was several years older was able to play directly with my kids and entertain them, often diluting their squabbles and bringing fresh ideas to the sandbox and LEGO™ bricks. Not yet babysitting age, my mother's helpers were not self conscious about truly playing with my sons. They got sandy in the sandbox right alongside them. However, they were competent to help with snacks and juice, put coats on and off for backyard play, and encourage imperfect clean up of "this" before we get out "all that."
Setting Pay
We called it "pay for play," and I paid… Continue reading »