Transcripts, American History, Finding Community, Homeschool Schedules, and More…
From the Editor
I've recently been talking to other moms who are homeschooling high school students about creating high school transcripts for those who are college-bound. It seems that there are quite a few homeschoolers who are intimidated by the transcript creation process (often because their children are following interests and passions instead of curriculum). One way to approach transcript creation is by breaking it down into much smaller steps starting with things you are familiar with, like this:
Brainstorm the various accomplishments and studies for the child and type them out one per line in a word processor, triple space. Don't worry about formatting your sentences properly or even making them full sentences – this is just food for later thought.
Print the document, then cut the lines into strips.
Arrange the strips into groups based on general topic, then again into more groups based on subjects.

I find color coding each strip by subject to be helpful since you can have more than one color/subject per strip (simply use a colored marker to make a dot or line representing the subject(s) it covers on each strip). This allows activities/studies that were multi-disciplinary to be in more than one group and makes the entire process easier by allowing you to visually process the colors into groups.

Look at all the strips for each color and begin to see patterns and connections in the activities and studies, and come up with course names for each group. Specific studies can have course names that are specific (Greek Mythology), where broader studies can be named "Survey of XXX" (Survey of Ancient Cultures).
Keeping in mind how much time was spent on each subject, assign credits for each. There is a helpful webinar that TheHomeSchoolMom hosted with Lee Binz several years ago that has information to guide you in determining how many credits to assign for various work.
Take each course and credit and enter them into our Homeschool Planner Plus spreadsheet (free download) and the GPA will automatically be generated. Fill in the student information and print and you have a transcript that can be sent to any college (keep in mind that most colleges require that transcripts be submitted in a sealed envelope with your signature across the seal).
Enjoy the newsletter!
Warm regards,
Mary Ann Kelley
Editor
Teaching Calendar
August 18, 2016 — Virginia Dare born this day in 1587
August 19, 2016 — National Aviation Day
August 24, 2016 — Mt. Vesuvius eruption – 79
August 26, 2016 — Charles Lindbergh died this day in 1974
August 27, 2016 — Krakatoa eruption – 1883
August 28, 2016 — "I Have a Dream" speech given by Martin Luther King, Jr.
August 29, 2016 — Hurricane Katrina anniversary – 2005
September 2, 2016 — V-J Day (Victory over Japan, WWII) – 1945
September 3, 2016 — Treaty of Paris signed – 1783
September 6, 2016 — Pilgrims set sail from Plymouth, England – 1620
September 8, 2016 — International Literacy Day
September 11, 2016 — Patriot Day
September 14, 2016 — Frances Scott Key wrote the Star Spangled Banner – 1814
September 16, 2016 — Collect Rocks Day
September 16, 2016 — Mexican Independence Day
September 16, 2016 — Mayflower Day
Educational Resources
Martin Luther King, Jr.

On August 28, 1963, Martin Luther King, Jr. stood at the Lincoln Memorial in Washington, D.C., and gave his most famous speech. His dream for his children, that they would "not be judged by the color of their skin but by the content of their character," has inspired many in the fight for civil rights over the past 53 years. Our MLK, Jr. unit can be found on the linked page for free, and newsletter subscribers can download the PDF version in notebooking format.
Treaty of Paris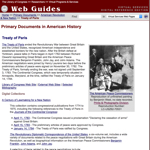 Do your children know when the United States was officially liberated from Britain? Many might guess July 4, 1776, but the correct answer is that while the colonies declared independence in 1776, it wasn't until September 3, 1783, that the newly formed country signed the Treaty of Paris with "his Britannic Majesty", ending the war and establishing America as an independent nation. The treaty was finally ratified January 14, 1784, by the Continental Congress. The Library of Congress has many resources for studying about the Treaty of Paris in its Primary Documents in American History collection.
Francis Scott Key, the Reluctant Patriot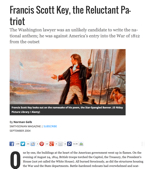 Barely more than a quarter of a century after America won her independence from Britain, she was again entangled in war with the crown. With America attempting to expand her borders and the British supporting raids by Native American tribes, the War of 1812 was considered a second war of independence by some in the United States, while not given much weight by Britain. For the first two years of the war, Britain was embroiled in war with Napoleon, but by 1814 had defeated him and turned its focus to the war in America. It was under these circumstances that Britain burned Washington, D.C, and three weeks later Francis Scott Key "found himself detained on a British ship within sight of [Fort McHenry]" in Maryland as it was assaulted by the British on September 13, 1814. All evening and into the morning, Key had no way of knowing if the defenses held firm or if the flag had fallen. He penned the now famous words of our national anthem while waiting to see through the smoke and fire if the flag still waved. Read more about Key and his involvement in the War of 1812 at the link above, and next month on September 14, you can tell your children the story of the origins of our national anthem on the 202nd anniversary of its writing.
Recent Blog Posts
I'm cautious about twisting every interesting thing into a "learning opportunity" that can turn off otherwise interested kids, but the Olympic Games are compelling, and your kids will probably want to know more. Watching actual competitions on television or via internet is surely the hook. Competition is its own drama, and the personal stories of athletes who have trained for so many years are interesting. But with the 2016 Olympics in Rio set for August 5 – 21, what are some good resources for additional learning? Read More…
When the modern homeschooling movement first began a few decades ago, the personal computer didn't even exist, but now the majority of homeschooling families use a computer as part of their educational program. This not only reflects the growth of computers throughout our culture, but it also indicates that many homeschooling parents have assumed that computers can help children learn more effectively. But if we think that plugging every kid into a computer will transform education, we're fooling ourselves – and potentially harming our children. Read More…
Arranging a Strong Week: Your Homeschool Schedule
As a homeschool evaluator in Virginia, I've worked with hundreds of kids in families who have used all kinds of weekly homeschool schedules. I'm also in my 19th year of homeschooling, and since we've moved around a lot, I've been in a ton of different homeschooling communities and groups with so many good homeschooling families. I've seen all kinds of weekly schedules work well for people, and creating a strong week of homeschooling can look different for each homeschooling family. Some families have weekly schedules that look like school schedules, but most homeschooling families use the flexibility of homeschooling to create a weekly schedule that is customized for them. Here are some of the homeschool schedules that I have seen work to create a strong homeschooling week. Read More…
Finding Community as a Homeschooler
At first, particularly if you are new to homeschooling, it may seem like there are no homeschoolers around at all. But chances are very good that they are just hidden in plain sight! Families in many areas have established homeschool groups that meet for field trips, projects, playtime, and even parent-run classes. Finding them can be the hardest part. Some homeschool groups maintain a low profile to respect or protect the privacy of their member families. So it can be challenging to make that first connection. But homeschoolers, in general, are very resourceful and well-connected, and once you've found one local homeschooling family, you may soon hear about others. Read More…
Ten Things Homeschoolers Don't Have To Do
You're excited about the new homeschool year, and you have a list of things to do to get ready. Do you have a list of things you don't have to do?
Homeschoolers don't have to:
Buy new curriculum. Really! You don't need to purchase a new curriculum to homeschool. You can use free online curricula, you might homeschool using an approach that doesn't require a purchased curriculum (unit studies, unschooling), or you could use the internet and the library to design your own studies. You can also buy used curriculum privately or through a homeschool conference or bookstore. Of course, buying new curriculum is certainly an option if you prefer doing so.
Follow a school calendar. You can homeschool year round or on a four-day week. You can homeschool through the summer and take time off between Thanksgiving and Christmas. You can even forget about the calendar all together, since children learn all the time. It's up to you how you set up your homeschool calendar.
Follow a school schedule. You don't have to start school at a certain time of day. Your kids can play outside during school hours. You can homeschool at night, or set a homeschooling schedule around your work hours. You can think in terms of setting up your homeschool schedule by the week instead of by the day. You don't even have to have any set schedule …  [Continue reading]
Save
Save
Save
Save
Save
Save