Summer Links & Homeschool Planning
From the Editor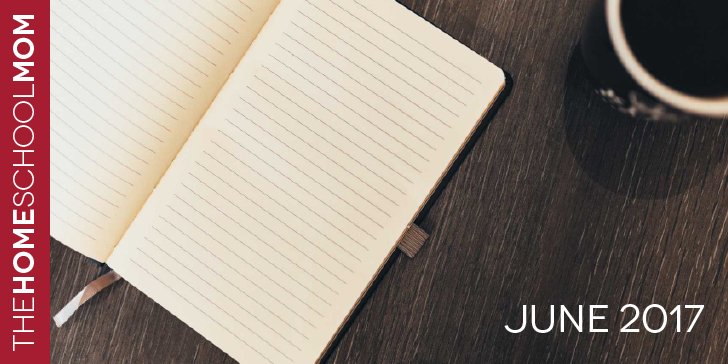 June means winding down, wrapping up, and looking at the blank pages of the next academic year with an eye toward new resources and activities. Although homeschoolers don't have to hold parent/teacher conferences, it's a good idea to have a wrap-up discussion with your kids at the end of the year. Our feature article gives some excellent questions for discussing how the year went with your kids that will give you insight into planning for next year. If you are planning for next year and haven't downloaded our free comprehensive homeschool and household planner, be sure to download it here.
As is our practice in June, we highlight some of our summer-themed content – I hope you find it useful. Enjoy the newsletter!
Warm regards,
Mary Ann Kelley
Editor
Teaching Calendar
June 14, 2017 — Flag Day
June 18, 2017 — Father's Day
June 27, 2017 — Helen Keller born this day in 1880
June 28, 2017 — WWI began – 1914
June 30, 2017 — Meteor Day
July 1, 2017 — Canada Day
July 2, 2017 — Civil Rights Act of 1964
July 4, 2017 — Independence Day
July 7, 2017 — Pinocchio first printed
Summer Homeschooling
Trying Homeschooling Over the Summer
This is the time of year when I begin to hear from many people who are interested in trying homeschooling "over the summer". For lots of parents who have not made a final decision about whether to homeschool during the next year, this seems like a practical approach.
If homeschooling doesn't seem to work, their children can enroll in school for the next school year, without any lost academic time. If homeschooling does seem to work, then the family can commit to homeschooling fully and begin the next academic year with home education.
Many veteran homeschoolers will tell you, though, that a summer trial of homeschooling may not be a great indicator of how homeschooling will work for your family.
Let's look at the pros and cons of trying on homeschooling this summer… Read more »
Creating a Calendar with Children
Summer is a great time to work on a calendar for the upcoming school year. Jeanne says, "I'm talking about making a calendar the old fashioned way, using fresh heavy art paper and your favorite combination of markers, colored pencils, oil pastels, or other media. I first got this idea from the Oak Meadow first grade curriculum, a Waldorf-inspired curriculum which I loosely followed from time to time and adapted for other ages as my family grew The four-to-ten-year-old set can often readily be attracted to creating this kind of family calendar, which provides numerous opportunities for learning…" Read more »
Playful Path: The Most Necessary Book You'll Ever Get For Free
In her review of Playful Path, Laura Grace Weldon writes, "Bernie DeKoven may be a guru of fun but he's got a serious message for all of us. We need more playfulness … DeKoven is game designer and fun theorist who was a pioneer in computer game design and instrumental in the New Games movement. He's worked in the development of the Lego game system, as well as designed games for Ideal Toy Company, Children's Television Workshop, Mattel Toys, CBS Software, Automated Simulations, and much more… His new book, A Playful Path, is jam-packed with awesomeness. It's made up of tools and ideas to inspire the possibility-building, wide-open glory of playfulness.&q
uot; What better season to invest some time in play than summer? Read the rest of the review here, and download the free book here.
Recent Blog Posts
Parent/Teacher – Student Conferences
by Stephenie Hovland
Aren't you glad you don't have to endure parent-teacher conferences? It's just one of the blessings for those who home school. The purpose of parent-teacher conferences is to check the progress of the student for the current school year. You may love the fact that you don't have to stand in lines, hear how others think your child is doing, or try to reason with another teacher, but you may want to consider conducting a progress check of your own. You could call it a parent/teacher-student conference.
First, decide when the appropriate time is to review this year's progress. It may be once a quarter, twice a year, or as a year-end evaluation.
Second, you need to decide what your objectives are. Do you want to evaluate your curriculum to see how well it fits your children? Are you checking the progress your children are making, to see how they handle the subjects or if they are staying on grade level? Maybe you just want to see how your children perceive they are doing. Before you move to the next step, choose which items you want to include in your conference.
Third, keep in mind that this is not a test. This is a conference, a progress discussion. Don't administer tests, but be prepared to look at or discuss recent homework projects, tests or grades.
Fourth, make up a questionnaire for your children. Remember, it's not a test. Give them the questionnaire a couple of days before you plan to meet, so they can be thorough and have time to remember everything.
Here are some questions you may want to use:
On a scale of 1 to 10 (10 means "perfect," 5 means "okay," 1 means "couldn't be much worse.") how would you rate ___________________ ? You can use this to evaluate each subject, specific projects, or a certain period of time.
Name three things that you think were the best learning experiences. Be ready to tell me why each one was so good when we have our meeting.
List one thing you think we could do better. Do you have suggestions for how we could improve it?
Which subjects/topics/projects are you very good at? Which ones do you struggle with?
If you could learn about anything, what would you pick?
What are some of your goals? They don't have to be school-related.
What changes do you need to make to be more successful?
What changes do you think our family may need to make to help you learn better?
You can add your own questions to evaluate your unique situation. You may choose to have students fill out the questionnaire ahead of time or just think about the answers, so you can discuss them together.
Fifth, set up your conference and be prepared to listen to each child separately. Try not to be defensive; just listen. You may disagree with the child's self-assessment. If that is the case, you can share what you think, but try to phrase it in a way so your child will listen. Perhaps something like this: "That is a very interesting observation, Emily. I have some other thoughts to go with it. Can I share them with you?" Then, proceed to share your concerns, and be prepared to listen again.
With some honest discussion, you will be able to evaluate your home school situation and your children's progress. Allowing them to give you feedback empowers your children to be even more involved in their own education. You will all be rewarded by the experience.
Visit Stephenie's site http://faith-filled.com/tag/classroom/ for specific tips tailored to classroom teachers and homeschooling parents.
Article Source: http://EzineArticles.com/