Resource of the Week: Civil War Publication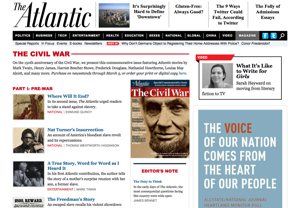 Last year, The Atlantic magazine published a special issue commemorating the 150th anniversary of the start of the American Civil War. Pulling from its own publications starting with the second ever issue in 1857 and continuing all the way through post-war reflection, the issue includes stories by Mark Twain, Henry James, Harriet Beecher Stowe, Frederick Douglass, Nathaniel Hawthorne, Louisa May Alcott, and more. The publication can be accessed for a fee for Kindle, Nook, or Apple, but the entire issue is available for free at their website. The special issue is a treasure trove of primary sources, literature, photos, and more.
"When The Atlantic debuted in November 1857, the Supreme Court's Dred Scott decision—declaring that slaves were not and could never become citizens, and also that Congress lacked the authority to outlaw slavery in federal territories—had been handed down just eight months earlier, and violence raged in Kansas over the question of popular sovereignty."
The second issue ever published included a "broadside against the South's 'peculiar institution' ... written by the author and anti-slavery activist Edmund Quincy, of a prominent Boston political family." So began a unique first-hand chronicling of the war that threatened to forever divide the states. A companion photo essay of rare photographs is available covering the places, the people, and the stereographs of the Civil War. "Although photography was still in its infancy, war correspondents produced thousands of images, bringing the harsh realities of the frontlines to those on the home front in a new and visceral way."