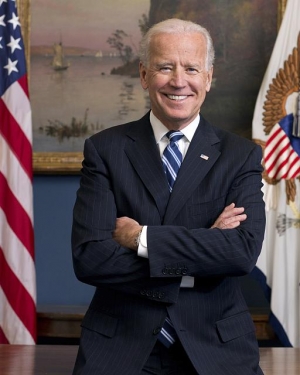 Presidential Facts about Joseph R Biden
Joseph R Biden - 46th President of the United States serving 1 term, from 2021 to present.
Vice President - Kamala Harris
Born - November 20, 1942
Died - Still living
First Lady - Jill Jacobs
Party - Democratic
Joseph R Biden is from Delaware.
Links
Legislation Sponsored or Cosponsored by Joseph R. Biden, Jr. (M, O, T)
Students can use the primary sources from Congress.gov to review legislation sponsored or cosponsored by Job Biden during his time as Senator.
Joe Biden: Political Profile (Y, M, O, T)
Vote Smart's profile of Joe Biden provides a brief biography, Biden\'s voting record, stances on issues, notable speeches, and more.
Being Biden: Photo Collection (Y, M, O, T)
A collection of photos, video, and audio of Joe Biden\'s notable moments as Vice President from Archives.gov.
Joe Biden: 2013 TIME 100 (Y, M, O, T)
In 2013, Vice President Joe Biden was named one of Time's 100 most influential people in the world. You can read his profile and why he was selected at Time.com.
Beau Biden Foundation (Y, M, O, T)
Joe Biden co-founded the Beau Biden Foundation, a nonprofit dedicated to child welfare and protection, in honor of his late son Beau.
Joe Biden.com (Y,M,O,T)
"A Presidency for All Americans" - The official campaign website for the Biden Harris presidential race.
Joe Biden Facebook page (Y,M,O,T)
Joe Biden official Biden for President Facebook page.
Joe Biden Biography (Y,M,O,T)
Joe Biden's biography page at Biography.com covering his early years, college, marriage, law school, political career, and more.
Joe Biden (Y,M,O,T)
From History.com, this webpage contains a brief biography and timeline of Joe Biden's political career.