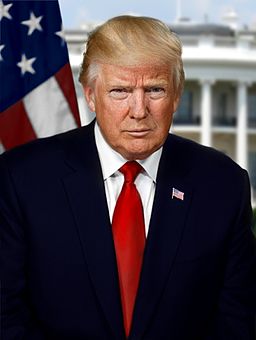 Presidential Facts about Donald J Trump
Donald J Trump - 45th President of the United States serving 1 term, from 2017 to present.
Vice President - Mike Pence
Born - June 14, 1946
Died - Still living
First Lady - Melania Trump
Party - Republican
Donald J Trump is from New York.
Links
IMBd - Donald Trump (Y,M,O,T)
IMDb is the Internet Movie Database. It provides you with a lot of information both about movies, actors, producers, and more. As Donald Trump is a celebrity movie and television figure, his entertainment resume is listed on this site.
The Trump Organization (Y,M,O,T)
Official website of Donald J. Trump's business organization. Includes portfolio (real estate, hotels, golf, entertainment and television), publications, and merchandise.
Donald J. Trump (Y,M,O,T)
Website set up for Donald J. Trump campaign for president.
Biography.com - Donald J. Trump (Y,M,O,T)

Notable Biographies - Donald J. Trump (Y,M,O,T)
This website entry focuses on Donald Trump during the 1980's and 1990's.
Donald J. Trump (Y,M,O,T)
From History.com