State Facts
Wyoming was the 44th state to join the union. It became a state on July 10, 1890.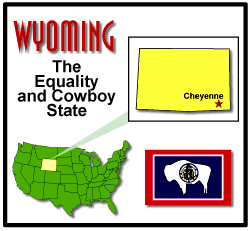 Capital - Cheyenne
Abbreviation - WY
Nickname - Equality State
Motto - "Equal Rights"
Song - "Wyoming"
Bird - Western Meadowlark
Flower - Indian Paintbrush
Insect -
Area - approximately 97,818 square miles
Websites for studying about Wyoming
Worksheets and puzzles for kids to learn more about Wyoming
From TeachersFirst. A comprehensive resource on Wyoming
Mr. Donn has been online for as long as I can remember and he has one of the largest collections of social studies resources available. This is his collection of Wyoming resources.
From the Library of Congress. Games and stories of America's past.
Facts & Trivia about Wyoming
Unique tourist attractions and landmarks in Wyoming.
Loads of fun facts, photos, and travel information about Wyoming.
EnchantedLearning.com
H.I.P. Pocket Change Coin Coloring sheet - Wyoming
Created by the U.S.Mint
Wyoming Virtual Field Trips
Bear River State ParkEvanston
Virtual field trip onlineBear River State Park and Visitor Center is a year-round park that offers picnicking, hiking, wildlife viewing, group activities, bicycling, skiing, rollerblading, remote control cars and many other activities. The park is home to a small head of captive bison and elk kept for public viewing. Three miles of foot trails are within park limits. They include 1.2 miles of paved trail and an arched footbridge that crosses the Bear River. The foot trails in the park also double as cross-country ski trails in the winter. This park is for day-use only: no overnight camping is allowed.
Boysen State ParkShoshoni
Virtual field trip onlineThis park offers a variety of water type recreation. Day and camping facilities are available. It features interesting geological formations.
Connor Battlefield Historic SiteRanchester
Virtual field trip onlineThe site offers 20 camping and picnic sites, restrooms, a playground, and horseshoe pits. Camping sites operate on a first-come, first-served basis, without reservations. There are two ADA campsites. Camping is seasonal.
Curt Gowdy State ParkCheyenne West
Virtual field trip onlineCurt Gowdy State Park is located in the foothills of the Laramie Mountains and is made of of three reservoirs. Granite reservoir offers excellent rainbow trout and kokanee salmon fishing as well as space for water sports. Crystal reservoir has shoreline fishing for brown trout, rainbow trout and kokanee salmon. North Crow Reservoir is an unimproved fishing area and is day use only. There are a limited number of reservation only campsites. Within the park is Hynds Lodge, which is listed on the National Register, and an amphitheater available for concerts, theater productions and many other cultural activities.
Edness K. Wilkins State ParkEvansville
Virtual field trip onlineThis is a day-use park for families and nature lovers. The park offers; picnic tables, grills, group shelters, playgrounds and a launching ramp for canoes or rafts. Activities in the park include: fishing, swimming, and bird watching.
Fort Bridger State Historic SiteFort Bridger
Virtual field trip onlineEstablished by Jim Bridger and Louis Vasquez in 1843 as an emigrant supply stop along the Oregon Trail. It was obtained by the Mormons in the early 1850s, and then became a military outpost in 1858. In 1933, the property was dedicated as a Wyoming Historical Landmark and Museum. There are several restored historical buildings from the military time period, a reconstructed of the trading post operated by Jim Bridger, and an interpretive archaeological site containing the base of the cobble rock wall built by the Mormons during their occupation of the fort. All of these locations are signed in Braille. In addition, a museum containing artifacts from the various different historical time periods is housed in the 1888 stone barracks building. There are gift shops in both museums and the reconstructed trading post. There is no camping available at Fort Bridger.
Fort Fetterman Historic SiteDouglas
Virtual field trip onlineFort Fetterman has restored officer's quarters and an ordnance warehouse for visitors to tour. These two buildings house interpretive exhibits and artifacts of the Fort's history, Fetterman City, and its Indian predecessors.
Fort Fred Steele State Historic SiteSinclair
Virtual field trip onlineFort Fred Steele was established on June 20, 1868 and occupied until August 7, 1886 by soldiers who were sent by the U.S. Government to guard against attack from Indians.
Fort Phil Kearny State Historic SiteBanner
Virtual field trip onlineThe fort offers visitors an interpretive center with exhibits, videos, bookstore, and self-guided tours of the fort and outlying sites. The fort tour leads the visitor through the site to building locations, archaeological remains, and interpretive signs pinpointing the surrounding historic landmarks.
Glendo State ParkGlendo
Virtual field trip onlineGlendo State Park offers visitors water-skiing, fishing and other water- based activities. Day-use and overnight facilities feature improved campsites, comfort stations, tables and grills. A commercial concession at the reservoir provides visitors with complete marina services, motel units and fishing equipment.
Governors' Mansion State Historic SiteCheyenne
Virtual field trip onlineThis Colonial Revival Executive Mansion served as home to Wyoming's Governors and their families for 71 years, (1905 to 1976). The history embodied in this mansion brings to life the people who served the State of Wyoming and the Nation from this location. Perhaps the greatest distinction of the home is that in 1925 it was the first in the United States to be occupied by a woman governor, Nellie Tayloe Ross.
Guernsey State ParkGuernsey
Virtual field trip onlineThis park provides the finest examples of Civilian Conservation Corps (CCC) work in the Rocky Mountain area. Built by the CCC, the Guernsey Museum, the Castle and Brimmer Point are available to explore. The museum is perched on a high cliff, overlooking the water. The building itself is made of hand hewn timbers and hand forged iron. The roof is framed with the timbers and covered with split cedar shakes, and the floors were formed by pieces of smooth flagstone. The Castle, with its giant fireplace and winding steps, leads to an observation area for a spectacular view of the park.
Hawk Springs State ParkGuernsey
Virtual field trip onlineThe park offers bird lovers and fisherman a great experience. The reservoir boasts a blue heron rookery, including birds such as the blue-winged and green-winged teal, gadwall, pintail, wood duck, and great horned owl. Game fish include walleye, largemouth bass and channel catfish. Winter ice fishing is also good at the park. There are 24 camping units, comfort stations, and accommodations for trailers. A boat ramp and parking area are available.
Hot Springs State ParkThermopolis
Virtual field trip onlineThe park is a day-use park offering a free bath house where the water is maintained at 104 degrees for therapeutic bathing. It is a full-service park with comfort stations, a Volksmarch trail, fishing, and a couple of boat docks. The park is home to a bison herd, which are fed daily during the late fall and early winter.
Independence Rock State Historic SiteEvansville
Virtual field trip onlineIndependence Rock stands 6,028 feet (1,808.3m) above sea level. Pioneers carved their names into the rock which led to Father Peter J. DeSmet to name this place "The Register of the Desert" in 1840.
Keyhole State ParkMoorcroft
Virtual field trip onlineKeyhole is a mecca for both resident and migrating birds of all species. Visitors also have the opportunity to enjoy a variety of other wildlife, including mule deer, pronghorn antelope and wild turkeys.
Medicine Lodge Archaeological SiteHyattville
Virtual field trip onlineThe Medicine Lodge site has long been known for its Indian petroglyphs and pictographs. They are directly associated with important human habitation sites for thousands of years
National Museum of Wildlife ArtJackson Hole
Virtual field trip onlineA museum dedicated to presenting art about wildlife. Located on a bluff called East Gros Ventre Butte and amid real wildlife habitat, the 51,000 square foot sandstone structure overlooks the National Elk Refuge. Permanent exhibits include the Bison, John Clymer, and Carl Rungius galleries.
Seminoe State ParkSinclair
Virtual field trip onlineSeminoe State Park is located at the base of the Seminoe Mountains. The park offers the full range of water-based activities and is known for both trout and walleye fishing. Day-use and overnight facilities are available.
Sinks Canyon State ParkLander
Virtual field trip onlineSinks Canyon State Park features a geologic phenomenon in which the Popo Agie River vanishes into a large cavern (the Sinks) but reappears in a trout filled pool, the Rise, about half a mile down the canyon. The park contains a visitor's center, hiking trails and offers camping, picnicking, rock climbing and fishing.
South Pass City State Historic SiteSouth Pass
Virtual field trip onlineThis historic site offers visitors an adventure to the past. The park contains a museum, visitors center and gift shop. Activities include: fishing, hiking, wildlife viewing and Volksmarching.
Trails End State Historic SiteSheridan
Virtual field trip onlineThe Trail End was the home of the John B. Kendrick family. It was built in 1913. John B. Kendrick was a cowboy, rancher and real estate tycoon who later served as Wyoming's Governor and U.S. Senator. The Flemish Revival design and technologically-advanced interior are unique to the Rocky Mountain west. Visitors can enjoy a fully-restored history house museum, groomed grounds, and regular productions at the Carriage House Theater.
Wyoming Pioneer Memorial MuseumDouglas
Virtual field trip onlineThe Pioneer Memorial Museum is located on the Wyoming State Fairgrounds in Douglas, Wyoming. The museum collects, preserves, interprets and displays historical and cultural materials related to the westward expansion, to Wyoming pioneers in particular and the west in general.
Wyoming Territorial PrisonLaramie
Virtual field trip onlineListed on the National Register, visitors can spend the day touring the beautifully restored Wyoming Territorial Prison. Built in 1872, the prison held some of the most notorious outlaws in the region, including Butch Cassidy. Visitors to the 190- acre facility can also enjoy the newly restored Warden's House and Horse Barn Exhibit Hall featuring rotating displays and a family friendly scavenger hunt.
Yellowstone National ParkYellowstone National Park
Virtual field trip onlineEstablished in 1872, Yellowstone National Park is America's first national park. Located in Wyoming, Montana, and Idaho, it is home to a large variety of wildlife including grizzly bears, wolves, bison, and elk. Preserved within Yellowstone National Park are Old Faithful and a collection of the world's most extraordinary geysers and hot springs, and the Grand Canyon of the Yellowstone. The website offers historical information about the park for those who cannot visit in person.
Thanks to graphicmaps.com for the state graphics