State Facts
Vermont was the 14th state to join the union. It became a state on March 4, 1791.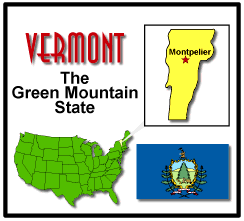 Capital - Montpelier
Abbreviation - VT
Nickname - Green Mountain State
Motto - "Freedom and Unity"
Song - These Green Mountains
Bird - Hermit thrush
Flower - Red Clover
Insect - Honey Bee
Area - approximately 9,615 square miles
Websites for studying about Vermont
Worksheets and puzzles for kids to learn more about Vermont
Shelburne Farms is a nonprofit organization dedicated to educating for a sustainable future. The farm is a 1,400-acre working farm, forest, and National Historic Landmark, located on the shores of Lake Champlain in Shelburne, Vermont. Visitors are offered learning experiences that inspire young people to make informed decisions to build a sustainable society in the 21st century.
From TeachersFirst. A comprehensive resource on Vermont
Mr. Donn has been online for as long as I can remember and he has one of the largest collections of social studies resources available. This is his collection of Vermont resources.
From the Library of Congress. Games and stories of America's past.
Facts & Trivia about Vermont
Unique tourist attractions and landmarks in Vermont
Loads of fun facts, photos, and travel information about Vermont.
EnchantedLearning.com
H.I.P. Pocket Change Coin Coloring sheet - Vermont
Created by the U.S.Mint
pdf file from Weston Wood productions. grades 1-3 and 4-5
Vermont Secretary of State Kids Pages
Vermont Virtual Field Trips
Vermont's History Museum and LibraryMontpelier
Virtual field trip onlineOur museum's permanent exhibit, Freedom and Unity: One Ideal, Many Stories, opened in March 2004 and won a national award. The multimedia exhibit, which represents Vermont's history from 1600 to the present, fills 5,000 square feet in the Pavilion building in Montpelier. Visitors walk through time and experience a full-sized Abenaki wigwam, a re-creation of the Catamount Tavern where Ethan Allen's Green Mountain Boys gathered, a railroad station complete with a working telegraph and a WWII living room furnished with period music and magazines.
Thanks to graphicmaps.com for the state graphics