Texas Facts for Kids
Texas was the 28th state to join the union. It became a state on December 29, 1845.
Capital - Austin
Abbreviation - TX
Nickname - The Lone Star State
Motto - Friendship
Song - "Texas, Our Texas"
Bird - Mockingbird
Flower - Bluebonnet
Insect - Monarch Butterfly
Area - approximately 268,601 square miles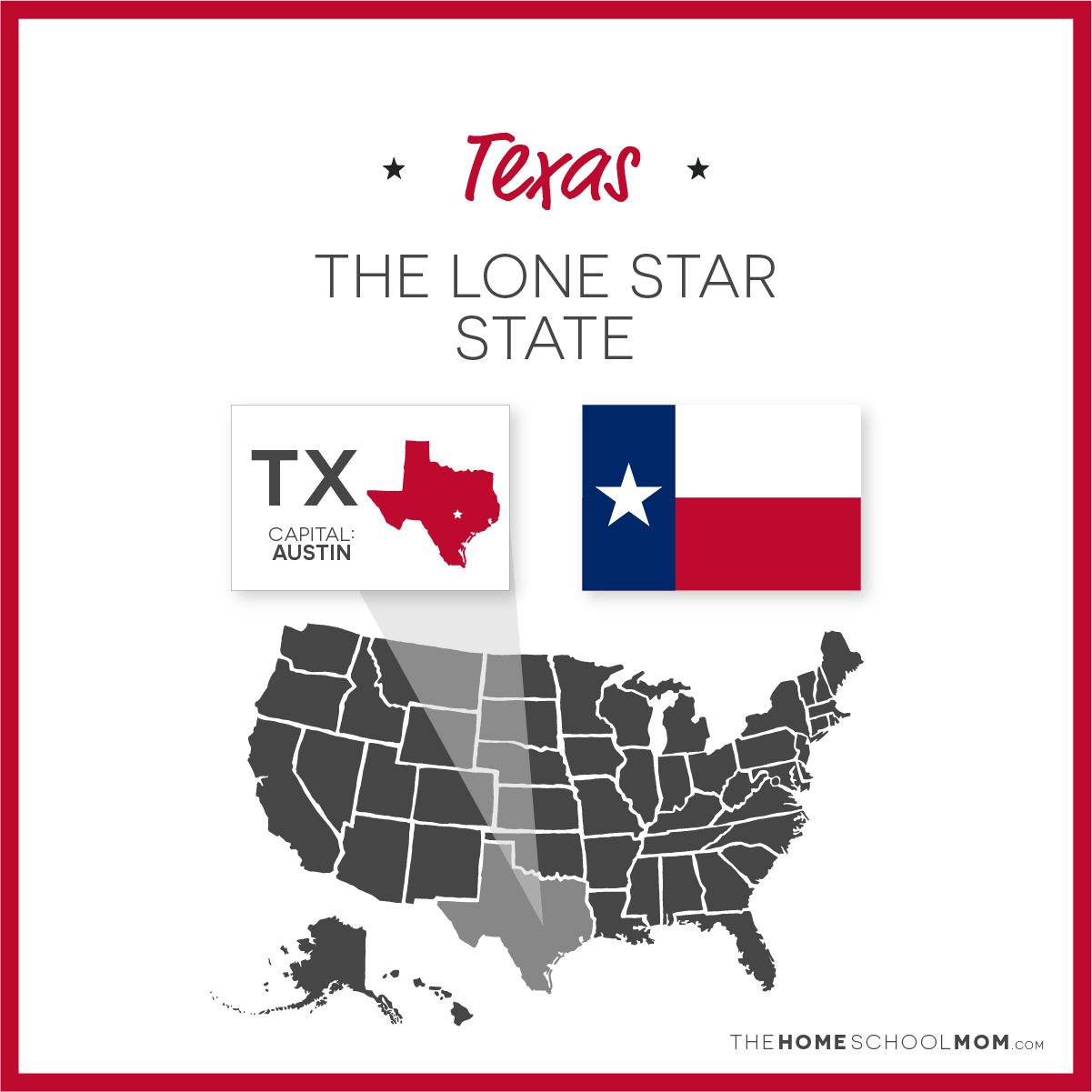 Learn more about Texas
El Camino Real de los Tejas National Historic Trail
The people, places, and stories of the primary overland route for the Spanish colonization of what is today Texas and northwestern Louisiana.
Bullock Museum
A Texas history timeline, oral histories, a virtual tour of the state capitol, and more.
The Alamo
Lesson plans for grades 4-7, the story of the Texas Revolution and the Battle of the Alamo, and a virtual tour.
Texas Beyond History
Explore Texas history and culture through archaeology. Includes activity sheets, lesson plans, photo galleries, and more.
Texas History for Teachers
Unit and lesson plans, student activities, video lectures, and primary sources, freely available for Texas History Educators.
Texas Parks & Wildlife
Texas wildlife & plant fact sheets
Texas Ranger Hall of Fame and Museum
K-7 lesson plans, activity sheets, and videos
San Jacinto Museum and Battlefield
Discover how a decisive 18-minute battle for independence changed the fate of a young nation and forever altered the course of world history.
Big Thicket National Preserve
Big Thicket National Preserve spreads across seven southeast Texas counties. Learn about the wide variety of plants and wildlife that live in the area.
Fort Davis National Historic Site
Fort Davis is one of the best surviving examples of an Indian Wars' frontier military post in the Southwest. From 1854 to 1891, Fort Davis was strategically located to protect emigrants, mail coaches, and freight wagons on the Trans-Pecos portion of the San Antonio-El Paso Road and on the Chihuahua Trail.
Chamizal National Memorial
For decades, this place stood at the center of an international boundary dispute. After nearly a century of conflict, diplomacy prevailed. Negotiation preserved goodwill between countries that once had been at war. The resolution came at a cost, disrupting people, the land, and the river that shaped them.
Texas Archeology – At a Glance
Palo Alto Battlefield National Historical Park
On May 8, 1846, U.S. and Mexican troops clashed on the prairie of Palo Alto. The battle was the first in a two-year long war that changed the map of North America.
American Indian Rock Art
Article from Texas State Historical Association
Texas Historical Commission
Articles, activity sheets, recipes and historic cuisine, and more.
Big Bend National Park
Big Bend is the largest national park in Texas, and you can find wide variety of flora, fauna, and even ecosystems here.
Texas Primary Sources (Library of Congress)
Selected Library of Congress primary sources with a Teacher's Guide
Frontier Times Museum
A 40,000-piece collection of old west, pioneer, & prehistoric artifacts
Texas State Libraries and Archives commission
A large collection of online exhibits using articles and primary sources from Texas history. Some include lesson plans.
The Declaration of Causes of the Seceding States
The declarations of secession for Georgia, Mississippi, South Carolina, Texas, and Virginia (primary sources)
The 50 States - Texas
From TeachersFirst. A comprehensive resource on Texas
Mr. Donn.org - Texas
Collection of Texas resources from Mr. Donn, who offers one of the largest collections of social studies resources available.
50 States.com - Texas
Facts & Trivia about Texas
RoadsideAmerica.com - Texas
Unique tourist attractions and landmarks in Texas
Awesome America - Texas
Loads of fun facts, photos, and travel information about Texas.
Texas Map/Quiz Printout
EnchantedLearning.com
TX Resources for Educators from Locales:
Learn more through virtual and in-person Texas field trips ...