State Facts
Pennsylvania was the 2nd state to join the union. It became a state on December 12, 1787.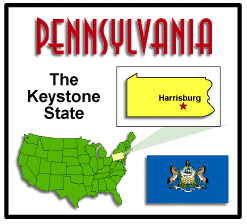 Capital - Harrisburg
Abbreviation - PA
Nickname - Keystone State
Motto - "Virtue, Liberty, and Independence"
Song - Pennsylvania
Bird - Ruffed Grouse
Flower - Mountain Laurel
Insect - Ladybug (Ladybird Beetle) and Firefly
Area - approximately 46,058 square miles
Websites for studying about Pennsylvania
Pigeon racing is a two-hundred-year-old sport starring specially-trained winged athletes (known as racing pigeons) that are released from far-off locations and race back to their home lofts. Website offers games, activities, worksheets, and information about pigeons. Author visits and racing demonstrations available for those in Eastern PA.
Pennsylvania State Symbols Games
Worksheets and puzzles for kids to learn more about Pennsylvania
A to Z Kids Stuff - Pennsylvania
Fun Educational Activities
From TeachersFirst. A comprehensive resource on Pennsylvania
Mr. Donn has been online for as long as I can remember and he has one of the largest collections of social studies resources available. This is his collection of Pennsylvania resources.
Explore the States - Pennsylvania
From the Library of Congress. Games and stories of America's past.
Facts & Trivia about Pennsylvania
RoadsideAmerica.com - Pennsylvania
Unique tourist attractions and landmarks in Pennsylvania
Awesome America - Pennsylvania
Loads of fun facts, photos, and travel information about Pennsylvania.
Pennsylvania Map/Quiz Printout
EnchantedLearning.com
H.I.P. Pocket Change Coin Coloring sheet - Pennsylvania
Created by the U.S.Mint
Pennsylvania Virtual Field Trips
Tom Ridge Environmental Center - Presque IslePresque Isle
Virtual field trip online The Tom Ridge Environmental Center (TREC) is an educational center at heart, dedicated to teaching visitors about the unique 3,200 acres of Presque Isle and the many different forms of life that inhabit the peninsula. TREC also serves as a center for research, contributing to conservation efforts and promoting environmental awareness, helping to preserve the unparalleled beauty of Presque Isle, the site of Pennsylvania's only seashore.
More Pennsylvania field trips ...
Thanks to graphicmaps.com for the state graphics