State Facts
Pennsylvania was the 2nd state to join the union. It became a state on December 12, 1787.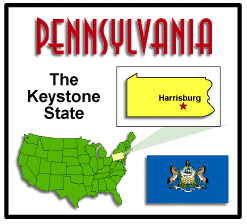 Capital - Harrisburg
Abbreviation - PA
Nickname - Keystone State
Motto - "Virtue, Liberty, and Independence"
Song - Pennsylvania
Bird - Ruffed Grouse
Flower - Mountain Laurel
Insect - Ladybug (Ladybird Beetle) and Firefly
Area - approximately 46,058 square miles
Websites for studying about Pennsylvania
Pennsylvania State Symbols Games
Worksheets and puzzles for kids to learn more about Pennsylvania
A to Z Kids Stuff - Pennsylvania
Fun Educational Activities
From TeachersFirst. A comprehensive resource on Pennsylvania
Mr. Donn has been online for as long as I can remember and he has one of the largest collections of social studies resources available. This is his collection of Pennsylvania resources.
Explore the States - Pennsylvania
From the Library of Congress. Games and stories of America's past.
Facts & Trivia about Pennsylvania
RoadsideAmerica.com - Pennsylvania
Unique tourist attractions and landmarks in Pennsylvania
Awesome America - Pennsylvania
Loads of fun facts, photos, and travel information about Pennsylvania.
Pennsylvania Map/Quiz Printout
EnchantedLearning.com
Pennsylvania State Quarters Coloring Pages
In 1999, the United States Mint began striking a new quarter about every ten weeks to honor one of the 50 states—that is, five new quarters every year—until the program ended. The quarters were struck in the same order as the states' birthdays.
Pennsylvania Virtual Field Trips
Gettysburg National Military Park Virtual Tour of the battlefieldGettysburg
Virtual field trip onlineThis Virtual Tour is led by Christopher Gwinn, Chief of Interpretation and Education at Gettysburg National Military Park. The Virtual Tour is built around each of the sixteen Auto Tour stops and provides a comprehensive and immersive experience of the Battle of Gettysburg. Best of all, you can visit the battlefield anytime and from anywhere! Experience the battlefield from home or take us along when your visit brings you to the hallowed ground of Gettysburg itself.
More Pennsylvania field trips ...
Thanks to graphicmaps.com for the state graphics