State Facts
North Carolina was the 12th state to join the union. It became a state on November 21, 1789.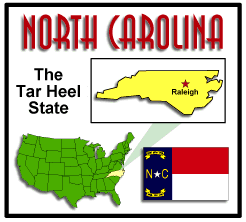 Capital - Raleigh
Abbreviation - NC
Nickname - Tar Heel State
Motto - "Esse Quam Videri" - To Be Rather Than to Seem
Song - The Old North State
Bird - Cardinal
Flower - Flowering Dogwood
Insect -
Area - approximately 53,821 square miles
Websites for studying about North Carolina
Parallel Histories: Spain, United States and the American Frontier
"Timelines graphics in which events are shown in the order in which they happened are useful tools for organizing historical information . . . During Mexico's fight for independence from Spain, Juan Ruiz de Apodaca, the Spanish Viceroy (governor) of New Spain, wrote a series of reports to the Spanish secretary of state and secretary of the Department of War. Six of these reports are included in the Parallel Histories collection . . . When was the first of the reports available written? What was the last report available in the collection written? Create a timeline that spans the period between the first and last reports. Using the reports or 'Notes' introducing them, select events covered in the reports that you think help explain the relationship between the United States and Spain on the eve of Mexican independence. Based on your timeline, what inferences can be made regarding the relations between the United States and Spain?" From the Library of Cogress's Collection Connections for teachers.
North Carolina State Symbols Games
Worksheets and puzzles for kids to learn more about North Carolina
A to Z Kids Stuff - North Carolina
Fun Educational Activities
The 50 States - North Carolina
From TeachersFirst. A comprehensive resource on North Carolina
Mr. Donn has been online for as long as I can remember and he has one of the largest collections of social studies resources available. This is his collection of North Carolina resources.
Explore the States - North Carolina
From the Library of Congress. Games and stories of America's past.
50 States.com - North Carolina
Facts & Trivia about North Carolina
RoadsideAmerica.com - North Carolina
Unique tourist attractions and landmarks in North Carolina
Awesome America - North Carolina
Loads of fun facts, photos, and travel information about North Carolina.
North Carolina Map/Quiz Printout
EnchantedLearning.com
North Carolina State Quarters Coloring Pages
In 1999, the United States Mint began striking a new quarter about every ten weeks to honor one of the 50 states—that is, five new quarters every year—until the program ended. The quarters were struck in the same order as the states' birthdays.
North Carolina Virtual Field Trips
More North Carolina field trips ...
Thanks to graphicmaps.com for the state graphics