State Facts
New York was the 11th state to join the union. It became a state on July 26, 1788.
Capital - Albany
Abbreviation - NY
Nickname - The Empire State
Motto - Excelsior - Ever Upwards
Song - "I Love New York"
Bird - Eastern Bluebird
Flower - Rose
Insect - Nine-Spotted Ladybug (Ladybird Beetle)
Area - approximately 54,475 square miles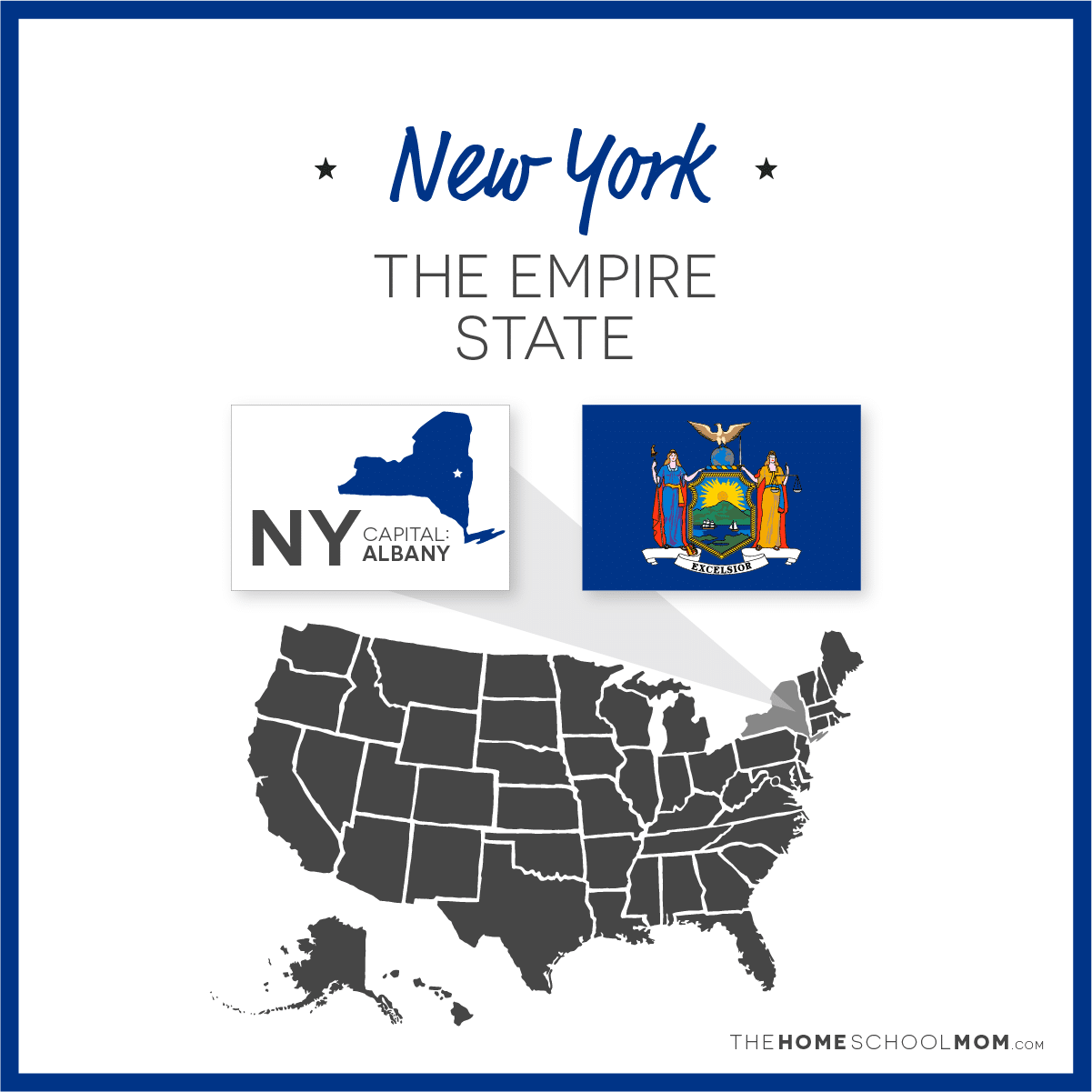 Websites for studying about New York
Worksheets and puzzles for kids to learn more about New York
Fun Educational Activities
Mr. Donn has been online for as long as I can remember and he has one of the largest collections of social studies resources available. This is his collection of New York resources.
Information about New York. State study guides have been added to the Fast Facts pages
From the Library of Congress. Games and stories of America's past.
Facts & Trivia about New York
Loads of fun facts, photos, and travel information about New York.
New York Virtual Field Trips
Bundy Arts & Victorian Museum
Binghamton
Virtual field trip online

The Bundy Imaginarium, Inc., was developed as a not for profit organization in 2007 with a mission to collect, maintain, disseminate and preserve art, artifacts, media and architecture from the late nineteenth and early twentieth centuries. The overall goal of the Bundy Imaginarium is to use these items to educate and entertain visitors of all ages to stimulate their interest and enhance their understanding of the period and how it relates to the modern world.
Lower East Side Tenement Museum
New York
Virtual field trip online

The heart of the museum is the historic tenement, home to an estimated 7,000 people from over 20 nations between 1863 and 1935. Tour the tenement's cramped living spaces. Learn about the lives of past residents and the history of the Lower East Side. Throughout the year, take part in programs such as walking tours, plays, art exhibits, and readings that represent the immigrant experience.
The Morgan Library & Museum
New York
The Morgan's arts in education programs are available for virtual field trips to School, Camp, and Community groups for grades K-12. Programs take place live online and use the digital platforms Zoom. A Morgan staff member will lead a guided discussion with your students; tours last approximately forty-five minutes. Larger groups may be split into multiple sessions. A teacher, camp counselor, or chaperone must be present online during the program. Programs are available Monday-Friday, between 10:00am-4:00pm EST.
Things for kids to do in the Lake George area of the Adirondacks
Lake George
Virtual field trip online

"Greatness Starts Here" quiz is about all our wonders that you can see and do-- from ancient glacier effects to sunken war ships, the Lake George Area has plenty to get curious about.