State Facts
New Jersey was the 3rd state to join the union. It became a state on December 18, 1787.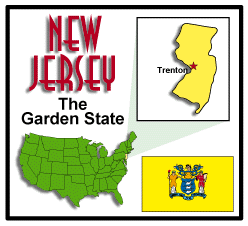 Capital - Trenton
Abbreviation - NJ
Nickname - Garden State
Motto - "Liberty and Prosperity"
Song -
Bird - Eastern Goldfinch
Flower - Purple Violet
Insect - Honey Bee
Area - approximately 8,722 square miles
Websites for studying about New Jersey
New Jersey State Symbols Games
Worksheets and puzzles for kids to learn more about New Jersey
A to Z Kids Stuff - New Jersey
Fun Educational Activities
From TeachersFirst. A comprehensive resource on New Jersey
Mr. Donn has been online for as long as I can remember and he has one of the largest collections of social studies resources available. This is his collection of New Jersey resources.
Explore the States - New Jersey
From the Library of Congress. Games and stories of America's past.
Facts & Trivia about New Jersey
Loads of fun facts, photos, and travel information about New Jersey.
EnchantedLearning.com
H.I.P. Pocket Change Coin Coloring sheet - New Jersey
Created by the U.S.Mint
Kids Pages - The Bear Necessities of Safety
A 12-page coloring book created by the Lions, Tigers and Bears Oh My! 4-H Club of Sussex County, NJ in cooperation with the NJ Division of Fish and Wildlife.
By The Sea - All About Fish and Fishing in New Jersey
Coloring book from the JerseySeafoodNJ.gov
The Next Generation. Information on New Jersey for kids.
Assignment Jew Jersey - New Jersey Symbols
Coloring Books for all if New Jersey state symbols.
Kids Pages - Wildlife of New Jersey
Coloring book from the Department of Environmental Protection Division of Fish and Wildlife
RoadsideAmerica.com - New Jersey
Unique tourist attractions and landmarks in New Jersey
New Jersey Virtual Field Trips
Fort Mott State ParkPennsville
Virtual field trip onlineFort Mott was part of a coastal defense system designed for the Delaware River in the late 1800s. The fortifications seen today at Fort Mott were erected in 1896 in anticipation of the Spanish-American War. Today, visitors can wander through the old batteries following interpretive signs with detailed descriptions of the fort. Just beyond the fortifications is the Delaware River. The shoreline offers good spots for walking and picnicking. The NJ Coastal Heritage Trail Welcome Center accommodates displays defining Fort Mott's place in history and the environment.
Hacklebarney State ParkLong Valley
Virtual field trip onlineThe freshwater Black River briskly cuts its way through rocky Hacklebarney State Park, cascading around boulders in the hemlock-lined ravine. Two tributaries, Rinehart and Trout Brooks, also course their way through this glacial valley, feeding the Black River. Even in the heat of midsummer, the temperature of Black River gorge is cool and refreshing.
High Point State ParkSussex
Virtual field trip onlineThe view from High Point Monument, at 1,803 feet above sea level, is a spectacular panorama of rich farmland and forest, soft hills and lush valleys in three states. The blue line of the Delaware River divides the verdant ridges of New Jersey from those of Pennsylvania. High Point offers superb trails for hikers and skiers and quiet spots for campers and anglers.
Kittatinny Valley State ParkAndover
Virtual field trip onlineGlacial lakes, limestone outcroppings, former railroads, and a small airport are features of Kittatinny Valley State Park. Lake Aeroflex and Gardner's Pond form part of the headwaters of the Pequest River and are excellent for fishing and boating. This scenic property is home to a variety of wildlife such as whitetail deer, wild turkey, a variety of songbirds, beaver, muskrats, and squirrels.
Liberty State ParkJersey City
Virtual field trip onlineLiberty State Park offers miles of walkways for walking, jogging, biking, or rollerblading. All within site of the Manhattan skyline, the Statue of Liberty and Ellis Island.
Long Pond Ironworks State ParkRingwood
Virtual field trip onlineThe old stone walls, furnaces and other remnants of the once industrious ironworking community now sit tranquilly next to the swiftly flowing Wanaque River. The village is undergoing research and restoration and one waterwheel has been reconstructed. Future plans call for additional restoration work.
Monmouth Battlefield State ParkManalapan
Virtual field trip onlineOne of the largest battles of the American Revolution took place in the fields and forests that now make up Monmouth Battlefield State Park. The park preserves a splendid rural 18th-century landscape of hilly farmland and hedgerows that encompasses miles of hiking and horseback riding trails, picnic areas, a restored Revolutionary War farmhouse and a visitors center.
Morristown National Historical ParkMorristown
Virtual field trip online"The monster hunger still attended us. Here was the army starved and naked and there their country sitting still and expecting the army to do notable things." Such was the winter encampment at Morristown, New Jersey as seen by Private Joseph Plumb Martin. The village served as quarters for the Continental Army on two occasions; the winter of 1777 and again during the Hard Winter of 1779-1780.
Princeton Battlefield State ParkPrinceton
Virtual field trip onlineOn January 3, 1777, the peaceful winter fields and woods of Princeton Battlefield were transformed into the site of what is considered to be the fiercest fight of its size during the American Revolution. During this desperate battle, American troops under General George Washington surprised and defeated a force of British Regulars. Coming at the end of "The Ten Crucial Days" which saw the well-known night crossing of the Delaware River and two battles in Trenton, the Battle of Princeton gave Washington his first victory against the British Regulars on the field. The battle extended over a mile away to the College of New Jersey (now Princeton University).
Ringwood State ParkRingwood
Virtual field trip onlineFacilities & Activities:Visitors center, Formal gardens, Ringwood Manor, Skylands Manor, Shepherd Lake Rec. Area, Trails, Fishing, Hunting, Picnicking, Boating/canoeing, electric motors, trailer launch, cartop launch, boat rentals, canoe rentals, Swimming, Winter sports: cross-country skiing, snowmobiling, ice fishing, sledding St. Luke's Chapel, Skeet Range, Trails: Hiking, Nature trails, Horseback riding, Biking, and Mountain biking.
Statue of Liberty National Monument & Ellis IslandEllis Island
Virtual field trip onlineOpened on January 1, 1892, Ellis Island became the nation's premier federal immigration station. In operation until 1954, the station processed over 12 million immigrant steamship passengers. The main building was restored after 30 years of abandonment and opened as a museum on September 10, 1990. Today, over 40 percent of America's population can trace their ancestry through Ellis Island.
Washington Crossing State ParkTitusville
Virtual field trip onlineOn December 25, 1776, the icy waters of the Delaware River provided the setting for one of the pivotal events of the American Revolution. The Continental Army had little to celebrate that Christmas and seemed beat by hunger and cold. After crossing the rough winter river at night, General George Washington and the Continental Army landed at Johnson's Ferry, at the site now known as Washington Crossing State Park. At 4 am, they began their march to Trenton where they defeated the Hessian troops in an unexpected attack. This battle was quickly followed by the Second Battle of Trenton on January 2, 1777, and the Battle of Princeton on January 3, 1777.
More New Jersey field trips ...
Thanks to graphicmaps.com for the state graphics