State Facts
New Hampshire was the 9th state to join the union. It became a state on June 21, 1788.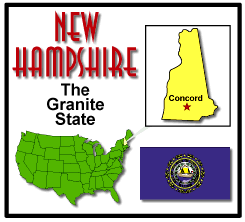 Capital - Concord
Abbreviation - NH
Nickname - Granite State
Motto - "Live Free or Die"
Song - Old New Hampshire
Bird - Purple Finch
Flower - Purple Lilac
Insect - Ladybug (Ladybird Beetle)
Area - approximately 9,351 square miles
Websites for studying about New Hampshire
New Hampshire State Symbols Games
Worksheets and puzzles for kids to learn more about New Hampshire
A to Z Kids Stuff - New Hampshire
Fun Educational Activities
From TeachersFirst. A comprehensive resource on New Hampshire
Mr. Donn has been online for as long as I can remember and he has one of the largest collections of social studies resources available. This is his collection of New Hampshire resources.
Explore the States - New Hampshire
From the Library of Congress. Games and stories of America's past.
Facts & Trivia about New Hampshire
RoadsideAmerica.com - New Hampshire
Unique tourist attractions and landmarks in New Hampshire
Awesome America - New Hampshire
Loads of fun facts, photos, and travel information about New Hampshire.
New Hampshire Map/Quiz Printout
EnchantedLearning.com
H.I.P. Pocket Change Coin Coloring sheet - New Hampshire
Created by the U.S.Mint
Heavily wooded and sprinkled with several ponds and wetlands, Pillsbury State Park is one of the more primitive and lesser known gems of the New Hampshire State Park system. Its diversity of habitats makes it home to a great variety of wildlife, including moose and loons.
New Hampshire Virtual Field Trips
More New Hampshire field trips ...
Thanks to graphicmaps.com for the state graphics