Nevada Facts for Kids
Nevada was the 36th state to join the union. It became a state on October 31, 1864.
Capital - Carson City
Abbreviation - NV
Nickname - Silver State, Sagebrush State
Motto - "All for Our Country "
Song - Home Means Nevada
Bird - Mountain Bluebird
Flower - Sagebrush
Insect - Vivid Dancer Damselfly
Area - approximately 110,567 square miles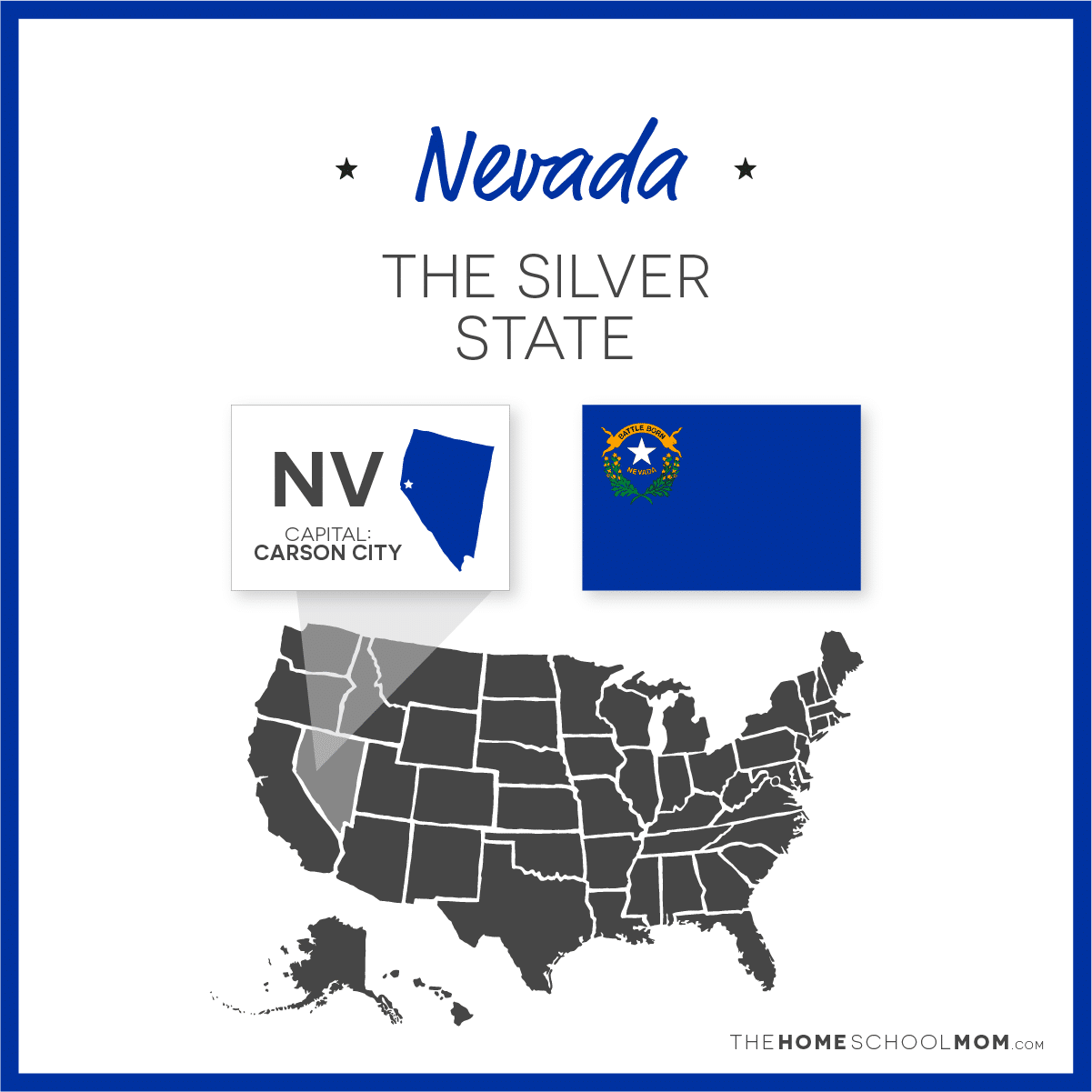 Learn more about Nevada
Nevada Museum of Art
Lesson plans for two art projects (one elementary, one high school) that combine art with science for STEAM lessons suitable for small groups or larger co-op classes.
Nevada Department of Wildlife
Nevada is home to a wide range of amazing wildlife. Learn more about them here!
Red Rock Canyon
Activities and lesson plans from the Bureau of Land Management and Southern Nevada Conservancy. Most of these can also be found on the BLM Resources page, but we like this list because it offers ideas for use outside a traditional classroom.
The Mob Museum
Worksheets, primary sources, videos and more interactives for students K-12, spanning topics such as Las Vegas and Nevada History, American History and Civics, Law Enforcement and Forensic Science. These resources were developed to highlight the stories and artifacts in The Mob Museum's collection, and they help bring social studies and STEM topics to life. You can also check out the Explore tab and find photo galleries of exhibits.
The Neon Museum
Lesson plans for K-8. We also recommend the Online Guide on this page for more photos and Las Vegas sign history.
NevadaFloods.org
Although it is the driest state in the union, floods have ravaged every region of Nevada in nearly every month of the year. Students can learn about Nevada geography and its flood history, and flood science.
Great Basin National Park Foundation
They offer a series of seven lesson plans that cover the ecology, geology, and natural history of Great Basin National Park. There is also a wide range of K-12 lesson plans, including astronomy and dark sky lesson plans.
Nevada Mining Association
Mining has been important to Nevada since the gold and silver rush of the 1850s. Nevada is one of the special geologic places on the globe where wide arrays of minerals are prevalent, such as gold, silver, copper, barite, molybdenum, clay, silica, lithium, and many more. You can bring hands-on mining into your classroom with 100+ K-12 activities.
Southern Nevada: The Boomtown Years
This rich resource from UNLV encompasses a wide variety of topics in all grade levels using primary sources.
Tonopah Army Air Field
A brief history on the Central Nevada Museum website highlighting what was once one of the Army Air Force's largest World War II training bases, now just a field of abandoned hangars.
The Historic Fourth Ward School Museum
This three-part educational digital storybook series is based on the autobiography of the legendary Paiute Indian Sarah Winnemucca. An incredible piece of history, her "Life Among the Paiutes" is the first published autobiography by a Native American woman. They also provide downloadable activity sheets. Their Virtual Classroom includes more videos, although those don't have accompanying materials.
Humboldt Museum
Visitors can take a virtual "walking" tour through 73 historic downtown Winnemucca properties.
Virginia City Historic District
National Park Service page with a written history of one of the largest historic districts in the country, which at 400 buildings, includes almost the entire town.
Virginia City Tourism Commission
A more colorful (although still family-friendly) version of the history of Virginia City and the Comstock Lode.
Douglas County Historical Society
Explore their Treasures from the Vault section. It's a mini-blog of photos and descriptions of historical documents such as photos, invitations, and postcards.
Tahoe Institute for Natural Science
K-5 nature lessons based on Tahoe area wildlife and weather, but most can be used anywhere with little or no adaptation.
OneWater Nevada
Under the "umbrella" of OneWater Nevada, the Advanced Purified Water Facility at American Flat is a joint effort between the City of Reno and Truckee Meadows Water Authority to help address the impacts of weather variability and the uncertainty of our future water supply. Their FAQ is a mini-science lesson on water recycling and sustainability. Probably best suited for middle and high schoolers, but could generate some interesting conversations with younger students.
Washoe History
Downloadable PDF of the history of the Washoe, the original inhabitants of Lake Tahoe and all the lands surrounding it.
The 50 States - Nevada
From TeachersFirst. A comprehensive resource on Nevada
Mr. Donn.org - Nevada
Mr. Donn has been online for as long as I can remember and he has one of the largest collections of social studies resources available. This is his collection of Nevada resources.
50 States.com - Nevada
Facts & Trivia about Nevada
RoadsideAmerica.com - Nevada
Unique tourist attractions and landmarks in Nevada
Awesome America - Nevada
Loads of fun facts, photos, and travel information about Nevada.
Nevada Map/Quiz Printout
EnchantedLearning.com
Library of Congress
Selected Library of Congress primary sources with a Teacher's Guide
Learn more through virtual and in-person Nevada field trips ...