Montana Facts for Kids
Montana was the 41st state to join the union. It became a state on November 8,1889.
Capital - Helena
Abbreviation - MT
Nickname - Big Sky Country, Treasure State
Motto - "Oro y plata" - Gold and Silver
Song - Montana
Bird - Western Meadowlark
Flower - Bitterroot
Insect - Mourning Cloak Butterfly
Area - approximately 147,046 square miles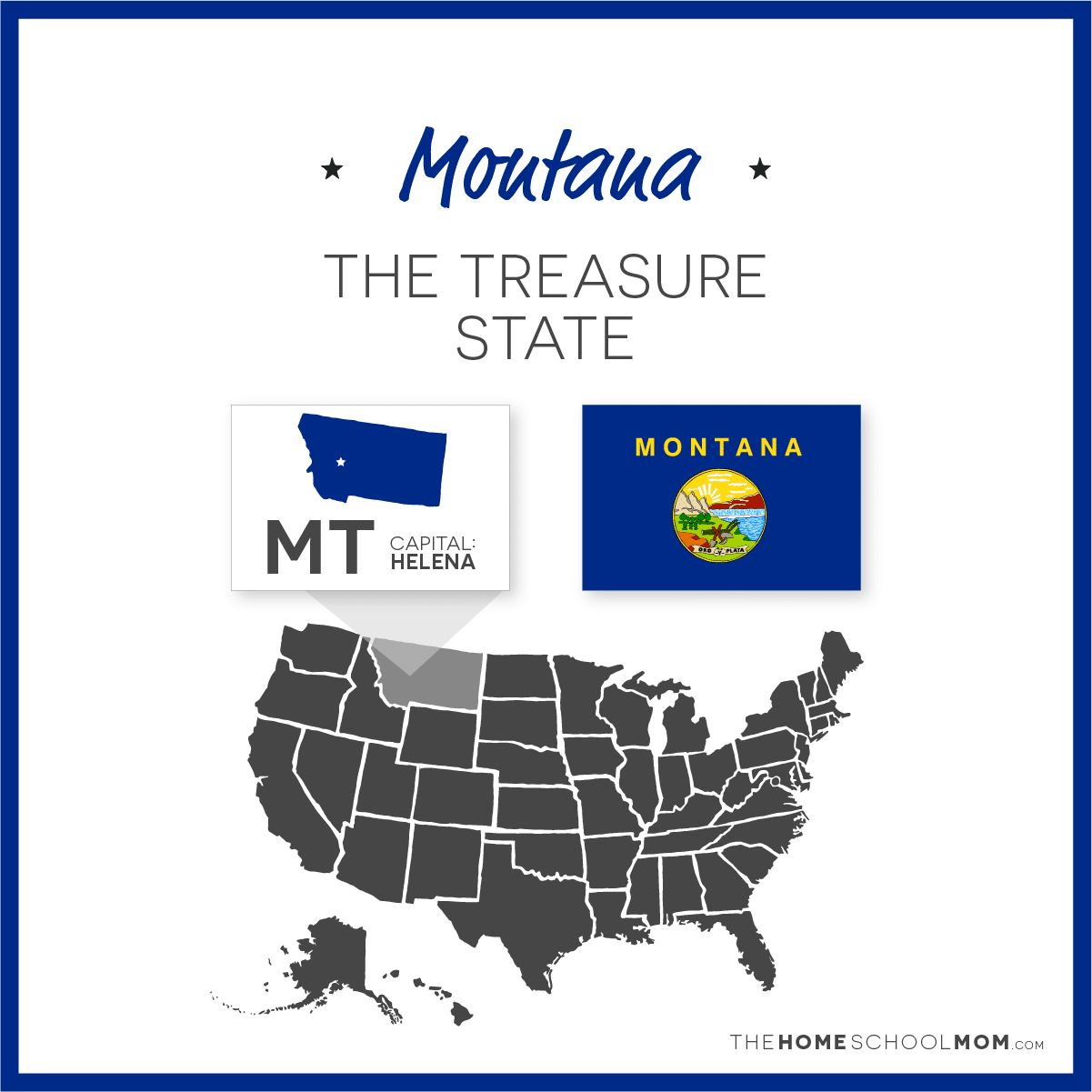 Learn more about Montana
Little Bighorn Battlefield National Monument
This area memorializes the US Army's 7th Cavalry, Crow, and Arikara scouts and the Lakotas, Cheyennes, and Arapaho in one of the American Indian's last armed efforts to preserve their way of life. Here on June 25 and 26 of 1876, 263 soldiers, including Lt. Col. George A. Custer and attached personnel of the US Army, died fighting several thousand Lakota, Cheyenne, and Arapaho warriors. Learn about the complex history of the battle, why it was fought, and who was involved.
Montana Fish, Wildlife & Parks YouTube Channel
Each week they tackle a different wildlife topic on their Wildlife Wednesday series. From making models of animal scat to going on an amphibian adventure, there is always something new to learn about Montana's wildlife!
Montana Historical Society
K-12 lesson plans covering a wide variety of topics including Montana Indians, women of Montana, geography, and mining history.
The Nez Perce Flight of 1877
In 1877, the non-treaty Nez Perce were forced on a 126-day journey that spanned over 1,170 miles and through four different states. Explore all the Flight of 1877 sites that make up Nez Perce National Historical Park on the interactive map, and learn more about the complex events leading up to the Nez Perce Flight of 1877.
Montana Primary Sources (Library of Congress)
Selected Library of Congress primary sources related to Montana. Includes Teacher's Guide.
Museum of the Rockies
K-12 videos, lessons, activities, and digital collections about Montana paleontology, geography, history, and more.
Butte-Silver Bow Public Archives
Students explore Butte, MT history through primary sources. Each lesson includes a worksheet and puzzle fit for elementary ages, but the real treasures here are the images of the original newspapers. You can download the packet for each lesson, or just click the small link beside the download button to read the newspapers, complete with other articles and ads from the time period. (One article about an 1892 event is in a 2002 paper, but even that's a time capsule now!)
50 States.com - Montana
Facts & Trivia about Montana
Chronicle of the Old West presents... The Chuckwagon
We come across articles from newspapers printed in the 1800's that contain recipes and cooking tips that you might find interesting. Some have become our favorites and others are simply amusing.
Grant-Kohr's Ranch National Historic Site
Once the headquarters of a 10 million acre cattle empire, Grant-Kohrs Ranch National Historic Site preserves these symbols and commemorates the role of cattlemen in American history. Lesson plans for grades 1-8.
A Brand is Forever
Ranching goes back to the 1830s, and branding is how ranchers identify their cattle. This lesson, titled "A brand is a cow's only return address," is a middle school PDF file meeting Montana state standards. The lesson plan was developed using Grant-Kohrs Ranch National Historic Site collections.
The 50 States - Montana
From TeachersFirst. A comprehensive resource on Montana
Mr. Donn.org - Montana
Collection of Montana resources from Mr. Donn, who offers one of the largest collections of social studies resources available
RoadsideAmerica.com - Montana
Unique tourist attractions and landmarks in Montana
Awesome America - Montana
Loads of fun facts, photos, and travel information about Montana.
Montana Map/Quiz Printout
EnchantedLearning.com
MT Resources for Educators from Locales:
Learn more through virtual and in-person Montana field trips ...