State Facts
Montana was the 41st state to join the union. It became a state on November 8,1889.
Capital - Helena
Abbreviation - MT
Nickname - Big Sky Country, Treasure State
Motto - "Oro y plata" - Gold and Silver
Song - Montana
Bird - Western Meadowlark
Flower - Bitterroot
Insect -
Area - approximately 147,046 square miles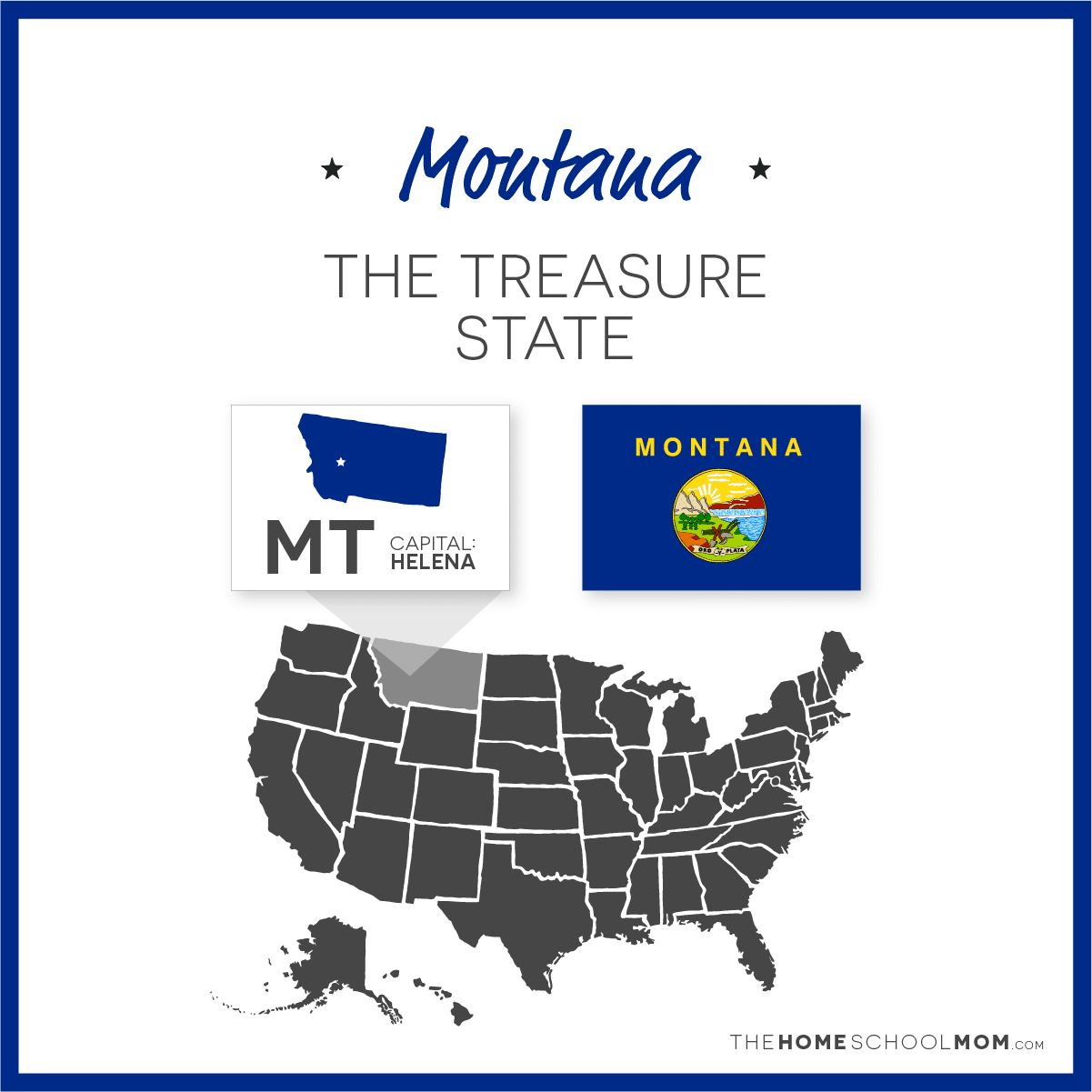 Websites for studying about Montana
Facts & Trivia about Montana
Worksheets and puzzles for kids to learn more about Montana
Fun Educational Activities
Lesson "A brand is a cow's only return address." Middle School PDF download.
Information about Montana. State study guides have been added to the Fast Facts pages
From TeachersFirst. A comprehensive resource on Montana
Mr. Donn has been online for as long as I can remember and he has one of the largest collections of social studies resources available. This is his collection of Montana resources..
From the Library of Congress. Games and stories of America's past.
Unique tourist attractions and landmarks in Montana
Loads of fun facts, photos, and travel information about Montana.
Montana Virtual Field Trips
Glacier National Park
West Glacier
Virtual field trip online

Come and experience Glacier's pristine forests, alpine meadows, rugged mountains, and spectacular lakes. With over 700 miles of trails, Glacier is a hiker's paradise for adventurous visitors seeking wilderness and solitude. Relive the days of old through historic chalets, lodges, transportation, and stories of Native Americans. Explore Glacier National Park and discover what awaits you.
Nez Perce National Historical Park
Lapwai
Virtual field trip online

Since time immemorial, the Nimiipuu or Nez Perce have lived among the rivers, canyons and prairies of the inland northwest. Despite the cataclysmic change of the past two centuries, the Nez Perce are still here. Join us in exploring the park's thirty-eight sites and experiencing the story of a people who are still part of this landscape.
Yellowstone National Park
Yellowstone National Park
Virtual field trip online

Established in 1872, Yellowstone National Park is America's first national park. Located in Wyoming, Montana, and Idaho, it is home to a large variety of wildlife including grizzly bears, wolves, bison, and elk. Preserved within Yellowstone National Park are Old Faithful and a collection of the world's most extraordinary geysers and hot springs, and the Grand Canyon of the Yellowstone. The website offers historical information about the park for those who cannot visit in person.