State Facts
Missouri was the 24th state to join the union. It became a state on August 10, 1821.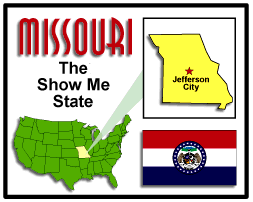 Capital - Jefferson City
Abbreviation - MO
Nickname - The Show Me State
Motto - "Salus populi suprema lex esto " - The welfare of the people shall be the supreme law
Song - Missouri Waltz
Bird - Bluebird
Flower - White Hawthorn
Insect - Honey bee
Area - approximately 69,709 square miles
Websites for studying about Missouri
Worksheets and puzzles for kids to learn more about Missouri
Fun Educational Activities
From TeachersFirst. A comprehensive resource on Missouri
Mr. Donn has been online for as long as I can remember and he has one of the largest collections of social studies resources available. This is his collection of Missouri resources.
From the Library of Congress. Games and stories of America's past.
Facts & Trivia about Missouri
RoadsideAmerica.com - Missouri
Unique tourist attractions and landmarks in Missouri
Loads of fun facts, photos, and travel information about Missouri.
EnchantedLearning.com
H.I.P. Pocket Change Coin Coloring sheet - Missouri
Created by the U.S. Mint
Missouri Virtual Field Trips
Harry S Truman NHSIndependence
Virtual field trip onlineHome to a People's President - Harry Truman's story is one of hope & frustration, choice & chance. As President, he took the US from its traditional isolationism into the age of international involvement. Visitors experience the surroundings Harry Truman knew from his formative years as a 22-year-old youth of modest ambition through his retirement and death at age 88 as a former president of the United States.
Miniature MuseumSt. Louis
Virtual field trip onlineThe museum opened June 27, 2001 and features dollhouse miniatures in all scales. The museum has a gift shop and a library devoted to miniatures.
Thanks to graphicmaps.com for the state graphics