State Facts
Mississippi was the 20th state to join the union. It became a state on December 10, 1817.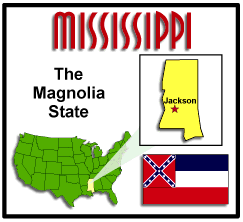 Capital - Jackson
Abbreviation - MS
Nickname - Magnolia State
Motto - "Virtute et armis" - By valor and arms
Song - Go Mis-sis-sip-pi
Bird - Mockingbird
Flower - Magnolia
Insect - Honeybee
Area - approximately 48,434 square miles
Websites for studying about Mississippi
The Declaration of Causes of the Seceding States
The declarations of secession for Georgia, Mississippi, South Carolina, Texas, and Virginia (primary sources)
Mississippi State Symbols Games
Worksheets and puzzles for kids to learn more about Mississippi
A to Z Kids Stuff - Mississippi
Fun Educational Activities
From TeachersFirst. A comprehensive resource on Mississippi
Mr. Donn has been online for as long as I can remember and he has one of the largest collections of social studies resources available. This is his collection of Mississippi resources.
Explore the States - Mississippi
From the Library of Congress. Games and stories of America's past.
Facts & Trivia about Mississippi
RoadsideAmerica.com - Mississippi
Unique tourist attractions and landmarks in Mississippi
Loads of fun facts, photos, and travel information about Mississippi.
EnchantedLearning.com
H.I.P. Pocket Change Coin Coloring sheet - Mississippi
Created by the U.S. Mint
Mississippi Virtual Field Trips
Grand Gulf Military ParkPort Gibson
Virtual field trip onlinePark guests can step back in time and relive history as it was made. Beginning at the museum, you can trace the development of Grand Gulf through early photographs, maps, scale models, and authentic artifacts found in the area. Coaches and carriages bear silent witness to the days when Grand Gulf was bustling with people; while Union and Confederate uniforms, cannon balls, and muskets remain to tell of the fierce fighting that took place during the latter stage of the Civil War.
More Mississippi field trips ...
Thanks to graphicmaps.com for the state graphics