State Facts
Massachusetts was the 6th state to join the union. It became a state on February 6, 1788.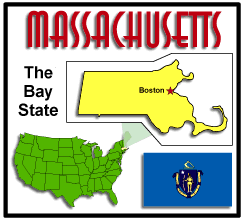 Capital - Boston
Abbreviation - MA
Nickname - Bay State
Motto - "Ense petit placidam sub libertate quietem" - By the sword we seek peace, but peace only under liberty
Song - All Hail to Massachusetts
Bird - Black-Capped Chickadee
Flower - Mayflower
Insect - Ladybug (Ladybird Beetle)
Area - approximately 10,555 square miles
Websites for studying about Massachusetts
From the United States Mint H.I.P. Pocket Change Kids site
Massachusetts State Symbols Games
Worksheets and puzzles for kids to learn more about Massachusetts
Amherst College Museum of Natural History
At Amherst College, there are over 200,000 objects spanning a dozen different types of natural history collections. These objects have been acquired through expeditions, exchanges, donations and purchases from the 1820s to the present. The collections are, in a sense, representative of the interests of the faculty at any given point in time, and also mirror the history of scientific inquiry in the western world. Many items come from local areas, while many more are from sites in Africa, Asia, and South and Central America where graduated missionaries were sent in the College's earliest years or where expeditions ventured.
A to Z Kids Stuff - Massachusetts
Fun Educational Activities
From TeachersFirst. A comprehensive resource on Massachusetts
Mr. Donn has been online for as long as I can remember and he has one of the largest collections of social studies resources available. This is his collection of Massachusetts resources.
Explore the States - Massachusetts
From the Library of Congress. Games and stories of America's past.
Facts & Trivia about Massachusetts
RoadsideAmerica.com - Massachusetts
Unique tourist attractions and landmarks in Massachusetts
Awesome America - Massachusetts
Loads of fun facts, photos, and travel information about Massachusetts.
Massachusetts Map/Quiz Printout
EnchantedLearning.com
H.I.P. Pocket Change Coin Coloring sheet - Massachusetts
Created by the U.S. Mint
Massachusetts Virtual Field Trips
"Old Chelmsford" Garrison HouseChelmsford
Virtual field trip onlineThe "Old Chelmsford" Garrison House was one of 19 British garrisons in Chelmsford in 1691. The house has been designated as a National Historical Place and is a practically unspoiled museum piece. It is a rare example of where and how the common man and his family lived in the early days. Inside, the house is furnished with beautiful antique furniture and dishes, clothes, cooking equipment, and many other items which a family would have used in their everyday life. The buttery inside the house contains a very interesting display of early dairy equipment. In addition to the house, we have a barn with a fascinating collection of old farm tools and vehicles, a Summer Kitchen, a working Blacksmith Shop, an herb garden, the Craft House, the Hill Jock House, the Fiske House barn, and someday, the McLaughlin house.
Boston's Dreamland Wax MuseumBoston
The latest addition to the Historic Downtown Boston,...located on City Hall Plaza, across from Faneuil Hall and the Old State House. The Mission is to inspire, educate and entertain students as they come face-to-face with those who have shaped US and Global history. The visit is highlighted by an acclaimed Hall of Presidents which includes all 44 U.S. Presidents and ends in the Oval Office. Students will see world leaders, pop and sports icons. 'Selfies' are encouraged in the museum which includes over 100 figures across 12 galleries on 2 floors. Educational activities can be added.
Plimoth Plantation programs for kids, scouts, and familiesPlymouth
Virtual field trip onlinePlimoth Plantation offers kids interesting facts and activities about the 17th-century.
The Stone House MuseumBelchertown
Virtual field trip onlineThe Belchertown Historical Association is one of the oldest not-for-profit organizations in the Pioneer Valley. The Stone House Museum has preserved and protected the history of Belchertown and its neighbors for over 75 years. In addition to its impressive collection of over 30,000 artifacts, the Museum boasts one of the most extensive newspaper and public document archives in the area. The largely volunteer staff is devoted to providing historically accurate tours and provides a lively interpretation of 19th century living to hundreds of visitors annually, ranging from schoolchildren to lifelong learners
More Massachusetts field trips ...
Thanks to graphicmaps.com for the state graphics