State Facts
Kentucky was the 15th state to join the union. It became a state on June 1, 1792.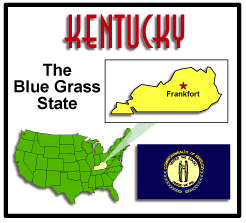 Capital - Frankfort
Abbreviation - KY
Nickname - Bluegrass State
Motto - "United we stand, divided we fall "
Song - My Old Kentucky Home
Bird - Cardinal
Flower - Goldenrod
Insect - Viceroy Butterfly
Area - approximately 40,411 square miles
Websites for studying about Kentucky
Worksheets and puzzles for kids to learn more about Kentucky
The event will feature Civil War re-enactors, a battle both Saturday and Sunday. The CSS Hunley will be at the 2009 event. We will also feature period music, a living history village, a Heritage Ball and more. Friday is reserved as a special day for school children. PH:606-438-0494 October - Check website for details!
Fun Educational Activities
From TeachersFirst. A comprehensive resource on Kentucky
Mr. Donn has been online for as long as I can remember and he has one of the largest collections of social studies resources available. This is his collection of Kentucky resources.
From the Library of Congress. Games and stories of America's past.
Facts & Trivia about Kentucky
RoadsideAmerica.com - Kentucky
Unique tourist attractions and landmarks in Kentucky
Loads of fun facts, photos, and travel information about Kentucky.
EnchantedLearning.com
H.I.P. Pocket Change - Kentucky
Created by the US Mint
Kentucky Virtual Field Trips
Dinsmore HomesteadBurlington
Virtual field trip onlinehe Dinsmore Homestead is a unique historic site where visitors can learn what rural life was like in the 19th and early 20th centuries. Nature enthusiasts enjoy the hiking trails developed in cooperation with the Kentucky Nature Conservancy and the Boone County Parks Department. It is a resource for students and scholars and an area where artists can sketch and paint. Those who enjoy antiques and historic interiors delight in touring the house that contains the original accumulated belongings of five generations of the Dinsmore family.
Thanks to graphicmaps.com for the state graphics