Iowa Facts for Kids
Iowa was the 29th state to join the union. It became a state on December 28, 1846.
Capital - Des Moines
Abbreviation - IA
Nickname - Hawkeye State
Motto - "Our liberties we prize and our rights we will maintain"
Song - The Song of Iowa
Bird - Eastern Goldfinch
Flower - Wild Rose
Insect - None adopted
Area - approximately 56,276 square miles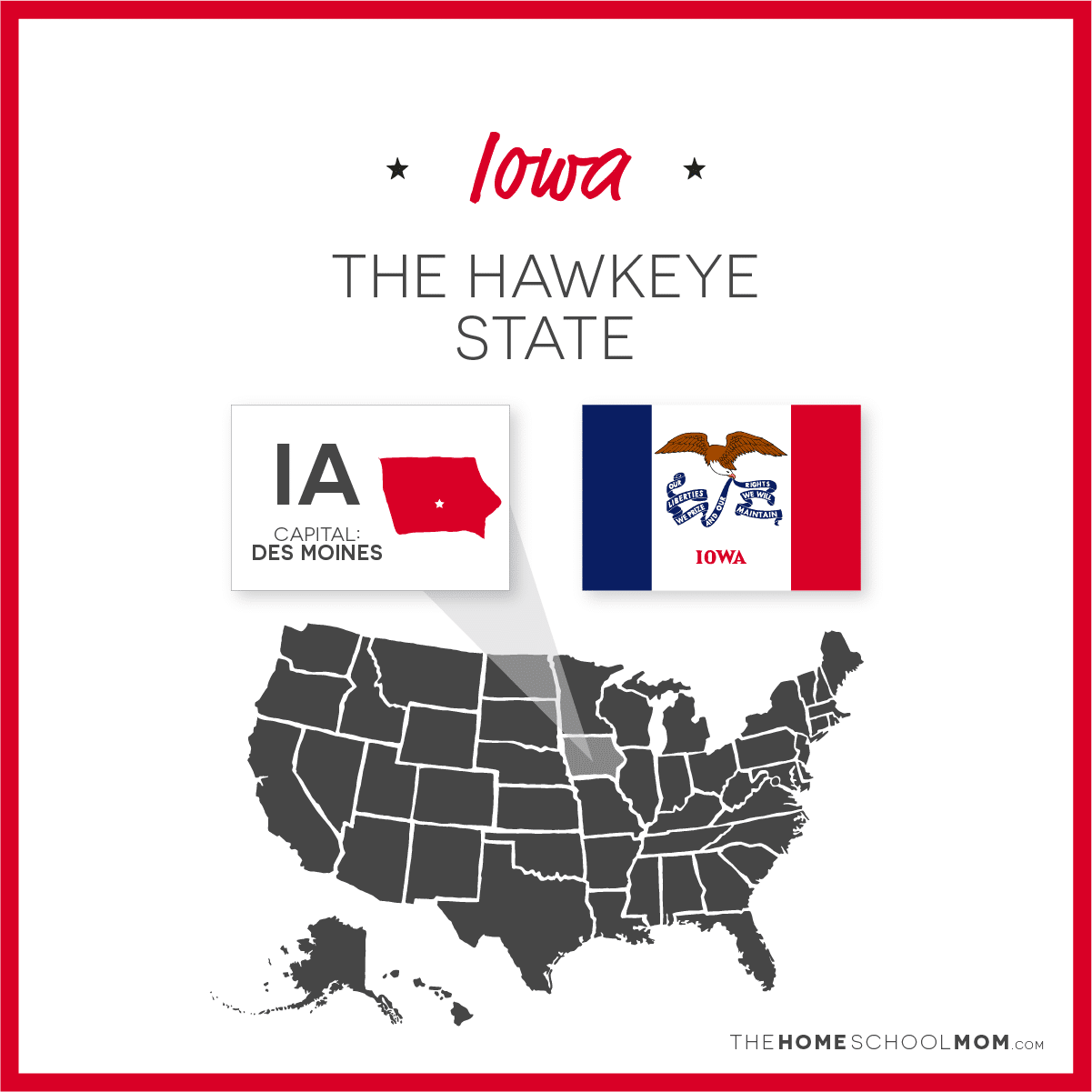 Learn more about Iowa
Iowa Primary Sources (Library of Congress)
Selected Library of Congress primary sources with a Teacher's Guide
Herbert Hoover Presidential Library and Museum
Learn about the life and career of Iowa's only president.
Pella Historical Society & Museums
Learn why almost 800 Dutch colonists left their homes and made the long journey together to the U.S., and how they arrived in Marion County, IA, in 1847 to build a town. The Pella Historical Village also happens to include the boyhood home of Wyatt Earp.
Buffalo Bill Cody
The government scout, buffalo hunter, and Wild West Show promoter was born and lived the first twelve years of his life in Iowa.
History of Fort Madison
Fort Madison was the location of the first U.S. military fort in the upper Mississippi region, and was the site of Chief Black Hawk's first battle against U.S. troops, the only real War of 1812 battle fought west of the Mississippi.
Herbert Hoover National Historic Site
The historic buildings and landscape maintained by the NPS commemorate the life story of Herbert Hoover, 31st President of the United States.
Kalona Historical Society
Take a virtual stroll through the scenic 1800's village and explore pioneer life in 12 authentic buildings. Each building is restored and filled with interesting artifacts and informative displays depicting the rugged years our immigrant settlers spent taming the Iowa prairie.
Effigy Mounds National Monument
The mounds preserved here are considered sacred by many Americans, especially the Monument's 20 culturally associated American Indian tribes. Learn about the mounds and the people who built them.
How Iowa lost a county
On January 15, 1851, the 3rd General Assembly of Iowa passed a legislative Act that created 50 new counties, which increased the total number of counties to an even 100. So why are there only 99 today?
Terrace Hill
Learn about the 150-year history of the Iowa Governor's residence & National Historic Landmark.
Brucemore
Since 1884, Brucemore has been a fixture in Iowa history. Learn about the people who lived and work on the estate, the buildings and landscape, and the efforts to build a Midwest community.
State Historical Society of Iowa
Site histories and Teacher's Guides for all seven sites owned by the State Historical Society of Iowa.
Buena Vista County Historical Society
This long written account of the history of this part of eastern Iowa details experiences with Native Americans already living on the land, the perils of settling a cold plain, and how businesses and homes slowly populated the area.
Sioux City Public Museum
Online resources for learning about 150 years of Sioux City history.
Iowa DNR
All about Iowa wildlife
African American Museum of Iowa
Mission: To preserve, publicize, and educate the public on the African American heritage and culture of Iowa.
Identification of Common Trees of Iowa
This interactive key was developed to help identify the most common trees in Iowa. The key is based on vegetative characteristics such as leaves, fruits, and bark. It is not a complete key. It does not include all trees grown in Iowa.
The 50 States - Iowa
From TeachersFirst. A comprehensive resource on Iowa
Mr. Donn.org - Iowa
Collection of Iowa resources from Mr. Donn, who offers one of the largest collections of social studies resources available
50 States.com - Iowa
Facts & Trivia about Iowa
RoadsideAmerica.com - Iowa
Unique tourist attractions and landmarks in Iowa
Awesome America - Iowa
Loads of fun facts, photos, and travel information about Iowa.
Iowa Map/Quiz Printout
EnchantedLearning.com
Iowa Farm Bureau Federation
Iowa Farm Bureau -- A Patchwork of People Helping People
IA Resources for Educators from Locales:
Learn more through virtual and in-person Iowa field trips ...