State Facts
Iowa was the 29th state to join the union. It became a state on December 28, 1846.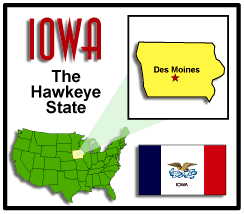 Capital - Des Moines
Abbreviation - IA
Nickname - Hawkeye State
Motto - "Our liberties we prize and our rights we will maintain"
Song - The Song of Iowa
Bird - Eastern Goldfinch
Flower - Wild Rose
Insect -
Area - approximately 56,276 square miles
Websites for studying about Iowa
African American Museum of Iowa
Mission: To preserve, publicize, and educate the public on the African American heritage and culture of Iowa.
Identification of Common Trees of Iowa
This interactive key was developed to help identify the most common trees in Iowa. The key is based on vegetative characteristics such as leaves, fruits, and bark. It is not a complete key. It does not include all trees grown in Iowa.
Fun Educational Activities
From TeachersFirst. A comprehensive resource on Iowa
Mr. Donn has been online for as long as I can remember and he has one of the largest collections of social studies resources available. This is his collection of Iowa resources.
From the Library of Congress. Games and stories of America's past.
Facts & Trivia about Iowa
Unique tourist attractions and landmarks in Iowa
Loads of fun facts, photos, and travel information about Iowa.
EnchantedLearning.com
Created by the US Mint
Facilities and Activities: Picnicking/Shelters, Camping, Trails.
Iowa Farm Bureau -- A Patchwork of People Helping People
Iowa Virtual Field Trips
Bob Feller MuseumVan Meter
Virtual field trip onlineThe Bob Feller Museum is located in his hometown of Van Meter, Iowa. On display is baseball memorabilia from Mr. Feller's Hall of Fame career.
Buffalo Bill MuseumLe Claire
Virtual field trip onlineBirthplace and Boyhood Home
Marshall County Historical Society MuseumMarshalltown
Virtual field trip onlineThe Historical Society was formed in 1908 to provide a public link to Marshall County's past. It exists to collect, store, and preserve artifacts and documents that were used or manufactured in Marshall County. The Historical Society Museum displays the Society's collections that illustrate and interpret Marshall County's natural and human history. Several other sites are also associated with the Historical Society. Visit our animated "Virtual Museum".
National Sprint Car Hall of Fame and MuseumKnoxville
Virtual field trip onlineWhen you are in or near Knoxville it is an absolute must that you stop by and see the National Sprint Car Hall of Fame & Museum and of course a visit next door to the famed Knoxville Raceway, you will never forget them. Everyone needs to go there at least once.
Oelwein Historical Society MuseumOelwein
Virtual field trip onlineThere is plenty of free off-street parking with room for a few tour busses (to the right of the above photo). So come on down and spend a few hours in air-conditioned comfort reminiscing in yesteryear.
University of Iowa Hospitals and Clinics Medical MuseumIowa City
Virtual field trip onlineThe mission: To stimulate, inform, and educate patients, visitors and the citizens of Iowa and surrounding regions about institutional health care and health-related issues. The presentation of exhibits will provide the public with an understanding of the University Hospitals and Clinics' past, present and future role in contributing to medical and patient-care advances in Iowa. Exhibits will consist of artifacts, photographs, medical equipment and instruments, records and other memorabilia.
University of Northern Iowa MuseumsCedar Falls
Virtual field trip onlineMission: To the education, research, and public service missions of the University through educational programming, exhibition, collection, and preservation. For the campus and general public, the Museums foster lifelong learning and the exchange of ideas, as well as a respect for our natural resources and the human heritage of the world.
Thanks to graphicmaps.com for the state graphics