State Facts
Indiana was the 19th state to join the union. It became a state on December 11, 1816.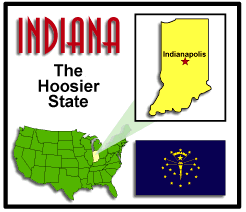 Capital - Indianapolis
Abbreviation - IN
Nickname - Hoosier State
Motto - "The Crossroads of America"
Song - "On the Banks of the Wabash, Far Away,"
Bird - Cardinal
Flower - Peony
Insect -
Area - approximately 36,420 square miles
Websites for studying about Indiana
Worksheets and puzzles for kids to learn more about Indiana
Fun Educational Activities
From TeachersFirst. A comprehensive resource on Indiana
Mr. Donn has been online for as long as I can remember and he has one of the largest collections of social studies resources available. This is his collection of Indiana resources.
From the Library of Congress. Games and stories of America's past.
Facts & Trivia about Indiana
Unique tourist attractions and landmarks in Indiana
Loads of fun facts, photos, and travel information about Indiana.
EnchantedLearning.com
H.I.P. Pocket Change - Indiana
Created by the US Mint
Indiana Virtual Field Trips
Indiana Basketball Hall of Fame New Castle
Virtual field trip onlineThe rich tradition of Indiana basketball is proudly celebrated at the Hall of Fame Museum in New Castle. From High School, College, and even Professional Basketball, we have the memories and memorabilia from Indiana's finest athletes. Come relive the history and learn about the legacy of basketball and Indiana.
Menno-HofShipshewana
Virtual field trip onlineMenno-Hof is a non-profit information center that teaches visitors about the faith and life of Amish and Mennonites. Menno-Hof invites groups and individuals to learn about and experience Anabaptist history and lifestyle. Menno-Hof's multi-image presentations, historical environments, and colorful displays take you on a fascinating journey inside the unique world of the Mennonites and Amish. See where the Anabaptists had their beginning in a Swiss courtyard and how they were persecuted for their faith in the dungeon. Travel with the Anabaptists down the cobblestone streets of Holland and board a 17th century sailing boat on a journey to America and freedom. Take a virtual tour for a glimpse of what Menno-Hof has to offer.
Thanks to graphicmaps.com for the state graphics