State Facts
Idaho was the 43rd state to join the union. It became a state on July 3, 1890.
Capital - Boise
Abbreviation - ID
Nickname - Gem State
Motto - "Esto perpetua" - May it Endure Forever
Song - Here We Have Idaho
Bird - Mountain Bluebird
Flower - Syringa
Insect - Monarch Butterfly
Area - approximately 83,574 square miles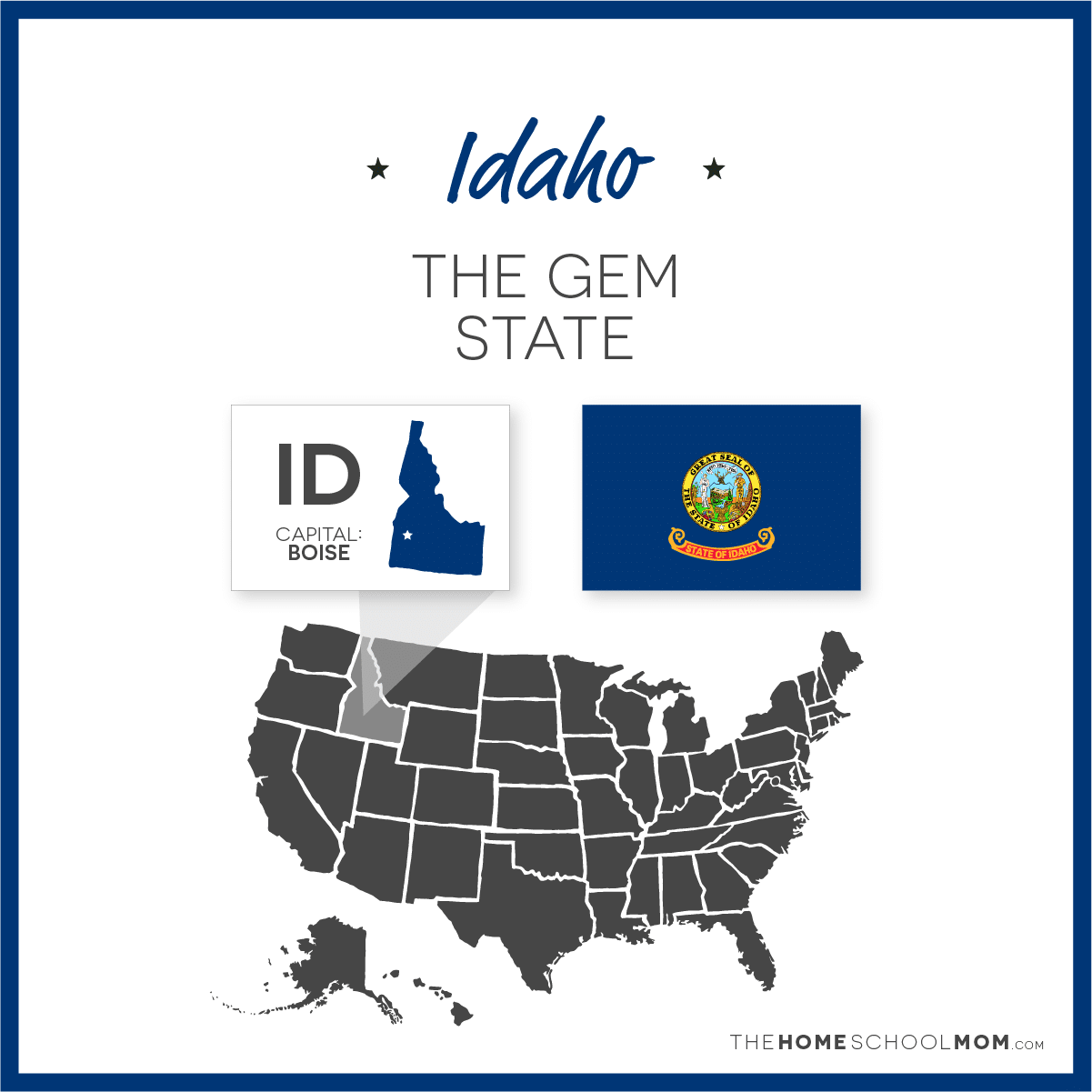 Websites for studying about Idaho
Worksheets and puzzles for kids to learn more about Idaho
Common Trees of the Pacific Northwest
Welcome to the tree identification Home Page at Oregon State University! The purpose of this site is to help you identify common conifers and broadleaves in the Pacific Northwest. Feel free to skip through the pages to learn more about specific genera, or to try your hand at identifying a tree specimen with a user-friendly dichotomous key. If you don't have a specimen handy, go to the mystery tree pages to try to identify the trees pictured.
Information about Idaho. State study guides have been added to the Fast Facts pages
From TeachersFirst. A comprehensive resource on Idaho
Mr. Donn has been online for as long as I can remember and he has one of the largest collections of social studies resources available. This is his collection of Idaho resources.
From the Library of Congress. Games and stories of America's past.
Facts & Trivia about Idaho
Unique tourist attractions and landmarks in Idaho
Loads of fun facts, photos, and travel information about Idaho.
No study about Idaho is complete without discovering the Idaho Potato.
Idaho Virtual Field Trips
Nez Perce National Historical Park
Lapwai
Virtual field trip online

Since time immemorial, the Nimiipuu or Nez Perce have lived among the rivers, canyons and prairies of the inland northwest. Despite the cataclysmic change of the past two centuries, the Nez Perce are still here. Join us in exploring the park's thirty-eight sites and experiencing the story of a people who are still part of this landscape.
The Peregrine Fund
Boise
Virtual field trip online

The Peregrine Fund sponsors the Velma Morrison Interpretive Center at the World Center for Birds of Prey. The center's goal is to enhance the health, reproduction, and reintroduction efforts of endangered species and to collect information about raptors.
Yellowstone National Park
Yellowstone National Park
Virtual field trip online

Established in 1872, Yellowstone National Park is America's first national park. Located in Wyoming, Montana, and Idaho, it is home to a large variety of wildlife including grizzly bears, wolves, bison, and elk. Preserved within Yellowstone National Park are Old Faithful and a collection of the world's most extraordinary geysers and hot springs, and the Grand Canyon of the Yellowstone. The website offers historical information about the park for those who cannot visit in person.