State Facts
Florida was the 27th state to join the union. It became a state on March 3, 1845.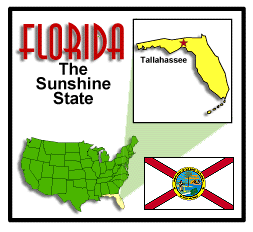 Capital - Tallahassee
Abbreviation - FL
Nickname - The Sunshine State
Motto - "In God we trust."
Song - "Swanee River"
Bird - Mockingbird
Flower - Orange blossom
Insect - Zebra Longwing Butterfly
Area - approximately 65,758 square miles
Websites for studying about Florida
Worksheets and puzzles for kids to learn more about Florida
Addison Blockhouse Historic State Park
This site houses the ruins of a 19th century plantation owned by John Addison, which thrived from 1816 to 1836 when it was burned in the Seminole wars. The small coquina rock blockhouse was originally an outside kitchen. After the plantation was burned, the Carolina Regiment of Volunteers fortified the abandoned building for defense against further Seminole attacks. Although the foundation is from the 19th century, the upper part of the blockhouse was added in the 1920s. The site also contains the ruins of a house foundation with tabby (a mixture of lime, sand, shells, and water) floors, and a well constructed of coquina rock. Addison Blockhouse Historic State Park is currently inaccessible, with exception of a landing along the west bank of the Tomoka River.
Fun Educational Activities
Helping students with Florida projects and assignments.
Mr. Donn has been online for as long as I can remember and he has one of the largest collections of social studies resources available. This is his collection of Florida resources.
From the Library of Congress. Games and stories of America's past.
Facts & Trivia about Florida
Unique tourist attractions and landmarks in Florida.
Loads of fun facts, photos, and travel information about Florida.
From EnchantedLearning.com
H.I.P. Pocket Change - Florida
Created by the US Mint
Florida Virtual Field Trips
Dry Tortugas National ParkKey West
Virtual field trip onlineThe Dry Tortugas is a cluster of seven islands, composed of coral reefs and sand, shoals and waters. The Park is known for its famous bird and marine life, its legends of pirates and sunken gold, and its military past. The park is accessible only by private boats, charter boats, or seaplane.
Emerald Coast Science CenterFort Walton Beach
Virtual field trip onlineThe science center offers kids of all ages. and even adults, the chance to learn how to become an astronomer, navigate the night sky and gaze upon the wonders of the universe.
Fantasy of FlightPolk City
Virtual field trip onlineVisitors experience the fun and adventures of flying. Houses over 40 rare and vintage aircraft for flight enthusiasts to see.
Flagler MuseumPalm Beach
Virtual field trip onlineHenry Flagler brought railroads and luxury hotels to Florida. Today, tourism and agriculture are the cornerstone of Florida's economy. The museum shows visitors the beginning of the Gilded Age.
Jupiter Inlet Lighthouse & MuseumJupiter
Virtual field trip onlineVisitors can climb the landmark 1860 Jupiter Light. Exhibits for the lighthouse are contained in the waterfront History Museum.
Liberty Bell Memorial MuseumMelbourne
Virtual field trip onlineThe museum showcases a full-size replica of the original Liberty Bell. This bell is cast by the makers of the original bell. Visitors can tap the Bell with a rubber mallet and hear the ring of freedom.
Sports ImmortalsBoca Raton
Virtual field trip onlineMemorabilia and acheivements of famous sports legends.
Thanks to graphicmaps.com for the state graphics