State Facts
Florida was the 27th state to join the union. It became a state on March 3, 1845.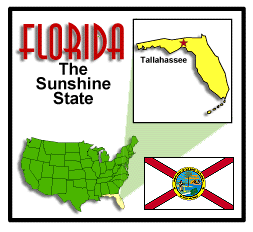 Capital - Tallahassee
Abbreviation - FL
Nickname - The Sunshine State
Motto - "In God we trust."
Song - "Swanee River"
Bird - Mockingbird
Flower - Orange blossom
Insect - Zebra Longwing Butterfly
Area - approximately 65,758 square miles
Websites for studying about Florida
Worksheets and puzzles for kids to learn more about Florida
Fun Educational Activities
Helping students with Florida projects and assignments.
Mr. Donn has been online for as long as I can remember and he has one of the largest collections of social studies resources available. This is his collection of Florida resources.
From the Library of Congress. Games and stories of America's past.
Facts & Trivia about Florida
Unique tourist attractions and landmarks in Florida.
Loads of fun facts, photos, and travel information about Florida.
From EnchantedLearning.com
Florida State Quarters Coloring Pages
In 1999, the United States Mint began striking a new quarter about every ten weeks to honor one of the 50 states—that is, five new quarters every year—until the program ended. The quarters were struck in the same order as the states' birthdays.
Florida Virtual Field Trips
Fantasy of FlightPolk City
Virtual field trip onlineVisitors experience the fun and adventures of flying. Houses over 40 rare and vintage aircraft for flight enthusiasts to see.
Flagler MuseumPalm Beach
Virtual field trip onlineHenry Flagler brought railroads and luxury hotels to Florida. Today, tourism and agriculture are the cornerstone of Florida's economy. The museum shows visitors the beginning of the Gilded Age.
Sports ImmortalsBoca Raton
Virtual field trip onlineMemorabilia and acheivements of famous sports legends.
Thanks to graphicmaps.com for the state graphics