Connecticut Facts for Kids
Connecticut was the 5th state to join the union. It became a state on January 9, 1788.
Capital - Hartford
Abbreviation - CT
Nickname - Constitution State
Motto - "Qui transtulit sustinet" - He who transplanted still sustains
Song - Yankee Doodle
Bird - American Robin
Flower - Mountain Laurel
Insect - European Mantis
Area - approximately 5,544 square miles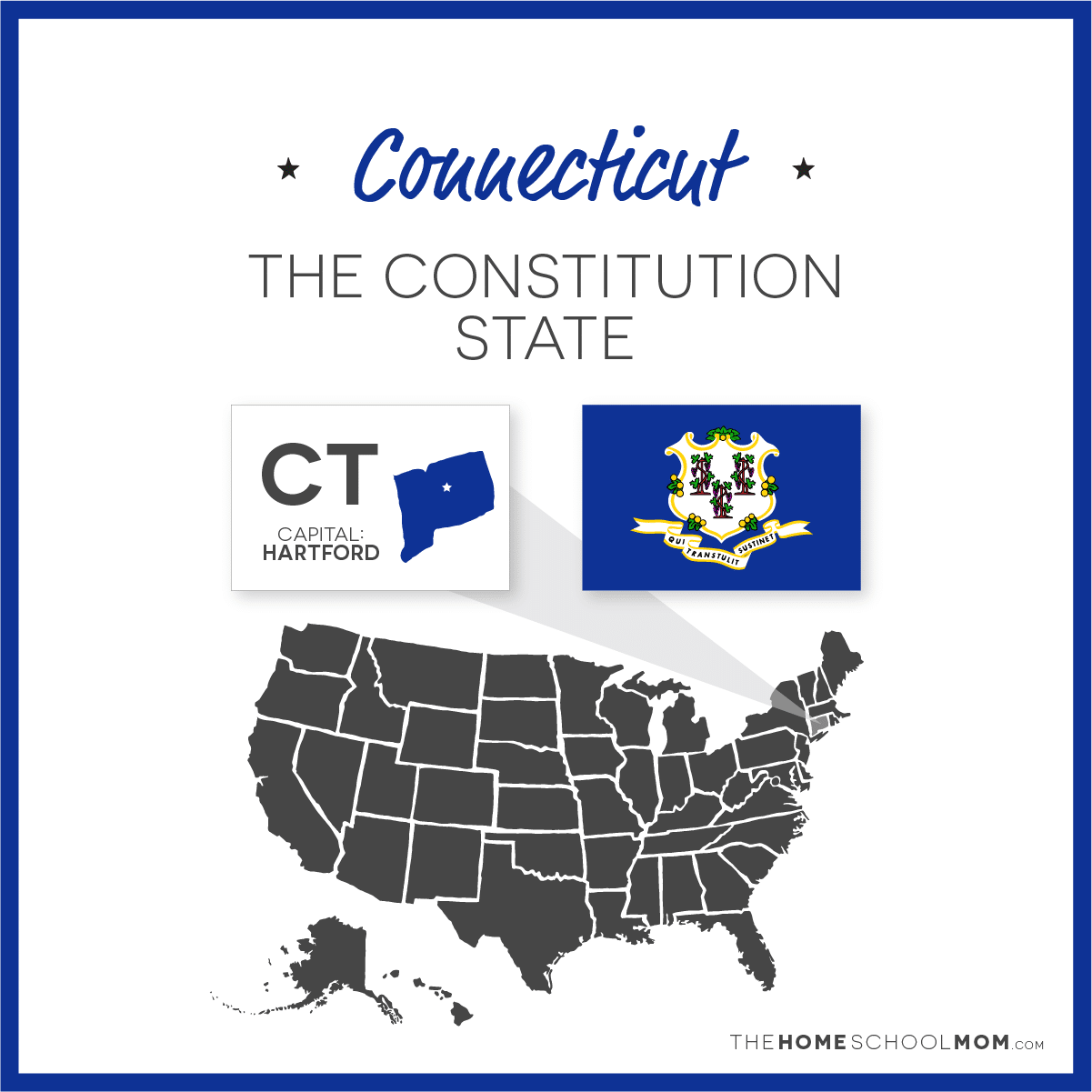 Learn more about Connecticut
Connecticut Museum of Culture and History
Connecticut history lessons using primary sources for K-8
Danbury Museum
A plethora of resources: Danbury school "newspapers" (created for third graders but appropriate for students of other ages), YouTube videos of re-enactors portraying Sybil Ludington, Maj General David Wooster, and a presentation on "Why Danbury" which showcases Danbury's role in the Revolutionary War. The Danbury History in Brief page covers additional themes (the 1955 floods, the Kohanza Dam disaster, etc.) in a short-form manner, and the Archive Resources page contains many downloadable subject files on topics from the Revolutionary War to the hatting industry to Marian Anderson's nearly 50 years as a Danbury resident.
Connecticut History Day
Includes a 28-page PDF of links to CT history lessons, as well as tips for educators on how to teach using primary sources.
Noah Webster House & West Hartford Historical Society
Lesson plans and activities for kids to learn why "Webster's Dictionary" is called that, and what his life would have been like growing up in the 1700s in Connecticut. There are two sections of activities, and it may make more sense to go through the "Kids Corner" first so students have some context for the activities in the Parent Resource area. For grades K-6
The Mark Twain House & Museum
Videos, activities, primary sources, and lesson plans to help you bring Twain's life and works into your classroom.
Connecticut Primary Sources (Library of Congress)
Selected Library of Congress primary sources with a Teacher's Guide
Eli Whitney Museum and Workshop
The Museum preserves the site on which Whitney constructed the first American factory in 1798.
Enfield Historical Society
Read the history of the area and see photos from as far back as the early 1900s. Virtual exhibits include one of the last one-room schools in use in Connecticut.
Wildlife in Connecticut
Activity sheets, fun facts, and more fun ways for kids to learn about Connecticut wildlife
The 50 States - Connecticut
From TeachersFirst. A comprehensive resource on Connecticut
Mr. Donn.org - Connecticut
Collection of Connecticut resources from Mr. Donn, who offers one of the largest collections of social studies resources available.
50 States.com - Connecticut
Facts & Trivia about Connecticut
RoadsideAmerica.com - Connecticut
Unique tourist attractions and landmarks in Connecticut
Connecticut Map/Quiz Printout
EnchantedLearning.com
Awesome America - Connecticut
Loads of fun facts, photos, and travel information about Connecticut.
CT Resources for Educators from Locales:
Learn more through virtual and in-person Connecticut field trips ...