State Facts
Colorado was the 38th state to join the union. It became a state on August 1, 1876.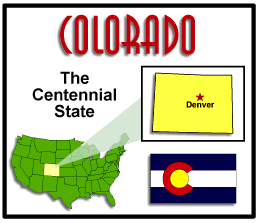 Capital - Denver
Abbreviation - CO
Nickname - Centennial State, Colorful Colorado
Motto - Nil sine Numine - Nothing without Providence
Song - Where the Columbines Grow
Bird - Lark Bunting
Flower - Rocky Mountain Columbine
Insect - Colorado Hairstreak Butterfly
Area - approximately 104,100 square miles
Websites for studying about Colorado
Worksheets and puzzles for kids to learn more about Colorado
AME is the Apprenticeship, Mentorship, Entrepreneurship program sponsored by CHEC, the Christian Home Educators of Colorado. "AME connects young homeschooled students and graduates to professionals, businessmen, and entrepreneurs to provide a life-integrated work experience focused on the character and future of that young person. Through our website database, seminars, and more, we help connect young people to prospective mentors in various business and ministry fields." Participation is not limited to Colorado residents.
Fun Educational Activities
From TeachersFirst. A comprehensive resource on Colorado
Mr. Donn has been online for as long as I can remember and he has one of the largest collections of social studies resources available. This is his collection of Colorado resources.
From the Library of Congress. Games and stories of America's past.
Facts & Trivia about Colorado
RoadsideAmerica.com - Colorado
Unique tourist attractions and landmarks in Colorado
Loads of fun facts, photos, and travel information about Colorado.
EnchantedLearning.com
H.I.P. Pocket Change - Colorado
Created by the US Mint
During its life, however, the railroad was Morrison's lifeblood. It carried building stone and other products of Morrison's quarries into Denver, brought tourists to the town and to nearby Red Rocks Park, and made Morrison a supply center for growing communities in the canyons and mountains to the west, as well as to the ranches east along the Bear Creek Valley.
Web searches for kids by librarians
From Colorado Parks and Wildlife
State of Colorado Student Pages
From Colorado.gov
From denverlibrary.org.
Colorado's family guide from Colorado Resort NetKids Activities, Education Guide, and Parent Resources.
Colorado's Kids and Student Page
History - Past and Present People
Colorado Virtual Field Trips
Colorado GhosttownsSt. Elmo, Hancock, Romley, Mary Murphy Mine, Vicksburg, and Winfield
Virtual field trip onlineThere are a number of ghost town areas in the "Fourteener" region of Colorado. Some are accessible by passenger vehicle, while many are accessible only by four-wheel drive. When exploring ghost town areas, be sure to take only pictures and leave with only memories. Most areas are private property and rockhounding and souvenir hunting are strictly prohibited. If posted, please only view from afar. Travel & recreate responsibly, and always tread lightly.
Durango & Silverton Narrow Gauge Railroad MuseumDurango
Virtual field trip online
Virtual field trip onlineWelcome to the Independence Ghost Town e-tour. Drag across and/or click on areas of the map or on the map's legend below to learn more about the town's features. Dotted outlines represent collapsed structures.
Thanks to graphicmaps.com for the state graphics