State Facts
Arizona was the 48th state to join the union. It became a state on February 14, 1912.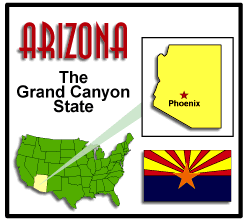 Capital - Phoenix
Abbreviation - AZ
Nickname - Grand Canyon State
Motto - "Ditat Deus" - God Enriches
Song - Arizona March Song
Bird - Cactus wren
Flower - Saguaro Cactus Blossom
Insect - Two-tailed Swallowtail
Area - approximately 114,006 square miles
Websites for studying about Arizona
Arizona SOS for Kids Activity Book
Arizona Activity Book published in 2017
Fun Educational Activities
From TeachersFirst. A comprehensive resource on Arizona
Mr. Donn has been online for as long as I can remember and he has one of the largest collections of social studies resources available. This is his collection of Arizona resources.
From the Library of Congress. Games and stories of America's past.
Facts & Trivia about Arizona
Unique tourist attractions and landmarks in Arizona
Loads of fun facts, photos, and travel information about Arizona.
EnchantedLearning.com
H.I.P. Pocket Change - Arizona
Created by the US Mint
Students will use various Web sites to investigate the plants, animals and people of the Arizona desert. Grades 4-5.
Treehouses on the Tree of Life
Treehouses are Tree of Life pages designed for kids, teachers, and the young at heart. The information found on treehouses complements the scientific core content presented on Tree of Life branch and leaf pages.
Worksheets and puzzles for kids to learn more about Arizona.
From the Office of Governor Janet Napolitano.
Kids Voting Arizona is a nonprofit, nonpartisan, grassroots-driven voter education program.
Arizona Virtual Field Trips
Colossal Cave Mountain ParkVail
Virtual field trip onlineExplore the different sections of this site to experience the area's history, meet some of our abundant wildlife, learn about our educational resources and facilities and check out the FAQs section to answer some of the most commonly asked questions.
Pioneer Living History VillagePhoenix
Virtual field trip onlineSee the Opera House where Lilly Langtry sang; look through a rifle port in the actual cabin that survived Arizona's bloodiest range war; laugh your way through a "melodrama"; or browse through an 1890's dress shop and much more! All of this, plus a blacksmith shop, sheriff's office and jail, complete ranch complex, and costumed interpreters including cowboys, lawmen, and lovely Victorian ladies - await you at Pioneer Living History Village, Arizona's most authentic Old West town.
Southwest Wildlife Rehabilitation and Educational FoundationScottsdale
Virtual field trip onlineA non-profit organization specializing in rescuing and rehabilitating injured and orphaned wildlife native to the southwest. The website aims to educate today's youth on the importance of native wildlife and the environment.
The Castaneda MuseumTucson
Virtual field trip onlineFor over 55 years, Ms. Morales has been creating dolls representing the Tarascan/Purepecha people of Michoacan engaged in their daily activities. Her dolls have been exhibited internationally as well as throughout Mexico.
Tohono Chul ParkTucson
Virtual field trip onlineListed Tohono Chul Park as one of the Ten Great Botanical Gardens in the world.
Thanks to graphicmaps.com for the state graphics