Alaska Facts for Kids
Alaska was the 49th state to join the union. It became a state on January 3, 1959.
Capital - Juneau
Abbreviation - AK
Nickname - The Last Frontier
Motto - North To The Future
Song - Alaska's Flag
Bird - Willow Ptarmigan
Flower - Forget Me Not
Insect - Four Spot Skimmer Dragonfly
Area - approximately 656,425 square miles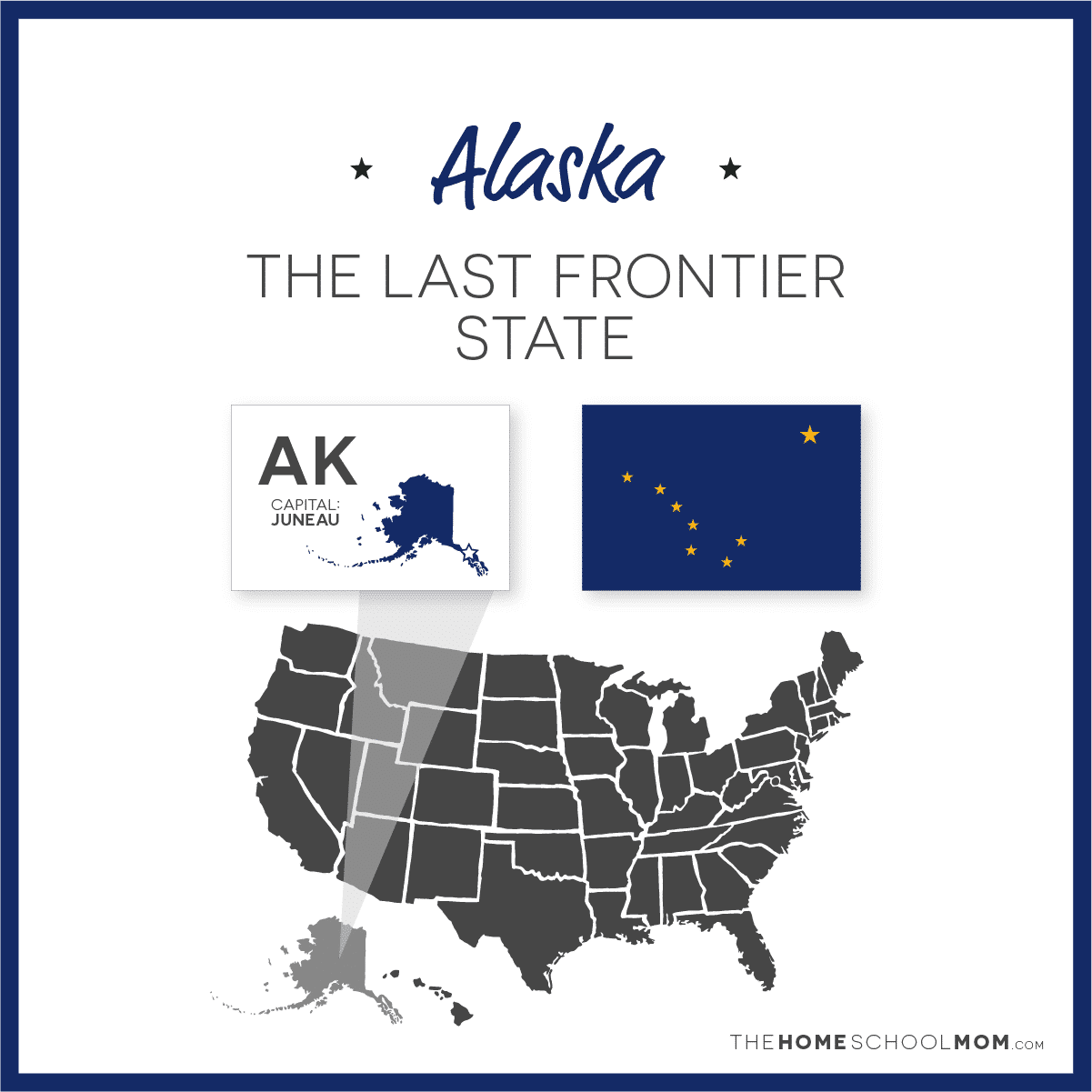 Learn more about Alaska
Alaska Kids
From the State of Alaska: Education, safety and nature information.
AlaskaKids
From the University of Alaska Anchorage
The 50 States - Alaska
From TeachersFirst. A comprehensive resource on Alaska
50 States.com - Alaska
Facts & Trivia about Alaska
RoadsideAmerica.com - Alaska
Unique tourist attractions and landmarks in Alaska
Awesome America - Alaska
Loads of fun facts, photos, and travel information about Alaska.
Alaska Digital Wildlife Photography Handbook
This 10-page handbook is written for students 4-12th grade. It contains great tips about digital photography as well as wildlife photography. Download is free
Alaska: Facts, Map and State Symbols
From Enchanted Learning,com
Alaska:The Last Frontier State
Mr. Donn has been online for as long as I can remember and he has one of the largest collections of social studies resources available. This is his collection of Alaska resources.
Alaska Kids' Stuff
From SLED: Statewide Library Electronic Doorway.
Alaska Native Heritage Center
Learn about Alaska Native history, heritage, storytelling traditions, and languages
Alaska Native Knowledge Network
Free online learning resources from University of Alaska Fairbanks related to Alaska Native knowledge systems and ways of knowing
Alaska Resource Education Curriculum
Lessons designed to teach K-12 about Alaska's natural resources
Alaska Seas & Watersheds Curriculum
Alaska's 43,000-mile-long coast is the longest state coastline in the nation and its ocean provides nearly half of the seafood harvested in American waters. These K-8 lesson plans and units are complete and ready to use, and include curricular connections to mathematics, English and Language Arts (ELA), art, and social studies.
Alaska SeaLife Center
The Alaska SeaLife Center provides virtual field trips to places such as the Bering Sea, Antarctica, and the Yukon-Kuskokwim Delta. Transcripts are provided for each video, and each field trip also links to optional lesson plans for grades 5-8. You'll also find a mini-encyclopedia of Alaskan wildlife in the Species ID section!
Alaska's Wild Salmon Teacher's Guide
Anchorage Museum
The Anchorage Museum offers a range of online resources and publications to support your teaching. Topics include Alaska History, Alaska Native Cultures, and Arctic Science.
Bears and You
Nothing will guarantee your safety in bear country, but knowledge of bears and proper behavior greatly reduce your risk.
Cape Krusenstern National Monument
For the past 5,000 years people have left evidence of their lives on the beach ridges of Cape Krusenstern. Students can learn about the people of the past and how their descendants continue to live off the land. There is also information about local wildlife, including the over 150 species of birds that migrate to Cape Krusenstern National Monument every summer to breed.
Chugach National Forest Photos
WOW!!!
Conservation in Color: Alaska's Wildlife
Downloadable coloring sheets created by Alaskan artists featuring Alaskan wildlife from the U.S. Fish & Wildlife Service.
Denali National Park and Preserve
So far north that it's in the sub-Arctic, Denali remains an intact ecosystem. Learn about the park's wildlife and environment, including its 39 species of mammals, 169 species of birds, and 1 lonely species of amphibian.
Eight Stars of Gold: The Story of Alaska's Flag
The Alaska State Museum designed its online resources site to give teachers, students and families access to the Museum's current exhibits and collections. Using historical information and guided interpretation, students can visit and learn from exhibits which they may not have the opportunity to physically view. All activities and lesson plans are correlated to the Alaska State Content Standards in a number of disciplines, including the Arts, English/Language Arts, Social Studies and Mathematics. (Don't let the Quicktime notice scare you. You can watch the YouTube videos and access PDFs to learn about the flag's history without downloading Quicktime.)
Endangered and Threatened Species of Alaska Curriculum
The teaching packet to teach students about biodiversity and endangered wildlife.
Gene Conservation Lab Kids Page
Hi kids! This web page is about fish, fish and the State of Alaska. If you're grade-school age, then this page is for you. If you are older than that, you might still be interested; but, you better get the permission of a grade-schooler to continue. In this page you will find pictures of Alaskan kids catching all kinds of fish. You will read fishy stories, including the salmon story.
Glacier Bay National Park & Preserve
Covering 3.3 million acres of rugged mountains, dynamic glaciers, temperate rainforest, wild coastlines and deep sheltered fjords, Glacier Bay National Park is a highlight of Alaska's Inside Passage and part of a 25-million acre World Heritage Site—one of the world's largest international protected areas. Students can about local history and culture, as well as dig into all the research projects from both park scientists and visiting teams. You don't want to miss the Voices of Glacier Bay Soundscape Project recordings!
Intuit Circumpolar Council Kids Page
Fun facts, learn the Inuktut language, and find more resources such as coloring pages
Katmai National Park & Preserve
Webcams of preserve wildlife and extensive information on Katmai's wildlife, plants, natural features, and environmental influences. People have made their homes in the Katmai area for at least 9,000 years. Learn more about the people and cultures tied to the history of the lands within Katmai's boundaries.
Klondike National Historical Park
Learn about the Klondike Gold Rush, including why stampeders had to bring "a ton of goods" with them. They also provide a history of Company L, a unit of Black soldiers who spent 3 years serving their country in Southeast Alaska, while also facing intense discrimination from the community they were protecting.
Kobuk Valley National Park
For 9000 years, people came to this area to harvest caribou as they swam the river. Even today, that rich tradition continues. Learn more about the traditional knowledge held by the Inupiat of the Kobuk River Valley and significance of Onion Portage, known as Paatitaaq in the original Inupiaq language.
Lake Clark National Park & Preserve
Lake Clark preserves the ancestral homelands of the Dena'ina people, an intact ecosystem at the headwaters of the largest sockeye salmon fishery in the world, and a rich cultural wilderness. This site also includes lesson plans for grades 6-12, based on local wildlife and encompassing Literacy and Language Arts, Math, Science, Social Studies.
Native American Heritage Month
A wide variety of teacher resources
Sea Ducks of Alaska Activity Guide
A hands-on Activity Guide for grades 4-6.
Sitka National Historical Park
Sitka National Historical Park preserves the site of a battle between invading Russian traders and indigenous Kiks.ádi Tlingit. Through current videos and preserved images from the time of Russian colonization, students can learn about the history of the Tlingit culture, including the building of a traditional dugout canoe and the purpose and history behind the park's totem poles.
Wildlife Conservation
Alaska Department of Fish & Game
World War II on the Aleutian Front
Learn about the War in the Aleutians, the only theater of war where American soil was occupied by the Japanese Empire. Students can learn from maps, contemporary documents, and stories from survivors.
Wrangell-St. Elias National Park
Wrangell-St. Elias is a vast national park that rises from the ocean all the way up to 18,008 ft. At 13.2 million acres, the park is the same size as Yellowstone National Park, Yosemite National Park, and Switzerland combined! The Wrangell and St. Elias Ranges contain some of the largest volcanoes and greatest concentration of glaciers in North America, and students can learn all about the natural features & ecosystems of America's largest national park.
AK Resources for Educators from Locales:
Anchorage
Juneau
Nome Museums and Cultural Centers
Learn more through virtual and in-person Alaska field trips ...