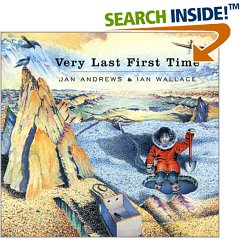 Very Last First Time by Jan Andrews
Eva lives in an Inuit village in northern Canada. In the winter, people search along the bottom of the seabed beneath a thick shelf of ice for mussels to eat. Eva usually helps her mother, but for the first time, she's going to go by herself. She soon gathers a pan full of mussels. But then, her candle goes out, and the tide threatens to return! When she is finally safe with her mother, Eva proclaims, "That was my very last first time walking alone on the bottom of the sea." An ALA Notable Children's Book, Very Last First Time comes from one of Canada's most distinguished storytellers and an award-winning illustrator. "A unique experience for young listeners and an intriguing introduction to another culture."
Author: Jan Andrews
Illustrator: Ian Wallace
Topics from the book:
Visit each topic page for downloads, lessons, etc. specific to that topic.
Online Units and Resources for Very Last First Time
Why are we featuring this book?
Very Last First Time is a book featured in Five in a Row, a literature-based unit study curriculum. Many families use FIAR for all but the grammar/reading and math, and others use it in conjunction with other resources. Above is information about the author and illustrator, story summaries, and links to lesson plans and websites that are great go-alongs for Very Last First Time. Please note that these resources are meant to complement, not replace, the Five in a Row units. The Five in a Row volumes are inexpensive and well worth the investment.