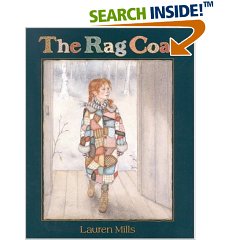 The Rag Coat by Lauren A. Mills
More than anything, Minna wants to go to school. But first she needs a winter coat. The Quilting Mothers, who gather every day at Minna's house to sew and tell stories, offer to make her a coat from scraps of quilting material, and Minna carefully chooses the pieces that have the best stories behind them.
Finally the new coat is ready. Minna wears it proudly to school, but she is quite unprepared for the reaction of her new classmates.
This evocative story of a resourceful mountain girl will charm readers with its message of love and friendship. Lauren Mills's sensitive watercolors capture the beauty and atmosphere of Appachalia.
Author: Lauren A. Mills
Other books by Lauren A. Mills
The author is also the illustrator.
Topics from the book:
Visit each topic page for downloads, lessons, etc. specific to that topic.
Online Units and Resources for The Rag Coat
Why are we featuring this book?
The Rag Coat is a book featured in Five in a Row, a literature-based unit study curriculum. Many families use FIAR for all but the grammar/reading and math, and others use it in conjunction with other resources. Above is information about the author and illustrator, story summaries, and links to lesson plans and websites that are great go-alongs for The Rag Coat. Please note that these resources are meant to complement, not replace, the Five in a Row units. The Five in a Row volumes are inexpensive and well worth the investment.