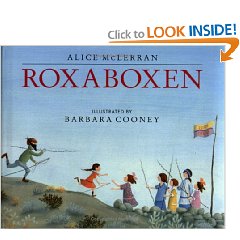 Roxaboxen by Alice McLerran
Marian called it Roxaboxen. (She always knew the name of everything.) There across the road, it looked like any rocky hill -- nothing but sand and rocks, some old wooden boxes, cactus and greasewood and thorny ocotillo -- but it was a special place: a sparkling world of jeweled homes, streets edged with the whitest stones, and two ice cream shops. Come with us there, where all you need to gallop fast and free is a long stick and a soaring imagination.
In glowing desert hues, artist Barbara Cooney has caught the magic of Alice McLerran's treasured land of Roxaboxen -- a place that really was, and, once you've been there, always is.
Author: Alice McLerran
Illustrator: Barbara Cooney
Topics from the book:
Visit each topic page for downloads, lessons, etc. specific to that topic.
Online Units and Resources for Roxaboxen
Make Learning Fun With Online Language Arts Lessons!
Picture Setting
The students will verbally identify the definition of a setting and its purpose in a story. The students will use a picture set to write their own story with a predetermined setting. Grades 2-3.
Habitats and Biomes:Desert
From ABCteach.com
Habitats/Biomes
from abcteach.com
Welcome to Yuma, Arizona
All about Yuma, AZ
Supplemental Book List
from the FIAR Message Board Archive
Mapping Roxaboxen
In this lesson, students will recall story events while practicing mapping skills. Students will also identify human features of Yuma, Arizona, and compare the play of children in the past with theirs today.
Social Studies Lesson Plan: Roxaboxen
Students will be able to create a model of a community building that contributes to a class neighborhood layout. Students will be able to explain the purpose of his/her individual role and community building, and how it fits into the class model of a neighborhood.
Why are we featuring this book?
Roxaboxen is a book featured in Five in a Row, a literature-based unit study curriculum. Many families use FIAR for all but the grammar/reading and math, and others use it in conjunction with other resources. Above is information about the author and illustrator, story summaries, and links to lesson plans and websites that are great go-alongs for Roxaboxen. Please note that these resources are meant to complement, not replace, the Five in a Row units. The Five in a Row volumes are inexpensive and well worth the investment.