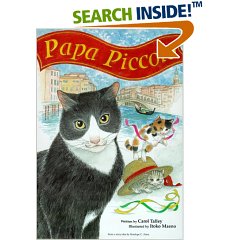 Papa Piccolo by Carol Talley
Piccolo shows boys and girls about sharing their strength with those who are smaller, younger, or weaker.
Piccolo leads a life full of adventure and possibilities. And then two homeless kittens decide to adopt the free-spirited Piccolo. "I'm not a Papa cat," objects Piccolo. "I'm a tomcat."
Children will delight in seeing how the kittens help Piccolo discover his own tender heart and a new kind of adventure. And Illustrator Itoko Maeno's watercolor depictions of the canals, markets, byways, boats, and bridges of Venice will delight children.
Author: Carol Talley
No author page found for Carol Talley.
Illustrator: Itoko Maeno
No illustrator page found for Itoko Maeno.
Topics from the book:
Visit each topic page for downloads, lessons, etc. specific to that topic.
Online Units and Resources for Papa Piccolo
Why are we featuring this book?
Papa Piccolo is a book featured in Five in a Row, a literature-based unit study curriculum. Many families use FIAR for all but the grammar/reading and math, and others use it in conjunction with other resources. Above is information about the author and illustrator, story summaries, and links to lesson plans and websites that are great go-alongs for Papa Piccolo. Please note that these resources are meant to complement, not replace, the Five in a Row units. The Five in a Row volumes are inexpensive and well worth the investment.