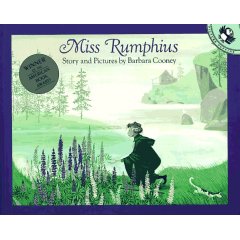 Miss Rumphius by Barbara Cooney
As a child Great-aunt Alice Rumphius resolved that when she grew up she would go to faraway places, live by the sea in her old age, and do something to make the world more beautiful--and she does all those things, the last being the most difficult of all.
Author: Barbara Cooney
The author is also the illustrator.
Topics from the book:
Visit each topic page for downloads, lessons, etc. specific to that topic.
Online Units and Resources for Miss Rumphius
Why are we featuring this book?
Miss Rumphius is a book featured in Five in a Row, a literature-based unit study curriculum. Many families use FIAR for all but the grammar/reading and math, and others use it in conjunction with other resources. Above is information about the author and illustrator, story summaries, and links to lesson plans and websites that are great go-alongs for Miss Rumphius. Please note that these resources are meant to complement, not replace, the Five in a Row units. The Five in a Row volumes are inexpensive and well worth the investment.