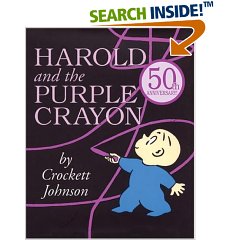 Harold and the Purple Crayon by Crockett Johnson
"One night, after thinking it over for some time, Harold decided to go for a walk in the moonlight." So begins this gentle story that shows just how far your imagination can take you. Armed only with an oversized purple crayon, young Harold draws himself a landscape full of beauty and excitement. But this is no hare-brained, impulsive flight of fantasy. Cherubic, round-headed Harold conducts his adventure with the utmost prudence, letting his imagination run free, but keeping his wits about him all the while. He takes the necessary purple-crayon precautions: drawing landmarks to ensure he won't get lost; sketching a boat when he finds himself in deep water; and creating a purple pie picnic when he feels the first pangs of hunger.
Crockett Johnson's understated tribute to the imagination was first published in 1955, and has been inspiring readers of all ages ever since. Harold's quiet but magical journey reminds us of the marvels the mind can create, and also gives us the wondrous sense that anything is possible. (Ages 4 to 8)(amazon.com)
Author: Crockett Johnson
Other books by Crockett Johnson
The author is also the illustrator.
Topics from the book:
Visit each topic page for downloads, lessons, etc. specific to that topic.
Online Units and Resources for Harold and the Purple Crayon
Why are we featuring this book?
Harold and the Purple Crayon is a book featured in Five in a Row, a literature-based unit study curriculum. Many families use FIAR for all but the grammar/reading and math, and others use it in conjunction with other resources. Above is information about the author and illustrator, story summaries, and links to lesson plans and websites that are great go-alongs for Harold and the Purple Crayon. Please note that these resources are meant to complement, not replace, the Five in a Row units. The Five in a Row volumes are inexpensive and well worth the investment.