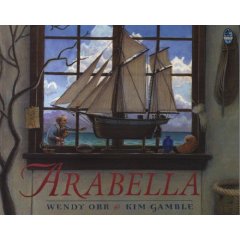 Arabella by Wendy Orr
Matthew's grandfather lived on an island. Wherever he went, he went by boat - a small red boat with a wild white sail.
One long summer, Mathew said goodbye, his mother said be careful, and he sailed off to the island in Grandpa's boat.
The boat skipped through the waves like a dolphin leaping, the sails lifting like a seagull's wings.
'How do you steer?' Matthew asked.
'By the feel of the wind,' Grandpa said.
They sailed on till they saw the island... and the curve of the beach... and the wharf and the window of Grandpa's house.(Excerpt)
Author: Wendy Orr
Illustrator: Kim Gamble
Topics from the book:
Visit each topic page for downloads, lessons, etc. specific to that topic.
Online Units and Resources for Arabella
Anchoring and MooringNautical knots
The ability to select the correct knot for a particular purpose and to be able to tie it in a variety of situations and with different materials is an essential skill for any sailor.
Why are we featuring this book?
Arabella is a book featured in Five in a Row, a literature-based unit study curriculum. Many families use FIAR for all but the grammar/reading and math, and others use it in conjunction with other resources. Above is information about the author and illustrator, story summaries, and links to lesson plans and websites that are great go-alongs for Arabella. Please note that these resources are meant to complement, not replace, the Five in a Row units. The Five in a Row volumes are inexpensive and well worth the investment.