Resource Description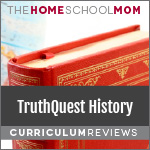 "TruthQuest History looks at history differently, not as a mere litany of human deeds. Rather, we help students (Gr. 1-12, depending on volume chosen) probe for the spiritual beliefs which drove kings, artists, thinkers, warriors, scientists, and everyday citizens, under the absolutes illuminated by the Lord God, who is truth.  This places spiritual principle in each covered period at the center of the action, and further reveals God's central role in history, not only as Initiator and Creator, but also as Establisher of the singular truths which alone bring security, strength, opportunity, and blessing to individuals and entire civilizations. People may or may not believe the Lord's truth, but one thing is sure: how they respond to it affects their history, culture, and impact. Thus, in TruthQuest History, we see the kings and commoners, wars and paintings, buildings and books, scientific discoveries and social issues, all in their rightful context, as indicators of the great spiritual issues at the core of life...which not only shaped the historical past, but are shaping our present and future!
"You now understand the heartbeat of TruthQuest History: the lively commentaries which introduce each and every topic in our eleven chronological guides (covering American, Ancient, and Western history). These commentaries help the students unforgettably connect the people, events, and culture of a civilization to its Big 2 Beliefs. Students then have colorful, continuous, and convincing proof of the reality of God and the superiority of His truths.  Only after the deepest issues have been thusly addressed can the reading of engaging "living books" begin. A highly specific recommended-reading list after each topic highlights top living books, and also aids in locating readily available reading resources, while still helping students read with maximal spiritual context. Finally, ThinkWrite™ exercises help students internalize and express the deepest lessons of history. Together, this comprehensive resource carries families—with the siblings learning together—from the earliest grades through to graduation on a thorough, literature-based study of history and spiritual principle."
Website: TruthQuest History (may contain affiliate links)
Contributor Reviews
Reviews are solely the opinions of the contributor.
Reader Interactions