TheHomeSchoolMom may earn affiliate commissions from purchases made using links on curriculum reviews pages. Read our full 
disclosure
.
Resource Description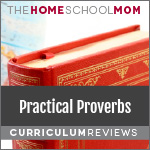 The Practical Proverbs series by Dara Halydier will take the student deep into God's word.  Practical Proverbs for Younger Students is a 36 lesson workbook for 4th- 8th graders that covers subjects at that maturity level such as self-esteem, anger, relationships, trust, truth, modesty, money, words, etc.  After each lesson are 1 to 2 worksheets for application to the student's life.  Practical Proverbs for Older Students is a thorough study of Proverbs for high school, college, and adult students.  The high school student can get credit in Life Management or Bible by finishing this course.  There are 80 lessons with Bible studies, discussion questions, charts, and Bible memory.  Both books are available in NASB and KJV.
Wisdom, Work, & Wealth is a 12 week Bible study for 5th graders through adult.  Bible studies, discussion questions, and Bible memory are included.  Topics include attitudes, work ethic, responsible giving, budgeting, and more.  If you are looking for creativity for teaching your child the Bible, check out Dara's As They Sit and Stand.  This book includes the mandate from God's word to teach the Bible to our children and age appropriate activities to teach Bible stories, Bible memory, family devotions, service, prayer, and Biblical discipline. Included is an appendix of Biblical worldview resources by age group.
Website: Practical Proverbs
Contributor Reviews
Reviews are solely the opinions of the contributor.
Reader Interactions