TheHomeSchoolMom may earn affiliate commissions from purchases made using links on curriculum reviews pages. Read our full 
disclosure
.
Resource Description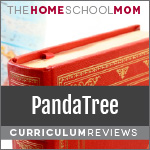 PandaTree offers live, online, one-on-one foreign language lessons in Mandarin and Spanish. Carefully screened, friendly tutors make it fun for kids ages 5-15 to build language fluency. Immersion-style lessons happen on the proprietary PandaTreeLive! video platform using interactive standards-based curriculum developed by PandaTree. Lessons are designed to get kids engaged and talking with content modules, stories, games, role plays, debates and virtual 3D tours. Between sessions kids return to their hub to practice and play personalized word games. Students can use PandaTree lessons as their sole resource for homeschool language learning or for supplemental conversation practice. PandaTree is designed for beginning through to intermediate/advanced learners. Every lesson is tailored to the student's interests, level, pace and learning objectives. Parents select the tutor and time and scheduling is flexible, including evenings and weekends. Sessions are recorded for review. Parents receive email updates after each lesson making progress easy to follow.
Website: PandaTree
Contributor Reviews
Reviews are solely the opinions of the contributor.
Reader Interactions