TheHomeSchoolMom may earn affiliate commissions from purchases made using links on curriculum reviews pages. Read our full 
disclosure
.
Resource Description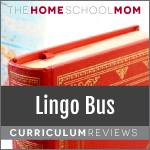 Lingo Bus, a subsidiary of VIPKID, is an online education company offering live, one-on-one Chinese language lessons for children between the ages of 5 and 12. Lingo Bus is well-suited for homeschool students as their one stop for foreign language education. Its curriculum caters to all levels of Chinese speakers, from beginners to advanced learners, and was developed in accordance with ACTFL (American Council on the Teaching of Foreign Languages and YCT (Youth Chinese Test) education standards, ensuring a valuable educational experience for every student. Its classes are designed not only to teach Chinese language skills, but also to engage and excite students while boosting their critical thinking abilities and confidence. Each class is accompanied by preview and review videos. For more practice, additional free study materials are readily available on their Facebook and YouTube channels. Lingo Bus teachers are specially trained to adapt lesson content to meet individual students' interests and learning needs. After each lesson, students receive personalized feedback from their teachers, offering input on both strengths and areas for improvement. Parents have the ability to select class times that fit their families' schedules, including evenings and weekends. And with classes taking place at home, there is no need to worry about commuting or sitting in traffic.
Website: Lingo Bus
Contributor Reviews
Reviews are solely the opinions of the contributor.
Reader Interactions