TheHomeSchoolMom may earn affiliate commissions from purchases made using links on curriculum reviews pages. Read our full 
disclosure
.
Resource Description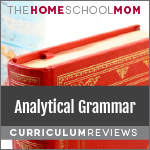 Analytical Grammar offers grammar, literature, and writing curriculum for 4th grade through graduation.  Their primary program, Analytical Grammar, teaches English grammar, punctuation, and usage.  It is designed to be taught in three grammar "seasons" over three years; however, it is flexible enough to be adapted to a one- or two-year schedule.  It is recommended for 6th grade and up.  For those who would like a way to teach the basics at a slightly younger age, the company offers Jr. AG and Jr. AG:Mechanics.  These programs are recommended for 4th or 5th grade and should be taught consecutively.
Beyond the Book Report is a three-part video-based curriculum that is designed to be scheduled along the same timeline with Analytical Grammar.  It covers literary analysis, journalism, drama, poetry, essays, oral reports, and research papers.  Each teaching module is designed to be completed as a different type of book report; the books used are chosen by the teacher and student.
After completing Analytical Grammar, students can use one of four High School Grammar Reinforcement books, one per year, to keep their grammar skills sharp.  These each contain 18 worksheets, one every other week, and have a literary topic. Finally the company offers a supplement called The Eternal Argument.  This book is intended as a jumping-off point for substantive literature study and is available in both paperback and audiobook formats.
Website: Analytical Grammar
Contributor Reviews
Reviews are solely the opinions of the contributor.
Reader Interactions