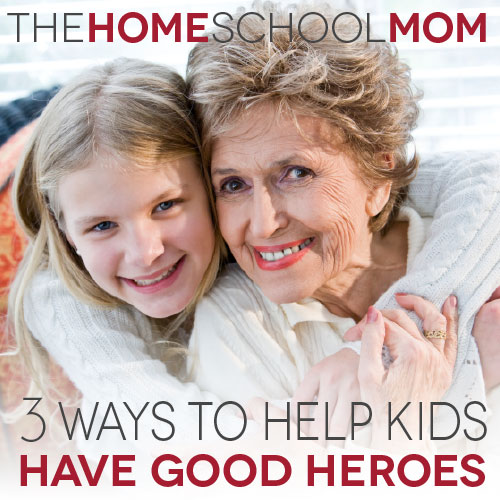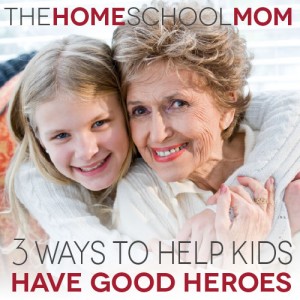 Henry David Thoreau wrote, "The hero is commonly the simplest and obscurest of men".[1]
His understanding of the hero is quite a contrast to the money/sex/power-driven entertainment icons that commonly become the objects of admiration by modern children. I believe that it is parents who have a very important role in changing that  – and a responsibility to create a culture in which their children want the right kinds of heroes. Homeschooling parents are in the prime position to do this, through a combination of monitoring the negative, exposure to the positive, education and modeling.
I believe there are three major aspects involved with developing the environment most conducive to kids choosing heroes with character and values, whose contributions to society endure:
Limit kids' exposure to negative role models, especially when they are young.
Introduce children to the kinds of heroes you want them to have.
Emphasize, in the home, the values of the role models you want children to emulate, through education and modeling.
Part 1 of this series shed light on the first of these – limiting the influence of negative role models, particularly in early childhood, so that children have the opportunity to develop their value base before it is challenged. As youth mature, and as they are gradually exposed to ideas and persons contrary to their standards, parents should have regular and open dialogue about how and why these influences contradict, and why the family's chosen values are preferable.
Although monitoring the content of kids' entertainment consumption to ensure it aligns with the values the family deems important is a significant first step to helping youth look up to the right kinds of role models, it can have the opposite effect if that is all that is done. Restriction can easily lead to rebellion, if the environment of the home is not one in which youth choose heroes of integrity as an offshoot of having espoused character for themselves.
Children will want heroes of character not because they don't ever see bad role models, but because they have learned to value qualities such as honesty, responsibility, and compassion over qualities such as financial gain, popularity, and physical attractiveness.
It's not so much about following a recipe as it is about creating a culture in which children choose for themselves to adopt healthy values. To accomplish that, parents must focus on two additional areas. The second of the three things parents can do is:
2. Introduce children to the kinds of heroes you want them to have.
The human heart tends toward idolization. It is not enough to simply limit children's exposure to negative role models; parents must provide kids healthy alternatives. Give kids people to whom they can look up. One-on-one relationships with excellent adults in their lives can be some of the best ways to encourage children to have the right kinds of heroes. Relationships with mentors, pastors, tutors, grandparents, apprenticeships, close neighbors and even older siblings you respect can be cultivated to have strong positive influences in the lives of our youth. But even with real life positive role models, kids tend to make heroes out of icons in the culture, as well, so this area can't be ignored.
Think about the entertainment and cultural influences to which your kids are most drawn, and introduce good ones! Give them stories, lyrics, and visual stimuli of people and ideals of good repute. Christian music artists, books about American historical heroes, wholesome movie stars, and timeless t.v. shows really do exist – you just sometimes have to work to find them! Consider these options for developing the right kind of heroes in your kids:
Books
Movies/DVDs
TV Shows
Music
Teaching Materials
Other
Children need positive influences to admire – cultural and entertainment options that can inspire toward values that matter over the long haul. These examples are good places to start, but there is another tremendously key element to helping kids internalize character for themselves, and thereby be naturally drawn to the right kinds of heroes.
Hang in there for Part 3…
---
[1] "Walking" (1862), in The Writings of Henry David Thoreau, vol. 5, p. 224, Houghton Mifflin (1906).