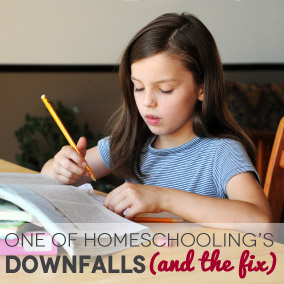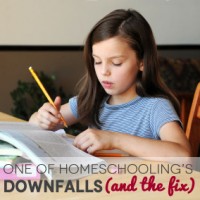 Homeschooling has a whole lot of perks. Yes, I'm a bit biased, but when it comes to implementing individualized education, disseminating family values, fostering creativity and providing real life experiences and learning - home education is hard to beat. I love it, I'm committed to it, and I think homeschooling has been the single best decision our family has ever made.
But I have discovered a downfall.
It's the same thing that makes it a strength - the parent/child relationship being the the teacher/student relationship. Yes, the same bond that leads the parent to be dedicated to going to any lengths necessary to ensure that his or her child gets what he or she needs educationally is also the same bond that often leads kids to become overly dependent on their parent for help.
I only realized this recently. And the revelation came upon me in an unexpected way.
Let me back up. My eldest daughter is a non-traditional, right-brained learner for whom focusing and attention is a bit of a challenge. Since the time we began homeschooling, I have gotten used to breaking things down into smaller parts, giving breaks between long work sessions, and making accommodations to help her attend and learn effectively – and she has generally required quite a bit of Mom guidance to keep her on track. As time has gone on, her ability to focus and stay on task has increased tremendously, and my direct involvement with her has lessened considerably. But we still had regular periods in which she would throw up her hands in frustration and spout groans of "I don't KNOW!!!!" or "I CAN'T" rather than persevere and set her mind to focus to figure out whatever she was working on.
It was driving me crazy.
I knew she could do the work – I knew it wasn't an issue of ability. It was clear to me that she simply was not putting her brain in gear to get it done. But I didn't know what to do about it. I tried consequences, and support and fatty acid supplements, yet the issues continued. She just wasn't putting forth the effort I knew she was capable of doing.
Then, my epiphany came.
We are part of a homeschooling co-op that meets on Thursday mornings from 9 a.m.-noon. This year, I put my younger child in class, and opted to teach my eldest child myself during the co-op class time. So I would set up 3 or 4 assignments for my daughter to complete, and then I would leave her in the room, working, and go to check on my youngest daughter (who was in the co-op class).
When I returned, I discovered that my oldest child had gotten everything done. On her own. Without complaints, problems, or "I don't knows". And she's even gotten most of it correct.
I couldn't believe it.
I realized that my not being there – not being available – was the best thing that had happened to her. It dawned on me that she had become dependent upon having Mom in the same room (or only a room away), ready to answer any question and provide support or encouragement – and that she was using that as a crutch.
Ironically, the very thing that gave her an individualized, tailor-made education was also the very thing that was leading her to be lazy about that education – her relationship with me.
We had become so accustomed to me making accommodations to help her learn, and to providing the support and structure she needed to stay focused and on task, that those very aids had become a detriment to her educational independence. She had gotten used to relying on Mom rather than struggling through on her own to figure it out. And children need to work independently, and to put effort into problem solving, in order to learn effectively.
So, I've made some changes.
Now, at home, we have certain subjects and times of our homeschool in which my daughter has to work by herself, behind closed doors, as far away from Mom as possible (outside at the patio table seems to work well). With certain assignments that I know she is able to do on her own, I give her the assignment and then tell her she is not allowed to come in or even ask me any questions until she has completed the assignment to the best of her ability on her own. Once it is finished, we go over it together and address any questions she has or any problems she couldn't figure out on her own.
This approach has been revolutionary.
Much of the whining, complaining, constant questions, and "I don't knows" have been eliminated. She is now working for long periods of time independently, and, amazingly, figuring out on her own most of the things she used to claim she couldn't possibly do without my help. Simply separating her from me has forced her to use the skills I always knew she had – and to gain the confidence in herself that she has them.
It is ironic that sometimes the very thing that makes homeschooling so effective can also be its biggest detriment. That special relationship with our children, which enables us to best know what they need and be most dedicated to securing it, can also serve to hamper their independence, if we aren't careful. The good news is that just a bit of separation can often do the trick to break the dependence-on-Mom cycle.
Our relationship with our kids is one of homeschooling's biggest strengths. Yet knowing when to separate our kids from us can be one of the best things we do in order to help them learn on their own. By doing so, the individualization of learning our bond with our children provides can result in what we truly seek from this homeschooling experience – our kids being their own individuals.